The 16-year journey is hopelessly searching for you
Ms. Le Thu Thuy (SN 1977 in Hanoi) and Mr. Trong Tuong have been married since 2003. After getting married, you, like many other couples, hope to have such good news, but many times of pregnancy, so many times you get pregnant. crash.
The couple has been searching for their luck in both Western and Oriental medicine, losing a lot of money and still no positive results, the fetus is not able to keep every 8 weeks.
Seeing other families with children holding their children, Thuy and her husband couldn't help but feel overwhelmed. Tears seem to have cried out for the hopeless days of infertility treatment.
It took 16 years for Ms. Thuy to become a mother
Despite the hardship and difficulty, the couple's desire to have children has never ceased. Suppressing the pain, the couple worked hard, saving them to do in vitro fertilization (IVF). After 6 times of in vitro fertilization, she all conceived but the baby by 8 weeks did not develop.
In particular, Ms. Thuy's health is getting weaker and weaker, IVF many times has made her face a series of dangerous diseases such as: egg failure, cirrhosis, many uterine fibroids …
Her health deteriorated and too many failures in finding children, Thuy and her husband gave up hope and decided to live together like that until they got old.
The journey of keeping children is ten thousand times more difficult than the journey to find
But at this time, a big surprise that even in a dream, Thuy could not think of happened: She became pregnant completely naturally.
"When we learned of the pregnancy, we were both happy and worried. I'm glad that my darling is back, but I am worried, confused, just scared again like the previous times, not past 8 weeks. Therefore, the couple has consulted, learned and decided to choose a very prestigious hospital to keep the pregnancy "- Ms. Thuy said.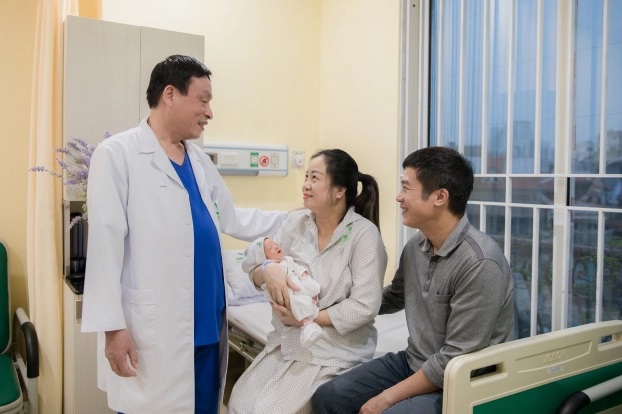 After many hardships, Ms. Thuy and her husband also fully enjoy the happiness of being a father and mother
The body carries many complex background diseases and fibroids in the uterus that have significantly affected the baby's development, so many times during pregnancy, Ms. Thuy is threatened with miscarriage, she has to go in and out of the hospital. world, sometimes even seemingly unable to keep the child. But fortunately with the active help of doctors at Thu Cuc International Hospital, she was able to keep the baby until the 37th week.
Doctor Nguyen Van Ha – Head of the Department of Obstetrics and Gynecology Thu Cuc International Hospital – who directly gave birth to Ms. Thuy said that her caesarean section is quite complicated because she has many background diseases, many fibroids in her uterus. bow. Moreover, Ms. Thuy's baby has two loops of umbilical cord wrapped around the neck and knotted by the umbilical cord. This is a very rare and dangerous case, because the tied umbilical cord can cause fetal failure and fetal heart failure at any time. Fortunately, the baby was born safely.
"When I heard my child's healthy cry, how many difficulties it was, so much pain that had been overwhelmed up to now, all disappeared. So we already have children… ", Ms. Thuy shared emotionally.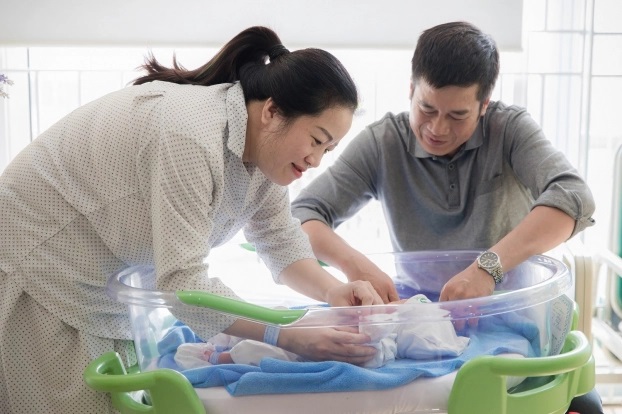 The baby Trong Minh was born at 37 weeks, ending his parents' worries and expectations for the past 16 years
So in the end, the arduous journey of 16 years to find the children of Ms. Thuy and her husband also had a very sweet ending. Trong Minh's baby is good at eating and sleeping. She and her husband held their children in their arms, but thought that all suffering had receded very far, only happiness remained.
To remind the women who are in the infertility situation as I have been, Ms. Thuy expressed: "Women are born with a very sacred position of motherhood, only sooner or later. Most importantly, mothers should choose a reputable medical facility to monitor and take care of their pregnancy, making it easy to overcome all difficulties on the way to pick up your baby. I wish you all will be able to embrace your beloved child ".
Thu Cuc International Hospital pioneered online counseling, examination and treatment campaign in the midst of the Covid-19 epidemic
(VietQ.vn) – Before the complicated development of COVID-19 epidemic, Thu Cuc Hospital recommends that people stay at home, only go to the hospital when really necessary. In addition, people can call the switchboard for advice on online medical examination and treatment.
His metal
.