People beamed in the car to the concentrated isolation area after getting off the airport – Photo: DINH DINH
People get on the bus to the concentrated isolation area – Video: DINH DINH
According to Mr. Nguyen Phi Long, Chairman of Binh Dinh Provincial People's Committee, before boarding the plane to return to his hometown, at Tan Son Nhat airport (HCMC), 196 people in Binh Dinh were tested for COVID-19 by competent forces. .
At Phu Cat airport, from very early on, the preparations to welcome the children back home were carefully implemented. Medical staff and related people all wear protective clothing to ensure safety.
After the plane landed, they were guided by the functional forces to board the car to return to the concentrated isolation area at dbarracks of the 31st Infantry Division (under the Ministry of Defense).
"We are very pleased and touched to have brought 196 people from Binh Dinh with extremely difficult circumstances living and working in Ho Chi Minh City affected by the pandemic to their hometown safely. Seeing everyone are excited, radiant is happiness for us.
Everyone will be medically examined, sampled for testing … on that basis to have appropriate isolation methods. In the coming time, I hope that flights to bring Binh Dinh people back to their hometown will continue to be convenient and safe," shared Mr. Nguyen Phi Long.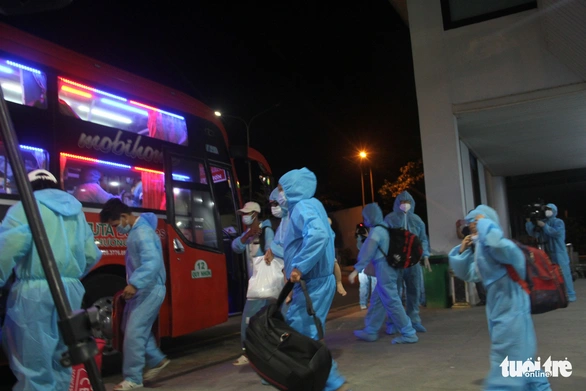 People were instructed to get on the bus to return to the concentrated isolation area – Photo: DINH DINH
.