Desire to share with the pain and loss of the people in the Central Region, the relief team of Canon Vietnam and the companies Canon Electronics Vietnam, Canon Marketing Vietnam, Santomas, Tenma, Seiyo, Nissin Electric, Sumitomo, Toyo Ink, Yamato Industries, Hanel, Kinyosha, Topla, JoyoMark, THK, Kingmo, Dainichi Color, Shihen, Misumi, Meiko, Konishi, NST Hanoi, Raiza Express, Nippon Express, Delta International, Nippon Steel Trading, Bach Son, Green Space, Ha Phat, Thanh Nghia, Hieu's group departed towards the "center" of the last flood and storm in 3 districts Gio Linh, Huong Hoa, Dakrong of Quang Tri province and 3 districts Son Tinh, Minh Long, Son Ha of Quang Ngai province.
Leaders of Canon Company participate in shipping goods to the Central region – Vietnam
During this trip, Canon staff and representatives of companies came to hand over 1,200 relief gifts, including cash and basic necessities: rice, cooking oil, fish sauce, spices. , instant noodles, milk, shampoo, soap, face towels, medicine, backpacks, shirts … for poor households and severely affected by the last 2 storms 8 and 9 with a total estimated value 1.8 billion.
This is the amount of money contributed from companies and donated from the company's employees during the week of calling for support from October 20 to October 27. Although the aid gifts cannot fully compensate the heavy losses suffered by the people in the flood and storm areas, they are the affection, the sincere contribution and sharing from the companies and the collective of public officials. staff with the desire to help people quickly stabilize their lives after floods.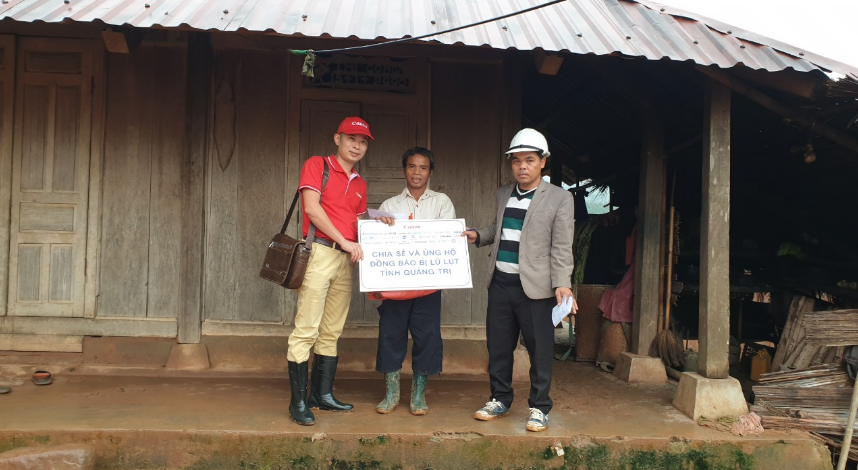 30 Companies join hands to support people in flood areas in Quang Tri and Quang Ngai provinces
It is known that in October and November of 2010, 2013 and 2016, when the people in the central region were faced with big storms that continuously caused heavy damage, Canon mobilized billions of dong and donated to thousands of affected households in the central provinces.
Lighthouse
.