Medical forces take samples for testing for people in Viet Yen district – Photo: VIETNAM
According to the Bac Giang Provincial Steering Committee for COVID-19 Prevention and Control, by the end of May 26, there were 3 COVID-19 outbreaks in Bac Giang province with a total of 1,567 cases (an increase of 168 cases), 14,155 cases of F1, 62,831 cases. F2 case.
New cases are still mainly in Quang Chau Industrial Park (Viet Yen district) with 118 new cases, mainly in isolation and blockade areas.
In addition to the above outbreaks, there have been some cases of F0 who are not workers in industrial parks due to transmission from workers to family members, close contacts.
Notably, four medical staff were infected while on duty in epidemic prevention. Among these are 2 medical staff from Viet Yen District Health Center and 1 health worker from Tang Tien Commune (Viet Yen District).
Bac Giang province has set up a medical isolation area for Viet Yen District Medical Center from 5pm on May 24 until further notice.
Bac Giang province forecasts that in the coming days, the number of F0 cases will continue to increase because it is currently conducting the 3rd test for all workers in the industrial park and outside the industrial park, but new F0 cases have been detected. Currently, they are mainly isolated and under medical observation.
There has been an increase in community transmission cases, but the cases detected in the community are mainly in isolated and blocked areas.
Bac Giang province said it is continuing to speed up testing, especially the return of results. Increase the application of rapid test methods for screening.
Up to now, the whole province has collected 649,193 samples (on May 26, 12,287 samples were collected), currently there are 12,177 samples with no results. On May 26, the rapid test was also performed for 5,726 cases, detecting 41 positive rapid test cases.
Regarding the medical staff's infection with COVID-19, the province also directed to strengthen the guarantee of personal protective equipment, regular testing for frontline staff in the fight against the epidemic, and cleaning of hospitals. , medical Center.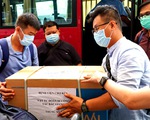 Focusing on supporting Bac Ninh and Bac Giang
.