The street area where Mrs. H was assaulted and threw dirt on her – Photo: T. THANG
According to initial information, on the morning of June 15, when Mrs. H. (Judge of the Family and Juvenile Court of the People's Court of Hai Phong City) was walking on Le Hong Phong Street, passing through Dang Lam Ward, Hai An District. to go to the office to work, some people blocked the way, assaulted, threw dirt on people.
At the time of the incident, Ms. H. was riding a motorbike in the motorbike lane on Le Hong Phong Street, when she arrived near the Hai Phong City People's Procuratorate and the Hai Phong City People's Court, the group included 3 people stopped the car.
According to people witnessing the incident, when the car was stopped, Mrs. H. shouted: "I am a court officer, you are mistaken for someone else" but these people continued to attack and throw substances. dirty on Mrs. H. before getting on a motorbike to escape from the scene.
Immediately after discovering the incident, the leader of the People's Court of Hai Phong City reported to the police to clarify the motive for the incident. Initially, the authorities determined that Ms. H. had no personal enmity with anyone and there was no conflict related to love affairs.
Currently, the police force is searching for suspects who assaulted and poured dirt on Ms. H. to investigate.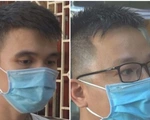 Prosecution of 2 young men arrested and assaulted the business owner
.