Police force for fire prevention and fighting Police of An Giang province climbed to the roof of the firefighting house as soon as they received the information – Photo: BUU TOUCH
On the evening of April 6, Ms. Lang Thoai Xuan – Secretary and Chairman of the People's Committee of Tan Hoa Commune, Phu Tan District, An Giang – said that she was with the forces urgently extinguishing a fire in the combined housing area along the Bac Cai market. Dam at Hau Giang 1 hamlet, Tan Hoa commune.
"At present, the forces are focusing on fire fighting, so we cannot inform. The fire originated from the houses living along the North Cai Dam market, not the market fire" – Ms. Xuan said.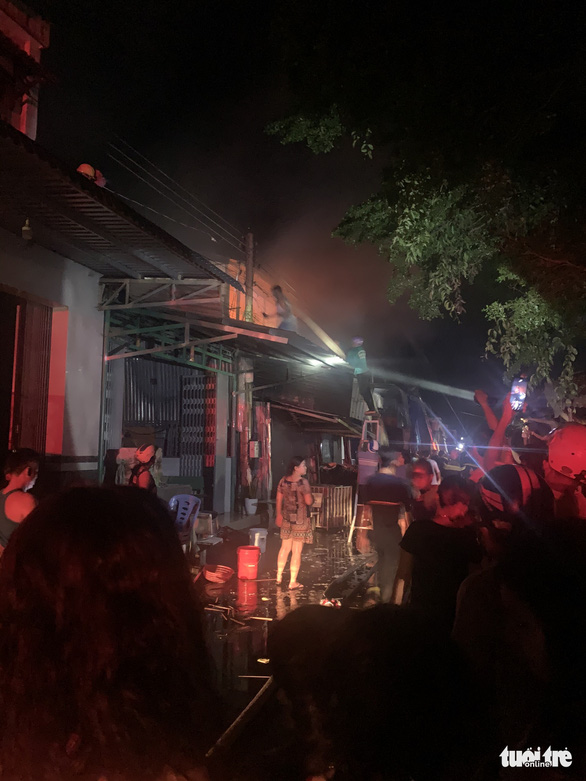 The people of Bac Cai Dam market, who heard that the fire news, put their hands up with the authorities to put out the fire in the night – Photo: BUU DUO
According to Mr. T. – people living near Bac Cai Dam market, around 19h20, many people discovered a fire broke out from the house of a household selling cloth and groceries along the market, and then quickly burned to the surrounding houses. Many people fled journalists with emergency authorities.
The leader of the An Giang Provincial Police Department of Fire Prevention and Fighting, confirmed that only 2 houses caused damage – Video: BUU DUO
About 10 minutes later, the police force, military and professional fire fighting force of An Giang province police were also mobilized to put out the fire.
"The fire burns very quickly, because the weather is hot now and in addition to this, the houses are so close to each other, so it burns strongly. On the other hand, people in this area sell groceries of all kinds and trade in fabrics so it burns. I see many brothers climbing to the roof of the firefighting house from earlier than 45 minutes is still not finished "- Mr. T. added.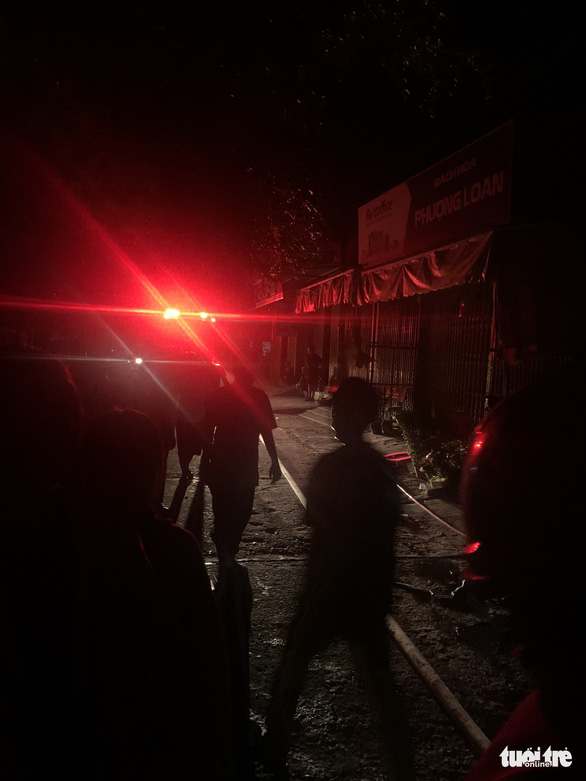 An Giang province police mobilized 2 professional fire trucks and 16 officers to join the police and military of Tan Hoa commune and Phu Tan district to put out the fire for 45 minutes, basically controlling the fire – Photo: FOUNDATION
At 20h10, Senior Lieutenant Colonel Vo Phuc Tho – head of the An Giang Provincial Police Fire Prevention and Fighting Police Department – said that two houses were severely damaged by fire. The unit mobilized 2 fire engines and 16 professional firefighting officers and soldiers to the scene of the fire suppression. Initially, no human damage has been recorded.
"We have mobilized the fire prevention and fighting team of the Provincial Police in Phu Tan district and the police and military forces of the district and Tan Hoa commune to focus on fire fighting. Currently the fire has been basically controlled later. 45 minutes. The functional departments are checking the scene, then statistic the damage, find the cause of the fire "- Senior Colonel Tho said.
.