Passengers at the domestic arrival terminal of Tan Son Nhat Airport (Ho Chi Minh City) in the afternoon of February 19 – Photo: DUYEN PHAN
So what should the big provinces and cities do, how to create conditions for people returning from the epidemic areas to be tested, reported to health, quarantined … in order to avoid the source of the disease spreading to the community?
Hanoi: randomized testing in the community
On the afternoon of February 19, at the meeting of the Steering Committee for the prevention of epidemics COVID-19 in the city with districts and communes, Mr. Hoang Duc Hanh – deputy director of the Hanoi Department of Health – said despite the past days. Hanoi did not record more cases in the community, but the risk of the disease was still high.
According to Mr. Hanh, at present, experts continue to enter to work, although they are quarantined according to regulations, there is still a potential risk of disease infiltration from these experts. In addition, after the Tet holiday, many people return to Hanoi to live, work, study … there may be many people from provinces and cities who have translated into the city. At the same time, there are many central hospitals in Hanoi, so there may be cases where patients from provinces come to Hanoi for medical examination and treatment, so there is also a potential risk of disease and spread.
Facing the identified threats, Mr. Chu Xuan Dung – vice chairman of the People's Committee of Hanoi, head of the Steering Committee for the prevention of epidemic COVID-19 city – asked districts to drastically review people returning from Hai province. Duong and outbreaks in the remaining provinces. In the districts in Hanoi, after the direction of the city, right after the Tet holiday, all wards, communes and towns have checked and captured the mobility of people from other provinces back to Hanoi. .
Mr. Hoang Duc Hanh said all cases coming from Hai Duong province are subject to mandatory medical reports. Therefore, by 14:00 p.m. on February 19, 2,207 people from Cam Giang district (Hai Duong) were checked, tested for 2,096 people. Similarly, the district health centers that preliminary reports have scanned nearly 40,000 people returning from other parts of Hai Duong province during the period from 0:00 on February 2 to February 16, taking samples for testing. for 14,112 people and will continue to collect samples in the coming days.
With the assessment that after the Tet holiday, many workers will return to Hanoi to live and work, Mr. Chu Xuan Dung also directs the random sampling in high-risk areas such as home areas. machines where many people return from other localities where foreign experts work. In addition, according to Mr. Dung, random testing will be done with the medical team to prevent epidemics, with priority given to places with high risk of exposure, and staff in quarantine areas in anti-epidemic areas. team, police.
Mr. Dung also affirmed that Hanoi had a policy of testing and screening for people returning from epidemic outbreaks in different provinces, but in medical declarations, they must be very responsible. The city will be strict with cases of deliberately false declarations coming from Hai Duong to be tested.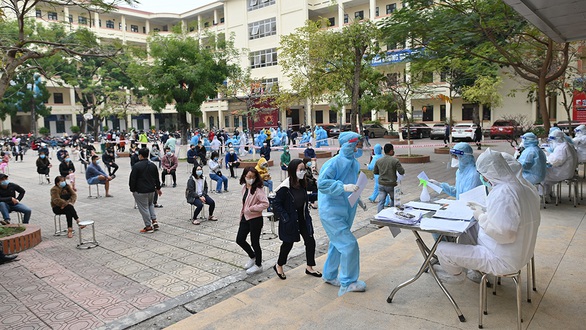 On the morning of February 19, the People's Committee of Hanoi took samples to test all returning people from epidemic areas. In which, testing should be given to people in Cam Giang district (Hai Duong) – Photo: N.KHANH
Ho Chi Minh City: more than 150,000 people have made medical reports
From February 16 (ie the 5th day of the Lunar New Year), Ho Chi Minh City has received medical reports for people from cities and provinces that are implementing social separations, epidemics are being monitored and supervised. streets at airports, train stations, bus stations, medical stations.
On February 17 and 18, the city began to expand random sampling at bus stations and train stations and updated detailed instructions on monitoring people from the epidemic zone to Ho Chi Minh City. The city has deployed the old Mien Dong bus station (Binh Thanh district), the new East bus station (the old district 9) and the Nga Tu Ga bus station (District 12). These are the main bus stations for all bus trips to Ho Chi Minh City from the Northern provinces, the Central region, the Central Highlands, and some routes from the Southeastern provinces.
The City Center for Disease Control (HCDC) also coordinates with the medical centers or hospitals of the districts with bus stations, to take random samples of oropharyngeal fluid for 100 passengers, drivers, and assistants. .. go on car trips from the provinces back to the city. The time to take samples every day from 4-6 am is the estimated time with the bus flow from the provinces to the busiest station.
In recent days, Ho Chi Minh City has received medical reports of 150,577 cases and 186 cases of concentrated isolation change, 12 people isolated at home, the rest monitored their own health. Regarding the sampling of random monitoring tests at the airport (from February 14), bus station and train station (from February 17), so far the city has sampled 4,861 cases, of which 3,764 are negative. , 1,097 awaiting results.
In addition, departments, departments, industrial parks, export processing zones … also force people from other provinces to work and study to report in health care.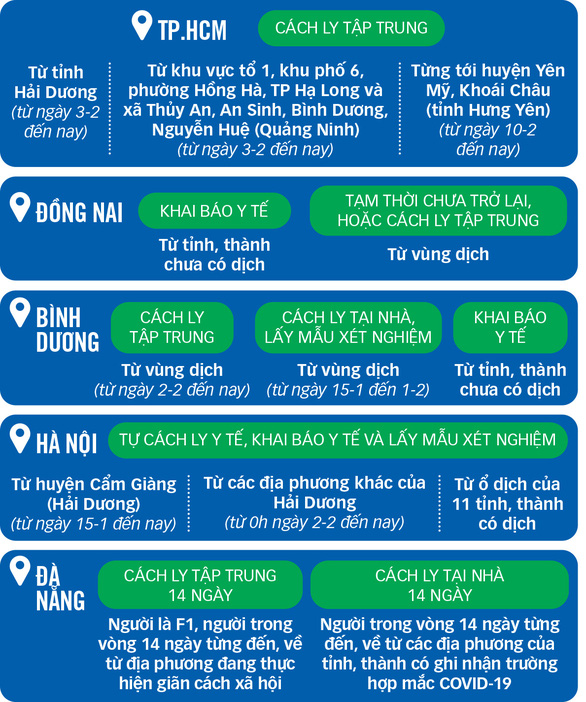 Measures to monitor people returning to provinces after Tet – Graphics: TAN DAT
Da Nang: randomized testing of people from places where COVID-19 was located
On February 19, Mr. Le Trung Chinh, Chairman of the People's Committee of Da Nang City, said he assigned the Department of Health to organize the monitoring and sampling of random COVID-19 tests for people at risk. Da Nang will expand testing from 10-20% of cases coming to Da Nang from localities with cases in the community. In addition, Da Nang will also randomly test cases with risk factors in Da Nang such as people who are exposed to a lot, move a lot … to assess risks and take appropriate response measures.
Mr. Chinh also requested to suspend festivals, activities, events with unnecessary crowds, limit spring travel, meetings, parties … At the same time, he asked the entire population to make medical declaration. workers, especially civil servants, officials, workers, students, students, tourists … come back to the city after the Tet holiday.
Talking to Tuoi Tre, the representative of Da Nang Health Department added that people from localities with outbreaks reported by the Ministry of Health but reported that they had left the location for more than 14 days and that localities had not recorded schools. cases of contracting diseases in the community must be self-monitored within 14 days. For those who completed the quarantine in the provinces, if they immediately move to Da Nang, they belong to the group of subjects who self-monitor their health at home.
TR.TRUNG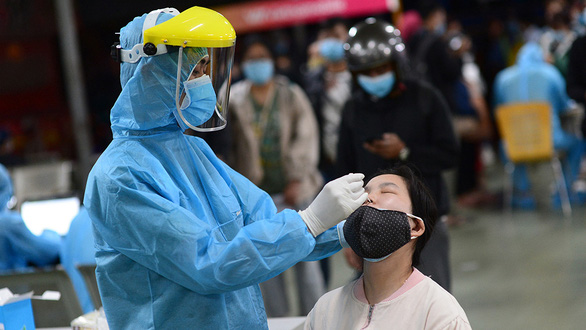 Sampling for a passenger bus ride from Gia Lai province to the old Mien Dong bus station (Binh Thanh district, Ho Chi Minh City) on February 18 morning – Photo: DANH
Secretary Hai Duong criticized leaders of Kim Thanh district for lack of thorough investigation
On February 19, Mr. Pham Xuan Thang – Secretary of Hai Duong Provincial Party Committee – severely criticized Mr. Nguyen Kim Dien (Secretary of Kim Thanh District Party Committee) and Mr. Pham Quang Hung (Chairman of Kim Thanh District People's Committee) for the work not seriously directing and directing the implementation of urgent measures to prevent the COVID-19 epidemic according to Directive 16 of the Prime Minister and Directive 11 of the Standing Committee of the Provincial Party Committee.
Before that, when an unexpected inspection in Kim Thanh district, the mission led by Mr. Thang discovered that there are still many business households selling non-essential and illegal items such as furniture, clothes, flowers. , footwear … Especially, in the area of ​​the Seed market, Co Dung commune, people still go in and out of the market quite freely and many people go to the street even though there is no really necessary reason.
In the afternoon of the same day, the Ministry of Health announced that there were 15 more cases of COVID-19 (BN2348 – 2362) in Hai Duong, of which 13 cases were F1 in the isolation ward, 1 case in the blockade area and 1 case. show through screening at the hospital.
T.TH WIN
Clear outbreaks and epidemic zones to avoid the situation "block transport and ban trade"
That is the view of experts at the 19 pm COVID National Steering Committee meeting
19-2, chaired by Deputy Prime Minister Vu Duc Dam – Head of the Steering Committee.
Recognizing local feedbacks, management agencies and experts' opinions, the Steering Committee said that inadequacies in the circulation of goods from Hai Duong to neighboring provinces in recent days have been published. quality is due to the inaccurate understanding of outbreaks and epidemic areas in the provinces. Experts and members of the Steering Committee unanimously suggested that the Ministry of Health and other competent authorities need to clarify the definition of "outbreak" and "epidemic zone" to avoid the situation of "preventing rivers from banning markets. ".
Concerning this issue, Deputy Minister of Health Do Xuan Tuyen emphasized that Hai Duong's implementation of the social gap under Directive 16 across the province is a one-level advance preventive measure to prevent, because Hai Duong is traffic hub and related to many localities. However, that does not mean that neighboring provinces implement "stop rivers to ban markets". The Ministry of Health will send documents to the provinces and report to the Prime Minister on this issue.
The Steering Committee also requested the Ministry of Health to re-publish on the web portal the areas where people go in and out must be controlled, to other places to report and medical supervision. For example in Hai Duong province are epidemic areas in Chi Linh City, Cam Giang district and specific communes and villages, not the whole province.
Chinhphu.vn
Binh Duong: ask workers to declare travel schedules
As an industrial "capital" with immigrants from many provinces, from the first days of the year, Binh Duong province has implemented measures to statistic and classify employees from different regions. individual anti-epidemic measures for each group of people. People coming from epidemic centers like Hai Duong are required to make medical declarations at the commune and ward medical stations where they reside in Binh Duong.
Up to now, Binh Duong has identified nearly 140 people from the epidemic area and have been concentrated in isolation and tested; Most of the samples tested were negative, while 29 are waiting for results. For those who come to Binh Duong from the rest of the provinces, especially coming to work at companies or factories, a medical report must be made at the company's medical office or at the commune or ward health station where the temporary residence is located. Binh Duong.
Right before Tet, businesses have asked workers to tell whether or not to return home. After returning to the factory, workers are required to truthfully report their travel schedules. The factories all perform sterilization, measuring body temperature, spraying antiseptic water … for workers before entering the factory. It is estimated that by yesterday, February 19, over 80% of workers in factories in Binh Duong returned to work and will fully return at the beginning of next week.
Binh Duong province authorities will take random samples for testing at companies, supermarkets, markets, bus stations and parking stations. Currently, the entry for foreigners is suspended. For imported foreign experts, businesses are required to list, take samples for testing and notify the state management agency.
Dong Nai: the person returning to work must make a medical report
Mr. Bach Thai Binh – Director of Dong Nai Center for Disease Control (CDC) – said that measures to control workers and people returning to the locality from other provinces include propaganda and people make medical declarations. This declaration is through a review of the local authorities and people voluntarily come to the medical facility to make a report.
The health sector directly manages people coming from the epidemic zone; gather the list of outbreaks announced by the Ministry of Health and send them to the medical stations to grasp and guide the people to implement in the investigation process. In addition, Dong Nai has asked businesses to guide their employees in making medical declarations when they return to work. Enterprises are also required to make a list of cases related to epidemic zones, cases that need to take test samples and send them to the management agency, the health sector for testing according to regulations, the expenses paid by the enterprise. pay. Previously, the People's Committee of Dong Nai province also issued a document directing cases of leaving the locality to return to provinces without Tet holidays are required to make medical declaration, self-monitor health and encourage testing when they return. work.
A. LOC – B. SON
.