From the beginning of 2021 up to now, foreign investors withdrew about 842 million USD from the Vietnamese stock market, however, this trend may soon reverse, Bloomberg said.
Individual investors are pouring money into Vietnamese stocks at an unprecedented high speed, which has helped the stock market rise sharply and foreign funds will return after withdrawing money from the market this year. by.
During the 3-month period up to April 30, the VN-Index increased 17%, higher than any major market in the region, the increase simultaneously doubled the increase in the index. S&P 500.
Although from the beginning of 2021 up to now, foreign investors withdrew about 842 million USD out of the Vietnamese stock market, this trend may soon reverse. According to EPFR, in the third week of April 2021, Vietnam securities investment funds received a record amount while money was strongly withdrawn from emerging markets, the highest amount of money withdrawn by investors. as of January 2021.
An important source of money for the market is a Taiwan-based ETF that has raised more than $ 350 million so far.
The return of foreign investors can help the market gain even more, like many other markets in the world, the Vietnamese market has attracted many individual investors.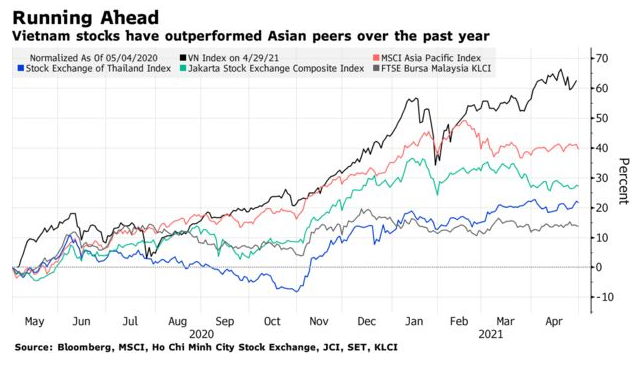 VN-Index is a growth index outperforming other markets in the region
Low savings interest rates make Vietnamese people more interested in stocks. 400,000 stock accounts were opened in 2020, a record high. In the first three months of this year alone, another 258,000 securities accounts were opened, the daily trading volume on the Ho Chi Minh City Stock Exchange (HoSE) set a new record.
An important supportive factor for the Vietnamese market may be the strong return of foreign investors.
Many individual securities investors in Vietnam are often interested in the investment options of foreign investors when they have their own considerations, according to the Saigon Securities Incorporation (SSI).
According to an analysis of HSBC Holdings in a recent report, the Vietnamese stock market is "worth the investment". Trading volume on the stock exchange has now quadrupled compared to the end of 2019, if calculated on the average of the last 50 trading days.
The main index of the market currently has 11 stocks with a market capitalization of over $ 5 billion, higher than the number of only 2 stocks in 2015. Vingroup's shares are leading the market, Vingroup is also planning. Ambitious plans to sell electric cars to the US.
Vietnam's stock market has continuously rallied thanks to optimism about the export-oriented economy. Last year, Vietnam was among the few growing Asian economies. Manufacturing activity in April 2021 saw the strongest growth since November 2018, according to a report released Tuesday this week.
Vietnam is in a perfectly good position to benefit as the US and Chinese economies are recovering from the Covid-19 pandemic. In the past, Vietnam has benefited when the US-China trade tensions caused many businesses to diversify their supply chains out of China.
Fund management expert at City of London Investment Management, Mr. Jeff Gill, said: "We have been optimistic about Vietnam for many years. Vietnam has clearly benefited from US-China tensions and handled well. the Covid-19 pandemic and is considered a model of successful worldwide anti-epidemic ". City of London Investment Management Fund currently manages total assets estimated at 10.9 billion USD.
In March 2021, the Vietnamese stock market faced a challenge when FTSE Russell decided not to upgrade to a secondary emerging market because it led to the problem of not meeting the "Payment cycle" criterion. (DvP) "while in" restricted "rating. In addition, the "rate of rare transactions" is also rated "N / A" by FTSE. In addition, the improvements FTSE also said that Vietnam needs to improve in the account registration stage, in which there should be more favorable mechanisms for foreign investors to trade stocks with no room.
Many foreign funds, from Sempione Sim SpA, to Asia Frontier Capital or City of London Investment Management Co said they are looking for opportunities to enter Vietnam. They commented on strong economic prospects, attractive stock values, increased direct investment inflows and high corporate profit growth, and they also believed in Covid-19's ability to curb the epidemic. goverment.