Bruno Fernandes spent an impressive season with MU, but showed a disappointing performance with Portugal at EURO 2020.
When Bruno Fernandes went missing
When entering EURO 2020, Bruno Fernandes' luggage was 28 goals for MU, and 17 assists. In which, he has 18 goals and 11 assists in the Premier League.
Portuguese fans expect Bruno Fernandes to become an important solution to protect the crown of European football.
Bruno Fernandes is his own shadow compared to at MU
However, after 2 matches, Bruno Fernandes has not met the expectations of fans as well as coach Fernando Santos.
In the win against Hungary, Bruno played with a moderate level. He showed nothing before leaving the field in the 89th minute.
Portugal's victory in Budapest came only with a lucky opening by Raphael Guerreiro when the game turned 84 minutes. Then it was different from Cristiano Ronaldo's class.
In the match against Germany, Bruno's form was even worse.
Before the fast kick and synchronized movement of the German players, Bruno almost did not exist. England was completely isolated, resulting in the Portuguese being unable to control the midfield.
Portugal collapsed in the second half of the first half and at the beginning of the second half due to Bruno Fernandes.
Coach Fernando Santos is very patient with the MU star. However, he was still forced to withdraw this player from the field to bring on veteran Joao Moutinho, to ensure balance for the squad.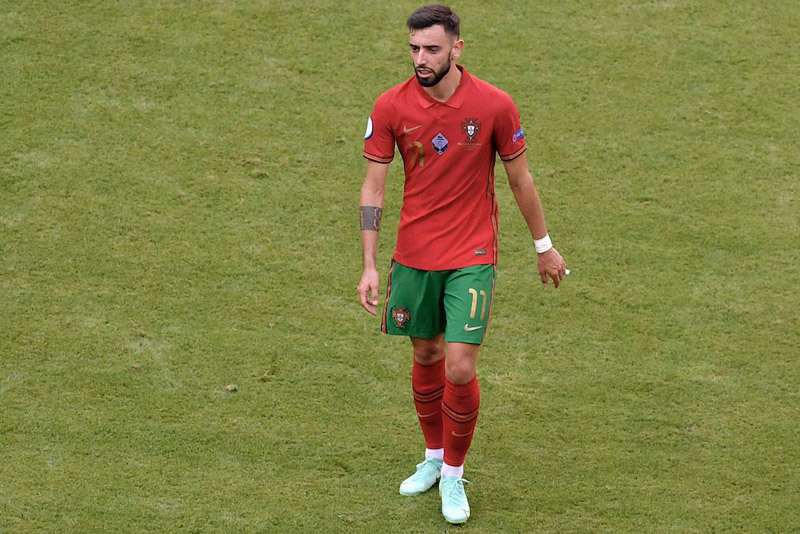 Bruno Fernandes is too slow and good enough
In the past two matches of Portugal, it can be briefly summarized: Ronaldo's class makes the difference, while Bruno Fernandes pulls back the collective.
What is the cause?
Bruno Fernandes played 153 minutes at EURO 2020. He made 68 passes, with 79.5% accurate; have 2 shots (1 on target); travel 17.2 km. Over!
Of the Portuguese players that have been brought on by Fernando Santos, only Diogo Jota has a lower pass success rate than Bruno – 76%. But Liverpool's players are much more efficient.
At MU, Bruno Fernandes is an untouchable star. Ole Gunnar Solskjaer built his play around him. The former Sporting CP player has always been favored in all aspects at Old Trafford.
The Portuguese way of playing is completely different. In the mind of coach Santos, Ronaldo is the only exception. The rest, every player must adhere to tactics and put the team above all.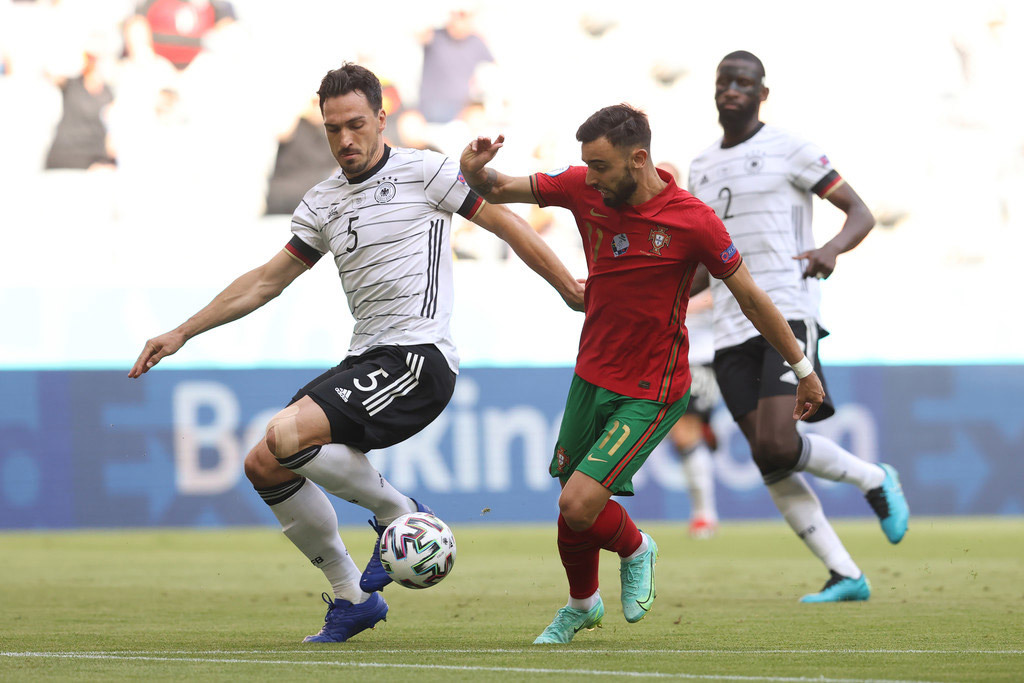 Bruno Fernandes must change before playing against France
Bruno Fernandes is not suitable for the tactics that coach Santos built. This has been evident since the 2018 World Cup – where he played only 2 matches (1 on the bench, 1 was substituted early).
Slowness and laziness to move were Bruno's problem. At MU, he was shielded by the surrounding satellites, so he often walked to accumulate fitness and then exploded.
With the Portuguese team, his excellence made him an off-beat link in the general wheel.
Bruno Fernandes's way of kicking makes him like an apprentice boy in front of German players who play football with confidence and accuracy.
Ahead is France – the world champion, but if Portugal loses, it is completely possible to return home soon. It's time for Bruno Fernandes to change and express himself, bringing emotions like what he experienced at Old Trafford.
Strong wind

Germany crushes Portugal: Suffocating "death table"
Germany had an outstanding performance of attacking football to beat Portugal 4-2, turning Group F EURO 2020 into a war of death.
.