Trang Viet Commune (Me Linh District, Hanoi City), is the place where for many years has provided vegetables, tubers and fruits to Hanoi City as well as many neighboring provinces. However, this year, due to the impact of the Covid-19 epidemic, many people here are in more trouble radish, tomatoes fell miserably. Many households that have tons of radishes in the garden do not have a buyer, so they pity to remove it.
Mr. Vo Van Lam (65 years old) was saddened because radish could not be sold and had to remove it
Mr. Tran Van Khang, Vice Chairman of the People's Committee of Trang Viet commune (Me Linh district, Hanoi city), said that according to preliminary statistics, there are about 200 tons of radishes and 100 tons of tomatoes in the area at present. Harvest but the price is very cheap, should be consumed.
Mr. Khang added: "Currently, the Commune People's Committee is assigning the Cooperative to be the focal point to help people find ways to consume to avoid damage. If there is any unit in need of agricultural products, help the commune people. Trang Viet is very precious.
Harvesting and pulling out the radish that was too old to harvest, Mr. Vo Van Lam (65 years old) sadly shared: "The house that just mobilized to spit sold about 2 tons. The remaining few tons of radishes have to be extracted. give up because they have flowers, no one will buy them ".
"Looking at the white-floating radish field in the garden can not be sold, but it is too pitiful. My family invests more than 6 million VND of seeds and fertilizers, not to mention the daily labor of taking care of and watering vegetables … If every year, the radish is good. a few tens of million dong, this year, we accept losses "- Mr. Lam said
The next garden of Mrs. Hoa (60 years old), this year has planted more than 2 acres of radish, but has been severely damaged. Nearly 1 sample of radish from Mrs. Hoa had to be salvaged from the pre-Tet season. However, there is more than 1 acre of radish with about 30-40 tons to remove because no one buys it.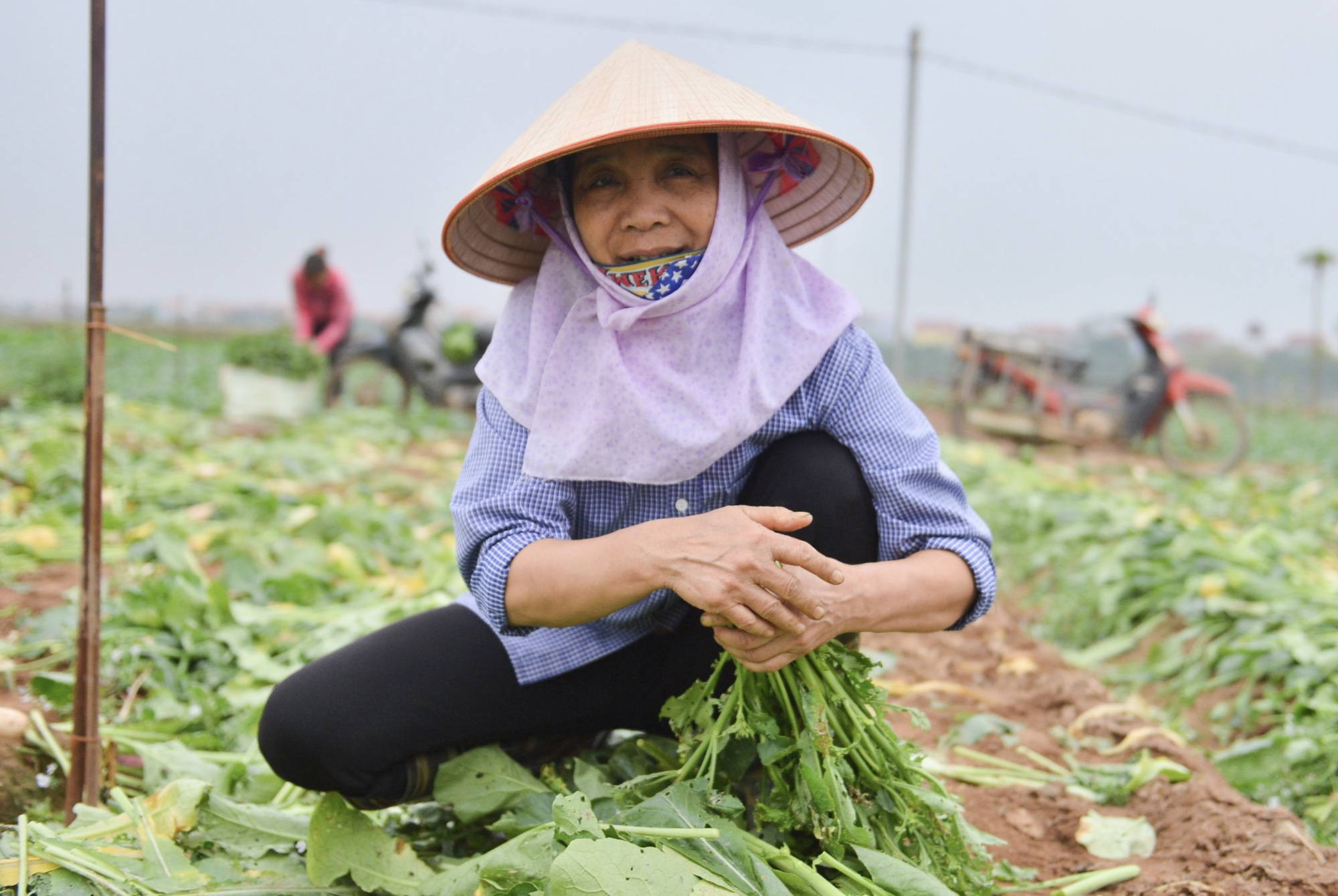 Ms. Hoa said she tried to bring it neatly to bring it to the market to sell for 2,000 VND / kg in order to salvage a bit of capital.
Ms. Hoa also shared: "My family has more than 1 acre of radish that no one can buy. Now let the traders come to see what can be sold, and the rest throw it away. They pull the radish and clean it up. My garden. Now, hiring someone to throw away the radish pole, it costs millions of money. "
Not only the people of Trang Viet commune, but also many merchants here have heavy losses. Mr. Nguyen Van Quan (30 years old, Trang Viet commune, Me Linh district, Hanoi), a trader driving to the field to harvest radishes, said that this year his family suffered heavy losses.
According to Mr. Quan, right before the Lunar New Year, he ordered the whole pole of radish for 5 million VND / pole. If it is productive, Mr. Quan can harvest about 2.5-3 tons of radish for each pole. In any year, if you have a good price, if you subtract labor costs, you will be profitable. However, this year the radish prices fell, making him bored not to harvest.
"Now, I try to harvest and clean and sell 1,500 to 2,000 VND / kg. I buy first, so I suffer losses. Now, if they cannot sell for us to harvest, they can get a little bit of work, but go buy at any price. still losses "- Mr. Quan said.
Some pictures recorded turnip gardens of many households in Trang Viet commune (Me Linh district, Hanoi):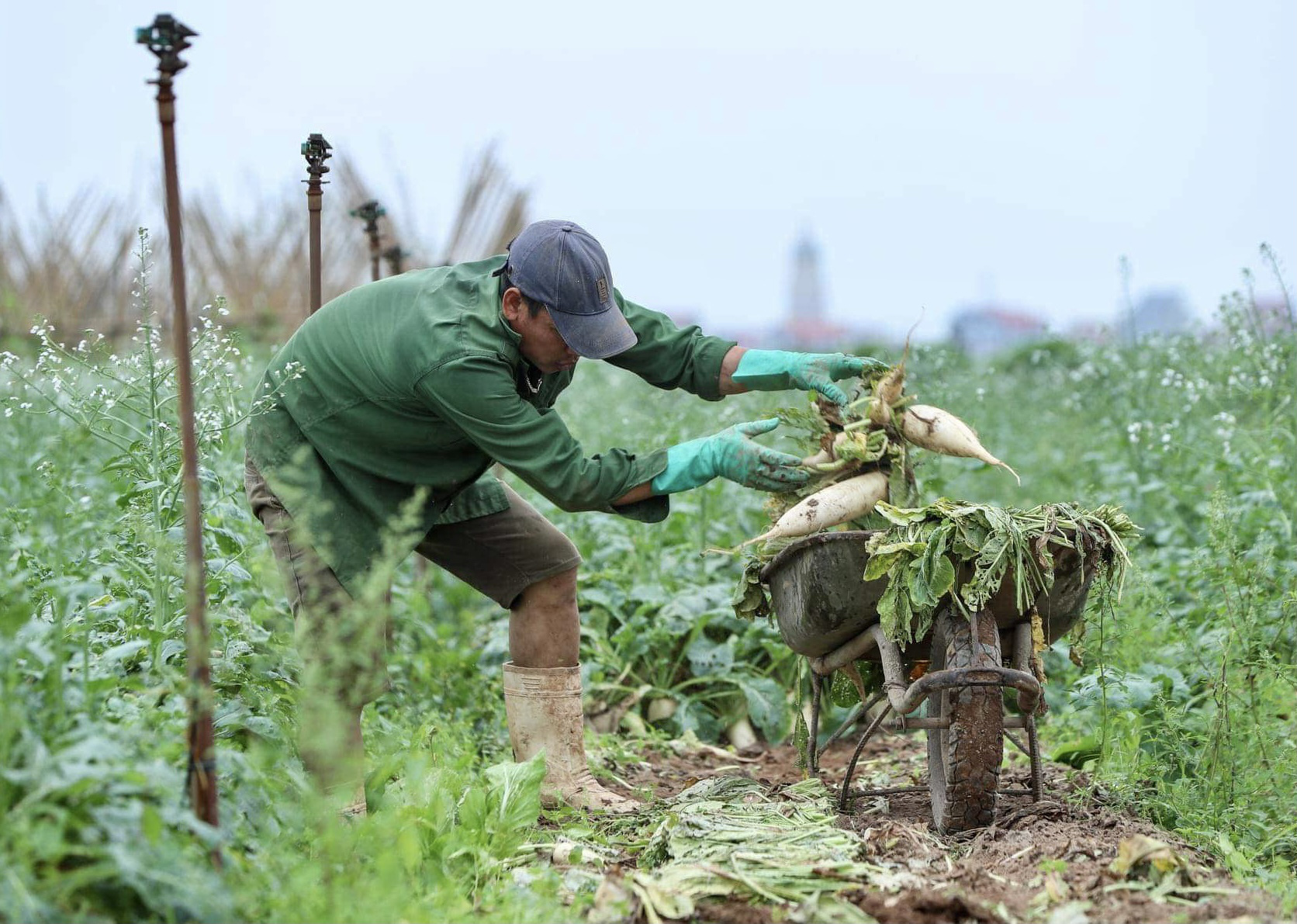 Unable to sell, people pityfully plucked radishes into the car to take them to the landfill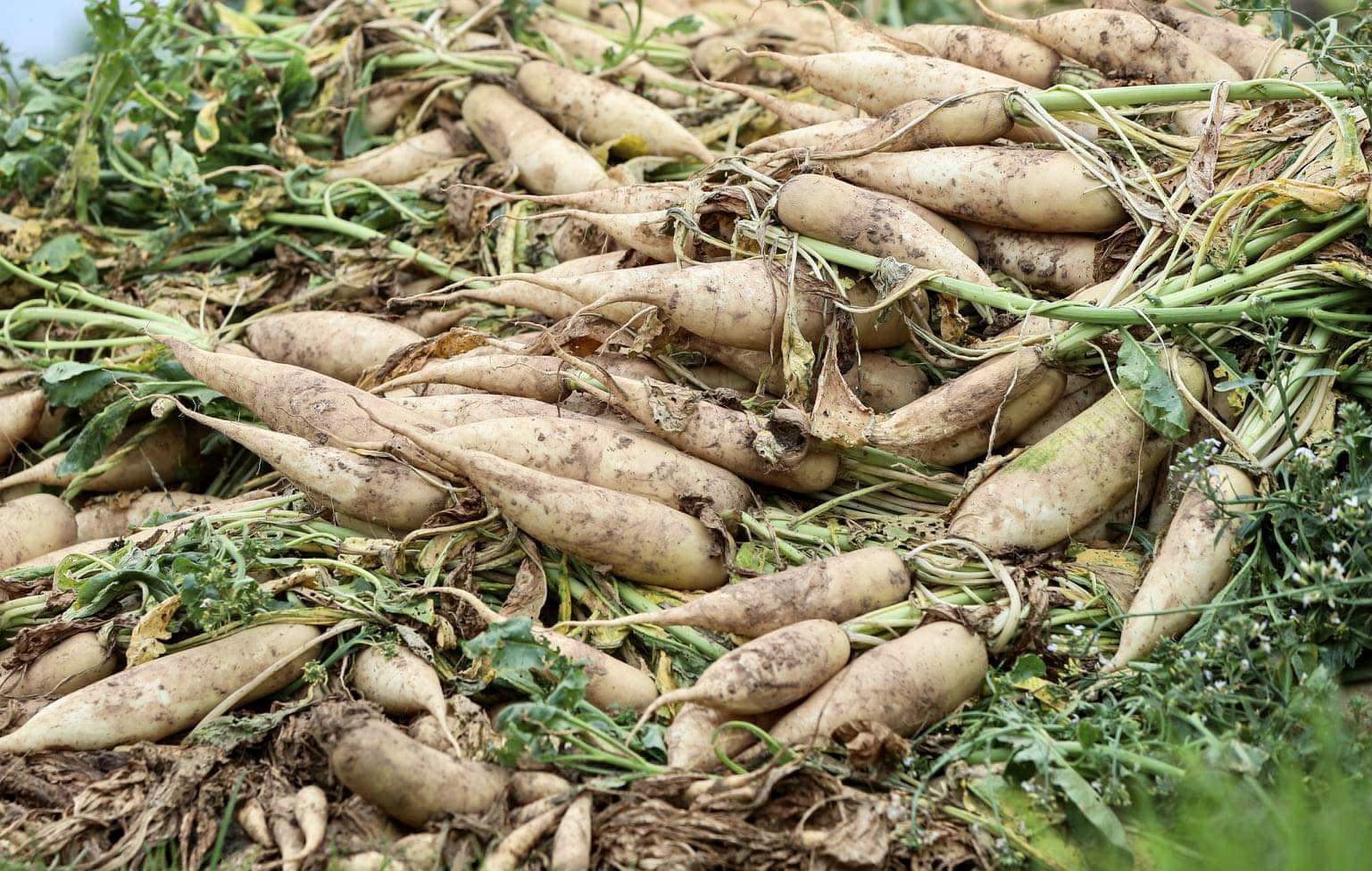 Hundreds of tons of radishes in Trang Viet commune (Me Linh district, Hanoi city) cannot be sold, if they can be sold at very low prices, they cannot afford to take care of farmers.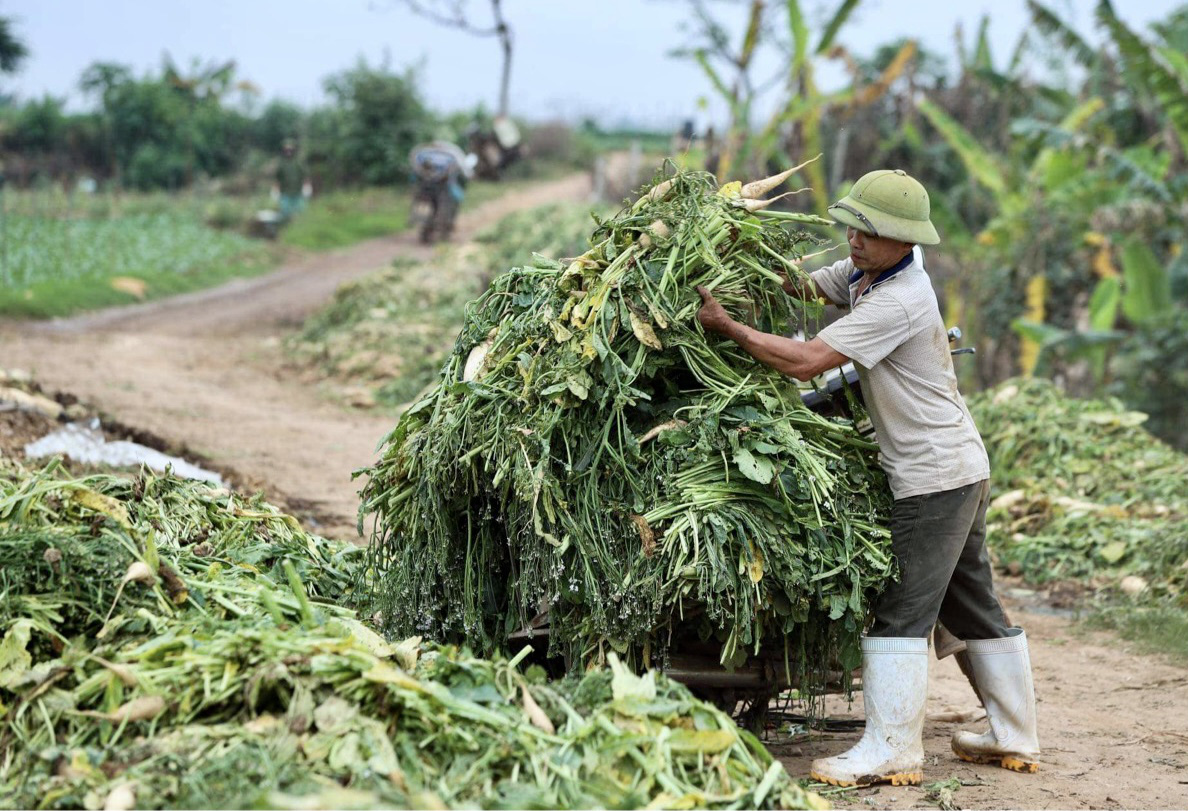 Waste radish was thrown to the field on both sides of the road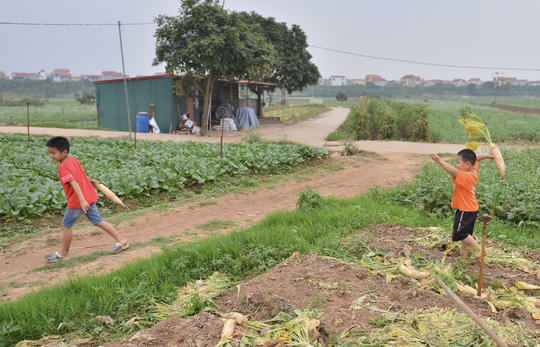 Many children use turnips to play with each other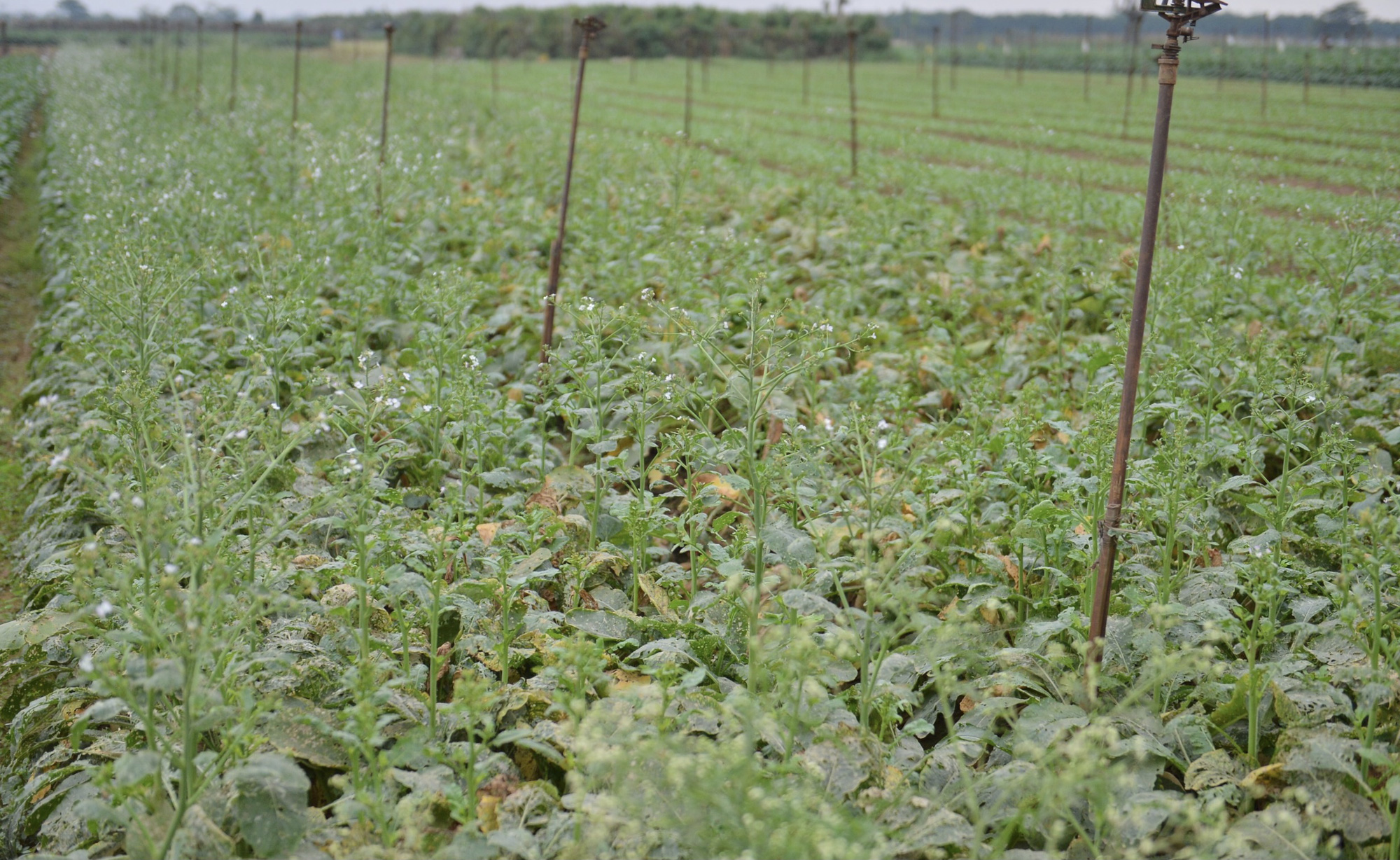 The radish gardens had flowered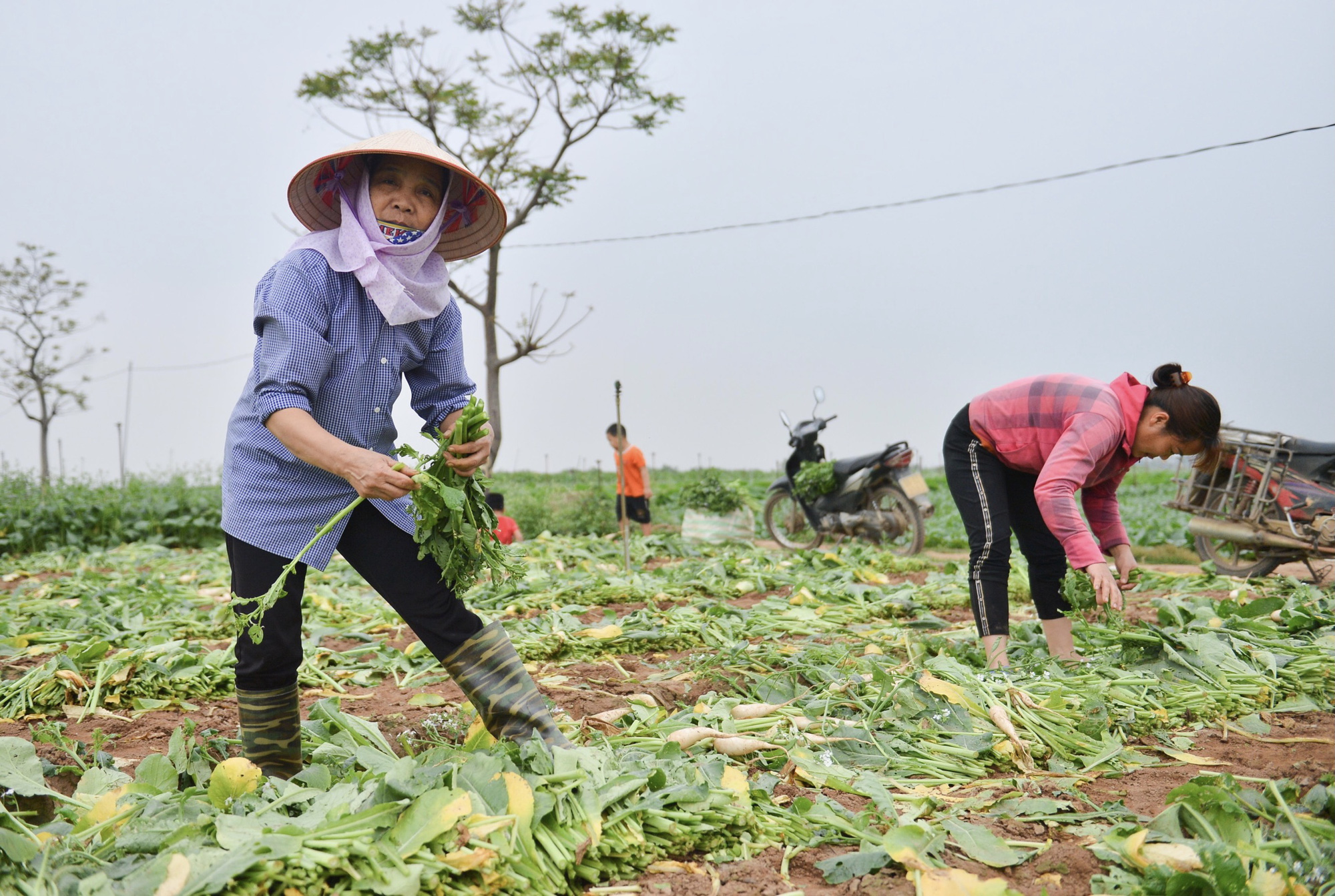 Ms. Mai (right photo, Ms. Hoa's daughter) said that in order for the radish to be harvested, the farmer had to take about 2 months of fertilizing. With 2 samples of radish, her family has to hire 2-3 employees every day to work hard in the fields.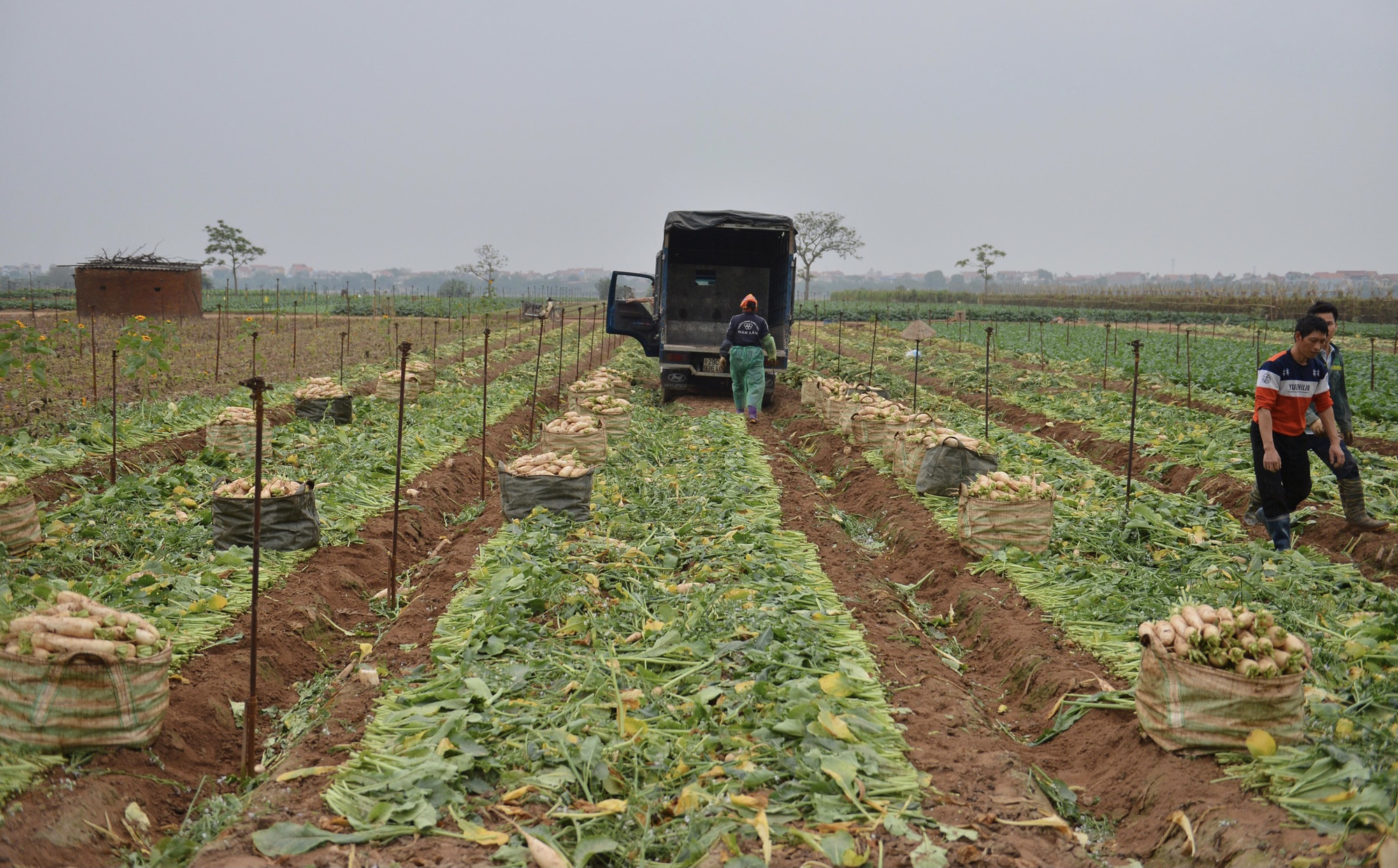 This year, many traders who have ordered to harvest radish in the garden before the Lunar New Year are also saddened by heavy losses.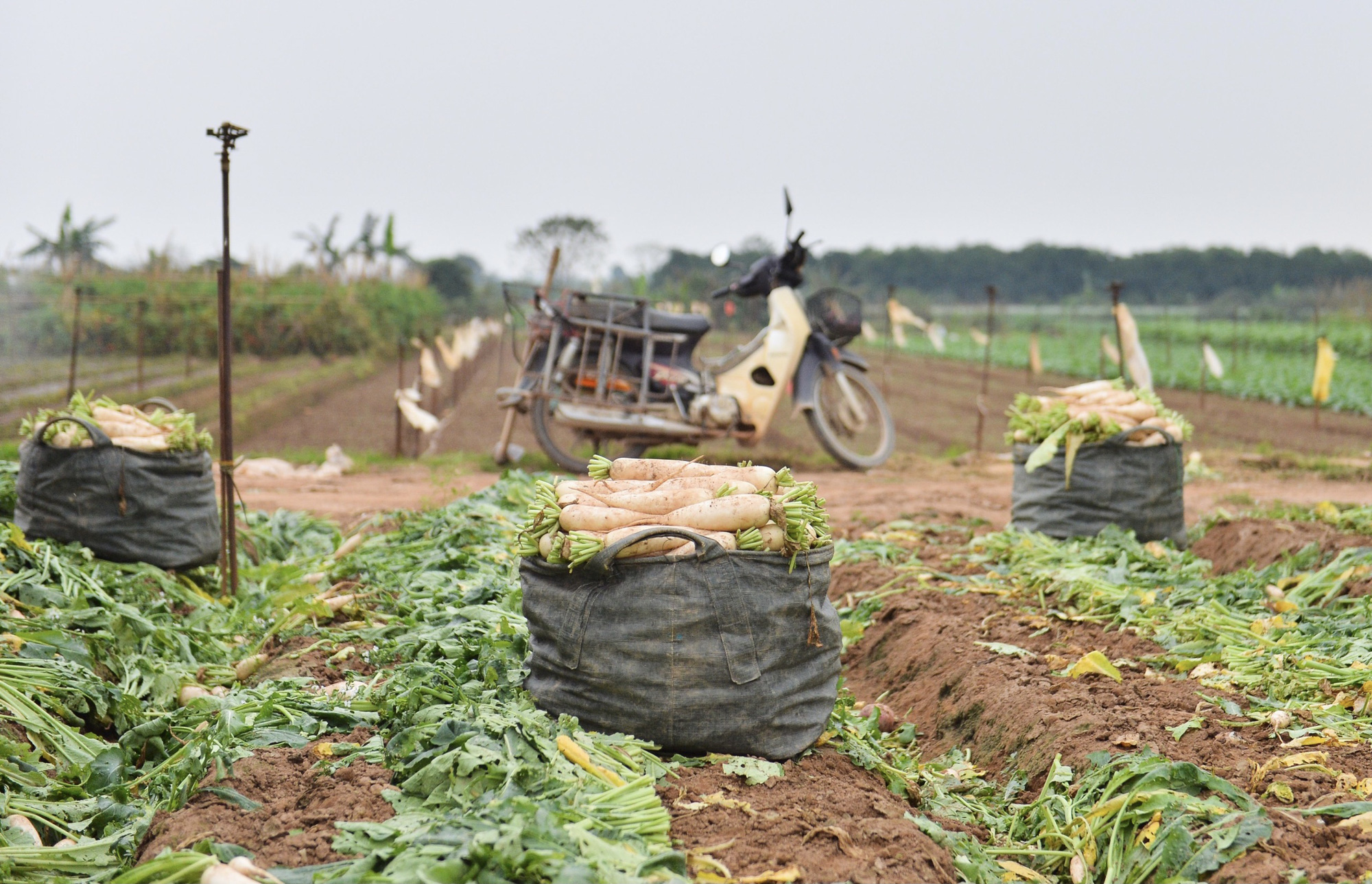 Radishes are put into each skin to move onto the car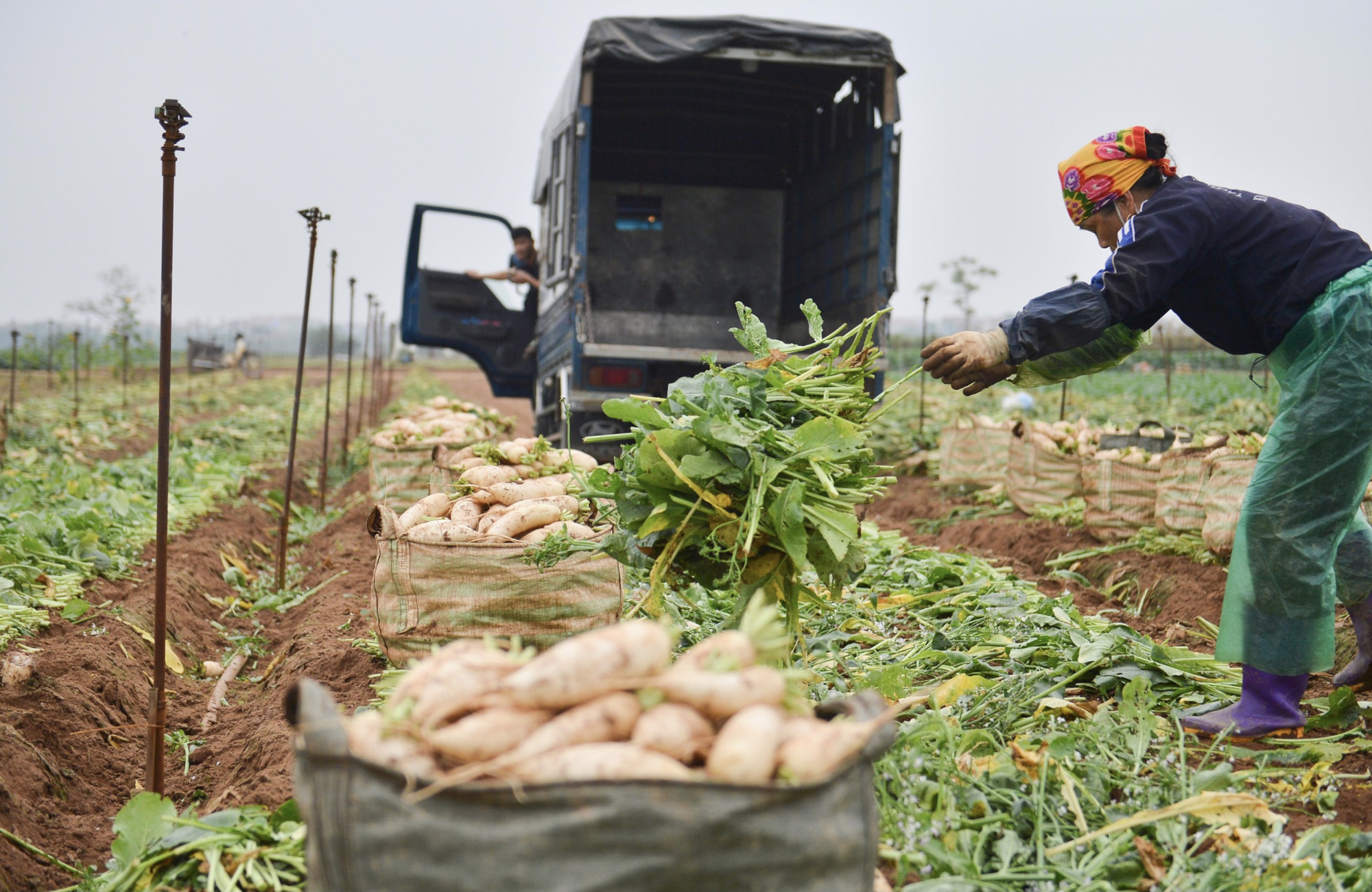 Residents are also trying to salvage what can be sold
Radishes are loaded onto a truck
Ms. Luong Thi Tham (30 years old) said: "I lost more than 1 acre that I ordered, but due to the failure to harvest in time, the radish blooms so old that it is impossible to harvest. Now only harvest in the tubers fields. It is still delicious. It has been 5 years as a purchasing profession, but it has never suffered as badly as this year.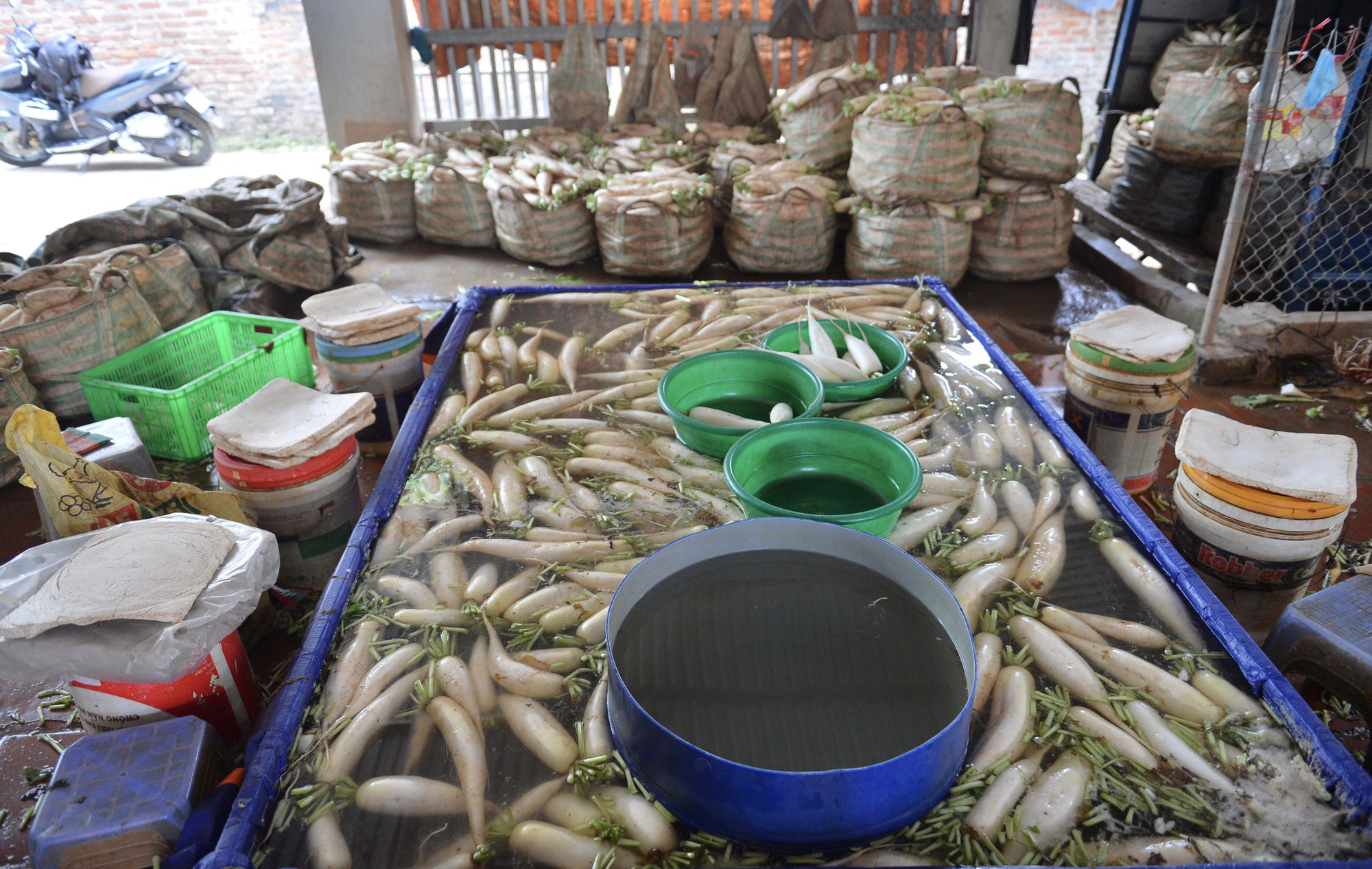 When the radish returns to the gathering place. The process of handling radish is quite a step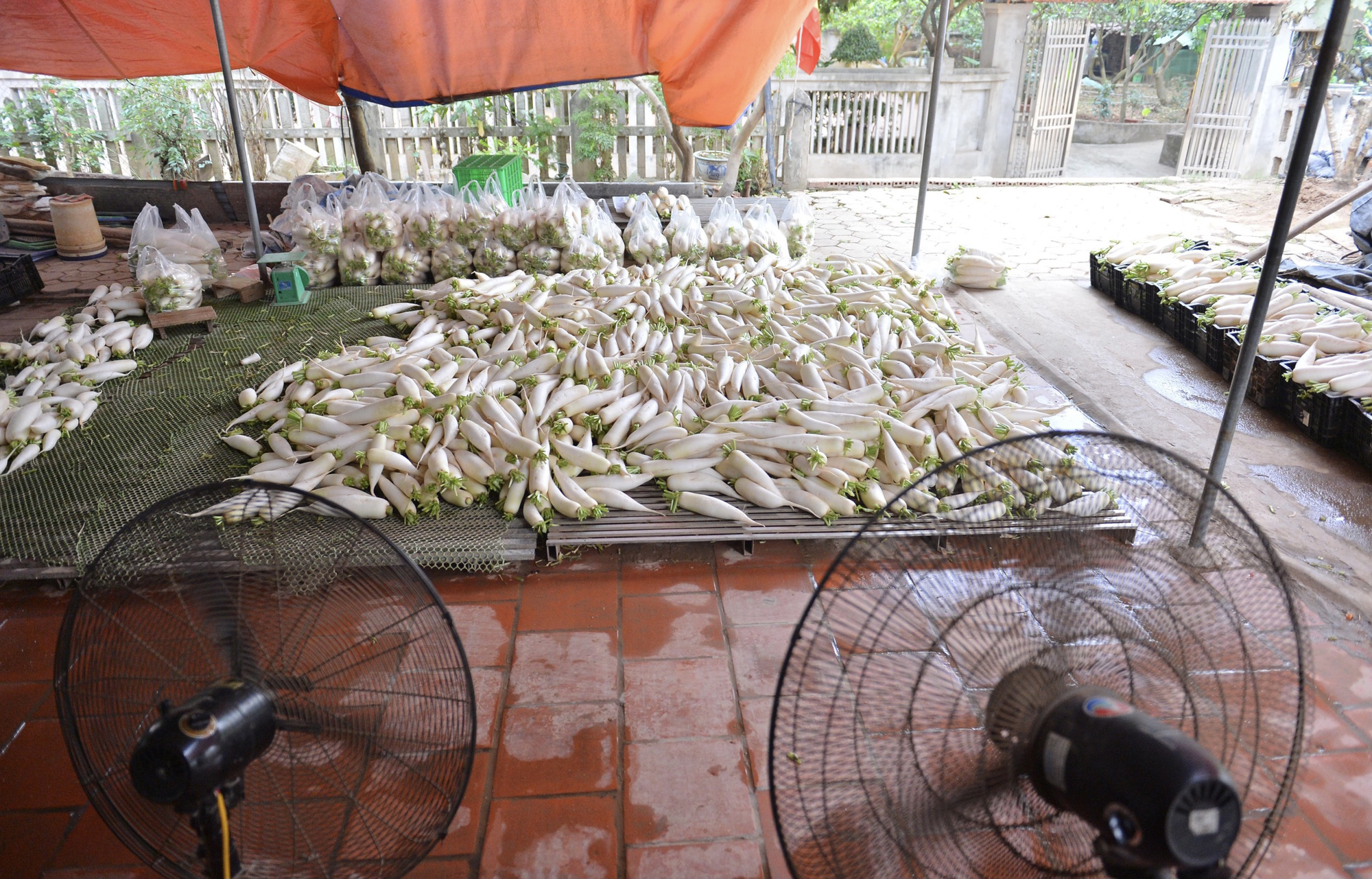 The radish is washed, then dried with a fan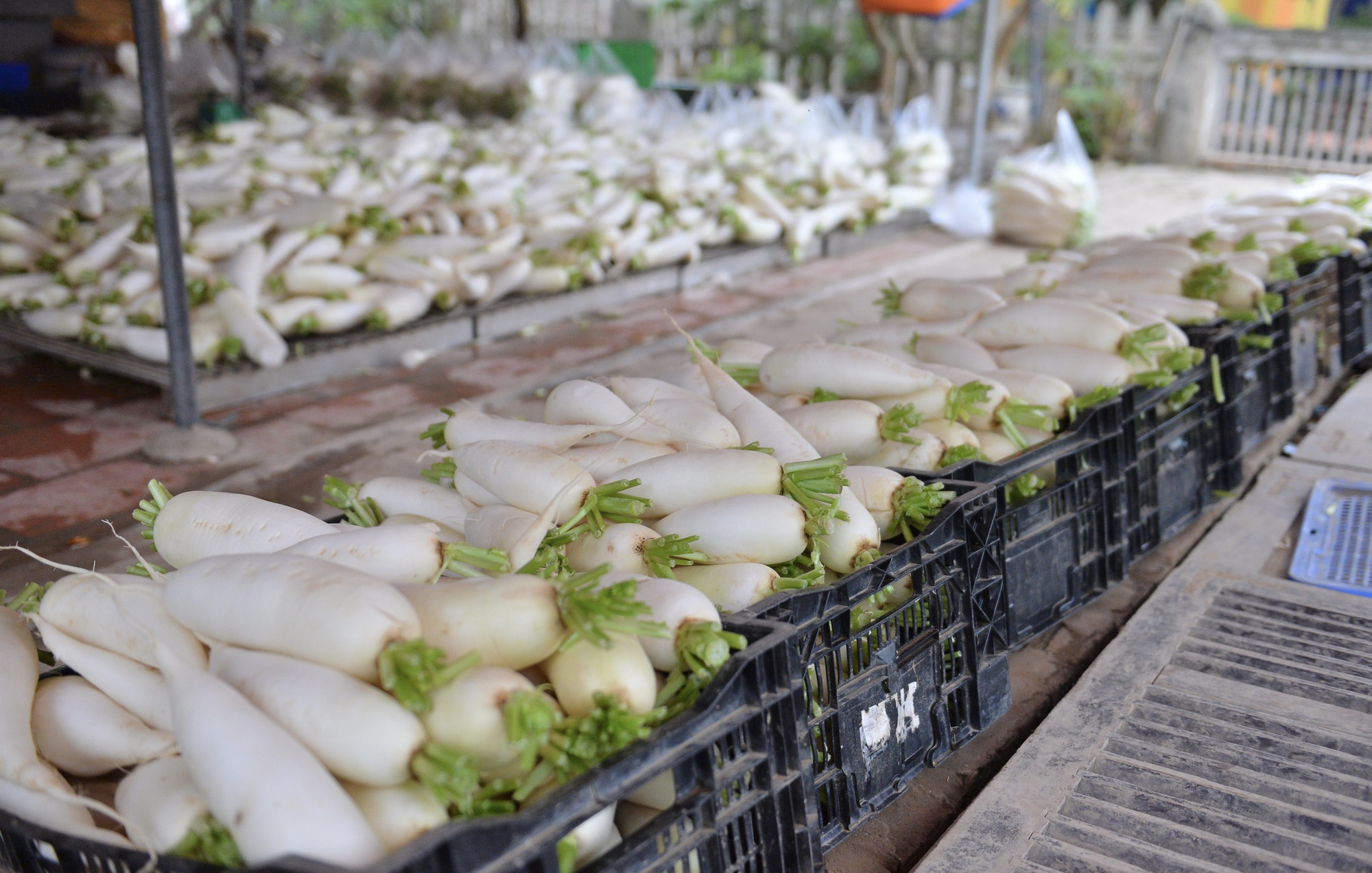 Wait to bring radish to the market