At the headquarters of the Hanoi Cooperative Union (No. 217 Tran Phu, Ha Dong, Hanoi) on the morning of February 22, Co.opmart opened a booth to support the consumption of agricultural products of cooperatives in the province. Hai Duong was affected by the Covid-19 epidemic. Highlights on the counter are agricultural products including carrots, kohlrabi, tomatoes, guava and white cabbage, in addition to scallions, mangoes, oranges, dragon fruits of all kinds.
Ms. Nguyen Thi Kim Dung, Director of Co.opmart Hanoi supermarket, said that the supermarket will set up a booth to practically support Hai Duong farmers in consuming agricultural products. After that, depending on the situation, there will be a suitable roadmap to continue to support farmers. It is estimated that this phase, the supermarket will compensate for the cost to be able to sell about 200-300 tons, expected to last for a month or until the total amount of agricultural products of the whole province is basically sold stably.
The Hai Duong agricultural product stall of Co.opmart Hanoi has just been deployed at the headquarters of the Union of Cooperatives in Hanoi
In addition to the organization of a booth selling Hai Duong agricultural products mentioned above, Co.opmart Hanoi also designed a separate area at the supermarket for goods from Hai Duong for customers to easily shop. Here, kohlrabi and tomatoes will be sold for 4,900 VND / kg, white cabbage for 3,900 VND / kg, carrots 16,900 VND / kg.
The selling price of products from the supermarket compensates for the transportation and labor costs, absolutely does not force farmers to buy cheaply.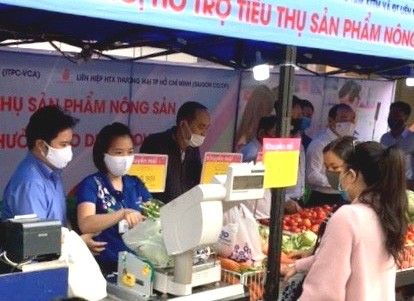 All of Hai Duong Co.opmart "rescued" agricultural products are controlled for quality, ensuring food safety, so consumers trust them.
According to statistics of the agricultural sector of Hai Duong province, the province currently has about 4,000 hectares of carrots, cabbage, kohlrabi, cauliflower, leafy vegetables and onions that are coming to full harvest. Some localities worry about the Covid-19 epidemic, so they have to limit or even "close" the freight cars from Hai Duong province. Due to congestion in transportation, many businesses could not go to Hai Duong raw material areas to buy agricultural products.
The provincial agriculture sector has actively connected businesses that consume agricultural products, step by step alleviating problems in the transportation from raw material areas to points of preliminary processing, packaging and moving to other provinces and cities for consumption. .