The successful study of the vaccine against Covid-19 is a major step in the medical profession. However, due to being in the early stages, rare side effects when getting vaccinated can still occur, affecting health that everyone should be aware of.
The UK vaccine administration may work to prevent young people from getting the Covid-19 AstraZeneca vaccine immediately out of concern about rare cases of blood clots.
MHRA (the UK Administration of Medicines and Healthcare Products) announced that it has recorded 30 cases of brain clots in 18.1 million people who received the AstraZeneca vaccine, for every 600,000 people. then there is 1 case (0.00017%).
But there are concerns that while vaccination for the elderly offers many benefits far outweigh the risks, the situation in young people is 'more complicated'.
If MHRA confirms a ban on injections of people under the age of 30, this would be the first of its kind in the UK and could delay the next phase of implementation.
'Professor Lockdown' – Neil Ferguson said that the AstraZeneca vaccine may not be suitable for young people if its link to the formation of blood clots is proven to be correct.
He said older and middle-aged groups should be given AstraZeneca because the Covid-19 threat is much higher and more worrying than the risk of blood clots, which is thought to affect only 1 in 600,000 people who get the vaccine. asking (0.00017%).
The Covid-19 AstraZeneca vaccine has been widely vaccinated by many countries. (Artwork image)
British scientists said the risk of dying from Covid-19 for those aged 25 to 44 years was 0.04% and 0.01% for those aged 15 to 24. For comparison, this percentage up to 6% in the old age groups.
Several European countries – including Germany, Spain and Norway, have suspended UK-made vaccinations after dozens of people developed a rare blood clot, known as a CVST, or Cerebral venous sinus thrombosis.
The UK's health regulator has seen 30 similar cases, of which 7 died. But they insist their analysis has yet to find any evidence that the vaccine causes coagulation, a finding that has also been reiterated by the EU's health watchdog.
"Regarding the current data, there is growing evidence that there is a rare risk associated with the AstraZeneca vaccine," Ferguson told the BBC. But it may be associated to a lesser extent with other vaccines, these abnormal blood clots with low platelet counts. It seems that age-related risks are possible.
And therefore, the older the person, the less likely it is to have an effect, the higher the risk of getting Covid-19, so despite the risks, the real benefits point to vaccination.
Because medical experts are unsure how common CVST is in the broader population than usual, they are still unsure whether it will occur in people who receive more vaccinations.
CVST, or cerebral venous sinus thrombosis, is a blockage in a vein that carries blood away from the brain and it can lead to a stroke or bleeding inside the skull.
Spanking children is morally complex, scientists say, as they have little risk of dying or getting seriously ill from the disease, and will only be vaccinated to protect the elderly. However, it is not clear how long Covid-19 can affect them.
The UK's MHRA said it had not seen cases of CVST in people who injected Pfizer, but there is still no evidence that the AstraZeneca vaccine is increasing the risk of blood clots. This may be because different groups of people are getting different vaccines.
Last month, Germany went against the advice of European regulators and banned AstraZeneca injections for people under the age of 60 over concerns there is a link to the condition.
Officials in Frankfurt have recorded 31 cases of blood clots out of the 2.7 million people who had been injected with AstraZeneca and alarmed the number. But the rate is only 0.0012%.
For comparison, the University of Cambridge experts estimate the risk of dying from Covid-19 for those aged 25 to 44 years is 0.04% – 33 times higher. For those aged 15 to 24 years, the risk of death is 0.005%, making it four times higher. 40 people under the age of 20 died in the UK, out of a total of 86,351 people, along with 598 people between the ages of 20 and 40.
Comparing the incidence of CVST to coronavirus mortality is difficult for a number of external reasons, including the data is too rare, unclear, and many people will experience a significant shock from Covid. -19.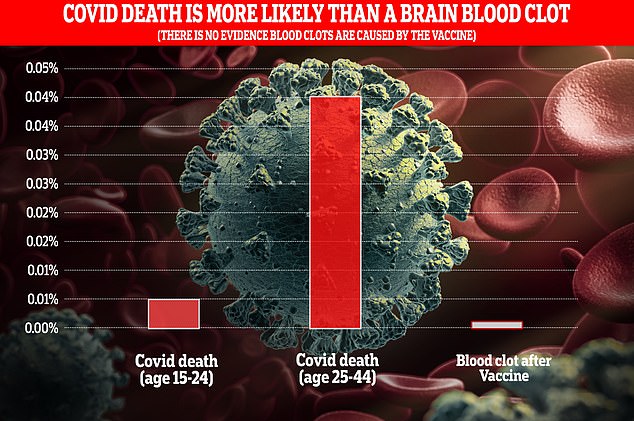 Mortality from Covid-19 aged 15 to 24, 24 to 44 and death from a blood clot after vaccination.
Fortunately, people with CVST often have a higher survival rate than death. If it is caught in time – before it clogs a vein – it can be treated simply with blood-thinning drugs, the researchers said.
Johns Hopkins University in Baltimore, USA, estimates that one in every 200,000 people of all ages develop CVST each year.
According to the European Drug Administration, the incidence of this side effect is about 1 in 100,000 people under the age of 60 who have received the AstraZeneca vaccine.
But much of the data comes from patients receiving the German AstraZeneca vaccine, mostly teenage females at a statistically higher risk of developing CSVT, even without a vaccine. The watchdog also revealed that it had eight reports of other serious blood clotting conditions associated with low blood platelets.
"Our rigorous review of UK reports of a specific and rare type of blood clot is underway," said MHRA. On the basis of this ongoing review, the benefits of the vaccine against Covid-19 continue to outweigh any risks and everyone should continue to vaccinate when invited ".
The fragile link between the vaccine and the blood clot is still confused as experts in Germany and other countries have stopped vaccination because they think the condition is most common among women. Meanwhile, all 5 initial cases in the UK are male.
Until recently, Germany banned the Astra Zeneca vaccine from people over the age of 60 due to initial concerns about blood clots. Other major European countries have also restricted vaccination to certain age groups, although they have seen significantly fewer cases of CVST while vaccinating more people.
If the same incidence of a blood clot in Germany also appeared in the UK, nearly 200 people would have been diagnosed because the number of injections was six times more.
Huong Giang (Source: dailymail)
.