Goalkeeper De Gea made an excellent save to contribute to Spain's minimal victory over the Swiss visitors, in the third match of the A4 UEFA Nations League group on October 11.
Watch the video from Spain 1-0 in Switzerland:
Scored: Oyarzabal (14 ')
Although having to be a guest in the land of gaurs, Switzerland has actively joined in. But the determination of the visitors soon had to receive "cold water" in the 14th minute.
Mikel Oyarzabal used the Swiss defense embarrassment to score accurately, opening the scoring for Spain.
Spain wins over Switzerland
A few minutes earlier, goalkeeper De Gea had an excellent blocker for Benito's seemingly goal.
The rest of the time, coach Luis Enrique's team played actively and controlled the ball better, but could not score more goals.
After the break, Spain still owns the game, with possession of more than 60%. However, the number of opportunities that the home team creates is not too much.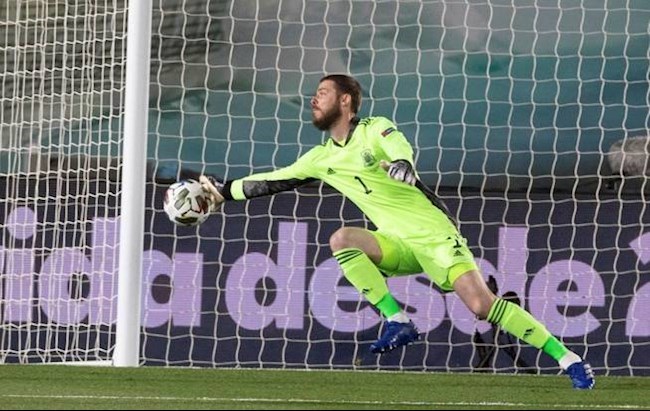 Goalkeeper De Gea has a spectacular save
On the other side of the battle line, during the 90 minutes of the match, Switzerland also only hit two shots on target.
Having won the minimum match, Spain solidified the top of the A4 group with 7 points after 3 games, 5 points higher than the second ranked team Germany, although "Tank" also enjoyed the joy of victory with a score of 2-1. yard of Ukraine.
Some pictures of the match:
Squad:
Spain: De Gea; Navas, Ramos, Pau Torres, Gayà; Dani Olmo (Canales 57 '), Busquets, Merino; F. Torres (Rodri 88 '), Oyarzabal (Gerard 73'), Ansu Fati (Adama 57 ')
Switzerland: Sommer; Widmer (Gavranovic 86 '), Elvedi, Schär, Rodriguez, Benito (Zuber 81'); Sow (Vargas 60 '), Xhaka, Freuler (Fernandes 86'); Mehmedi (Shaqiri 60 '), Seferovic
Nations League A 2020/2021

Table A4

#

Team Name

ST

T

H

B

TG

th

Students

D

first

Spain

3

2

first

0

6

first

5

7

2

Virtue

3

first

2

0

4

3

first

5

3

Ukraine

3

first

0

2

3

7

-4

3

4

Switzerland

3

0

first

2

2

4

-2

first
Libra

Germany won its first victory in the Nations League
Germany got their first victory in the UEFA Nations League after overcoming host Ukraine 2-1, dawn 11/10.
.