Deputy Prime Minister Vu Duc Dam: "We always have to be ready" – Photo: VGP
On February 23, the National Steering Committee for Disease Control COVID-19 had a meeting to deploy the prevention of the epidemic. Deputy Prime Minister Vu Duc Dam, Head of the Steering Committee chaired the meeting.
We cannot claim a country with nearly 100 million people, with more than 5000 km of land border, not to mention thousands of kilometers of coastline, an open economy, so there cannot be absolutely no pathogens in the community "
Deputy Prime Minister Vu Duc Dam
Harmoniously combine the vaccine strategy with the anti-epidemic strategy
At the meeting, umbrellaNguyen Dac Vinh, Deputy Chief of the Office of the Party Central Committee, said that in the fight against epidemics, early detection is key. Citing the actual example at the outbreak of Tan Son Nhat airport and the outbreak in Hai Phong, Mr. Vinh emphasized the need to deploy screening tests with specific tactics and strategies to detect early cases. point and quickly stamp out translation.
He also suggested that the Ministry of Health need to recap lessons, build traceability maps, intelligent isolation diagrams to guide localities in appropriate and effective application when situations arise; dAt the same time, it is necessary to develop plans for a harmonious combination between injection strategies Vaccine COVID-19 prevention with an epidemic prevention strategy, to bring into play its effectiveness.
Regarding the screening and screening work, the Steering Committee said that the Ministry of Health must guide localities in ensuring thrifty and effective implementation; in which the local Center for Disease Control (CDC) must play a coordinating role …
According to Major General Nguyen Xuan Kien, Director of the Department of Military Medicine, testing must be managed by a state agency, which must be a specialized agency. Continuing to implement the strategy of fast-track tracing, wide-ranging, narrow isolation; It is necessary to study, apply the use of fast antigen test to shorten the screening test time …
Deputy Prime Minister Vu Duc Dam emphasized: The population of Vietnam ranks 15th in the world. We are a middle income developing country that ranks outside 120th in the world. Currently, the total number of cases in Vietnam ranks 173, but in terms of the rate of cases per population, it ranks 213/219 countries and territories. In particular, Vietnam's anti-epidemic costs are very low. Number of tests per population ranks 176 in the world.
"With all humility, it can be said that Vietnam is rated by the world as one of the most effective anti-epidemic countries. Therefore, we must persevere with the anti-epidemic strategy and principles from the beginning.
In each period, the tactics changed flexibly, but the 5-step strategy of Prevention – Detect – Isolation – Zoning – Dumping out – Treatment has not changed, especially detection, tracing and now. more focus and focus community screening ", Deputy Prime Minister said.
Extensive test, indicated
Speaking at the meeting, Assoc.Prof.Dr. Nguyen Truong Son, Deputy Minister of Health, đProposing Hai Duong province to make specific and scientific calculations in implementing large-scale testing for workers in industrial zones; build a suitable sample size, with suitable subjects, focus on groups and high-risk areas (bus stations, traders …) to conduct screening testing, ensuring both effectiveness against epidemics, both economically efficient.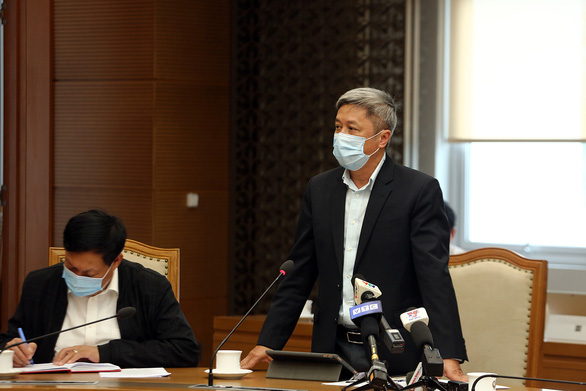 Deputy Minister of Health Nguyen Truong Son at the meeting – Photo: VGP
Deputy Minister of Health Do Xuan Tuyen noted that the province strictly followed the instructions as indicated extensive testing; propose the province to assign the Department of Health to lead together with the Department of Labor, War Invalids and Social Affairs, the Management Board of industrial zones to assess the risks of each factory to serve as a basis for ordering tests, not testing for workers of all. factories located in the area.
About at-risk subjects must also have indications; on the testing unit, definitely through the CDC coordination, the collection of test prices must comply with the regulations of the Ministry of Health – the Ministry of Finance; avoid specifying a unit of test …
Reporting more on this issue, the leader of Hai Duong province said that the province persistently tested on the oil spill, with focus and focus, to proactively prevent the epidemic and immediately handle the outbreak; The province also advocates expanding to higher-risk groups, depending on the epidemiological characteristics of each locality, to actively fight the epidemic, not arbitrarily expanding testing.
Can not claim that the country must be absolutely safe
After listening to the opinions of the province and members of the Steering Committee, Deputy Prime Minister Vu Duc Dam praised the efforts of Hai Duong province as well as the support forces of the Ministry of Health in recent years with the whole country. has done well in epidemic prevention.
It can be said now that the epidemic is fundamentally well controlled across the country. Even Hai Duong, when carefully analyzing the data to date, only found 3 cases of COVID-19 in the community that were not located in the blockade or concentrated isolation areas and all 3 cases were traced.
Next time, the Deputy Prime Minister suggested Hai Duong province to continue the test, which is tracing and tracking cases. For large-scale testing in the community, the Ministry of Health must provide guidance, Hai Duong must direct very specifically which factories and enterprises, in which areas are required to test for workers to operate. to avoid waste.
"Currently, the cost of testing for COVID-19 by PCR method is equivalent to vaccinating 2 people. Local Centers for Disease Control (CDC) must be responsible for coordinating testing activities.
Absolutely not allow all businesses to test COVID-19 for new workers to operate not only costly, but also creates the mentality of suspecting tests, or having negative results. then again subjective, very dangerous, "said the Deputy Prime Minister.
At high-risk places, there are many people passing by such as water shops near industrial zones, hospitals, bus stations, markets … screening must be very flexible in order to be most effective and economical.
Deputy Prime Minister noted that even after Hai Duong province has stopped epidemic, it must be ready for an epidemic situation. Because with 100 million people, a very long border, an open economy, we still have to welcome foreign experts to serve socio-economic development, "no one can say that Vietnam absolutely does not have any. pathogens in the community. We have to be ready at all times "…
Seclusion is not correct
Regarding the connection of Hai Duong's consumption of goods, Deputy Minister of Industry and Trade Dang Hoang An said that the Ministry of Industry and Trade has been working with big consumers, they are ready but are currently facing difficulties in organizing transportation. (currently each province is doing one type so it is very troublesome).
Regarding this issue, Assoc.Prof. Dr. Tran Dac Phu said that it is not true that some localities "seclusion" is not correct. Because state management agencies have issued documents specifying "technical barriers" to ensure the circulation of goods in the conditions of disease prevention. He suggested localities need to study the regulations issued by the central government in order to properly apply, avoid "blocking rivers, ban markets", affecting production and people's livelihood.
.