Capturing the attractiveness and increasing demand from customers, Elipsport brand (a member of the ELIP group) revealed 12 premium and exclusive features in its massage chairs. This is a breakthrough that is highly appreciated by industry experts on the level of " playfulness " of Elipsport – a major player in the healthcare equipment market in Vietnam.
1. 12 outstanding massage features – new pinnacle for golden health
Perhaps nowhere can offer a product that integrates 12 features in one Body massage chair. This is not only a technological breakthrough but also an effort to research and learn in each production stage. Many experts have come together to find ways to make each feature fully manifest its uses.
The perfect setting massage
The first thing to mention is the intensive massage available in each ELIP massage chair. They will give you the feeling of real comfort as you are experiencing in professional spas.
The products have various automatic massage sessions to mention, including: Deep, Neck & Shoulder, Waist, Stretch, Relax, Swing, Memory Program 1, Memory Program 2. Besides, the ELIP massage chairs There are also massage sessions customized to the needs of each person such as Full Body, Back, Upper Body, Lower Body, Knead, Shiatsu, Tap, Tap + Knead.
All muscle aches will be relieved in just 15 minutes with products from the ELIP series.
L-shaped massage axis – suitable for the Vietnamese body
In order to bring the best experience to all types of users, Elipsport's team of technical experts had to study very carefully about the Vietnamese site. They have successfully created a massage shaft that anyone will feel satisfied to use.
That is the L-axis – a perfect calculation for the chair to hug the user's body from head to butt. Not only that, the roller system of ELIP massage chairs can also affect each acupuncture point in the body extremely accurately.

Technology is completely new according to the location of Vietnamese people
High quality silicone coated 3D roller, safe for health
ELIP massage chair lines apply unique 3D massage technology. The 3D roller system alone has a larger size than all other products available on the market. Not only that, the outside of the roller is also covered by a high quality silicone. It is this advantage that gives users more comfort and faster comfort that no other seat line in the same price segment can replace.
Twice as many airbags – an exclusive advantage only ELIP massage chairs have
Qualifying as a high-end product line in the health care products of Elipsport brand, the massage chairs are equipped with a " huge " number of airbags to ensure all areas of the body such as the head, shoulders, neck, back, arms, hips, buttocks, thighs, calves, and feet are all properly massaged. The airbags are also designed according to each massage level to suit the individual needs of each user.
Smart full body stretching thanks to zero gravity technology
The zero-gravity mode of the ELIP massage chairs has helped stretch the user's entire body and completely remove the pressure on the spine, bones, joints, and muscles. Not only does it bring a feeling of mild body relaxation like nothing, but this regime can also effectively prevent and treat bone and joint diseases. Many people have used and were very surprised to feel that the chronic lower back pain is gradually decreasing miraculously.
Zero gravity massage – experience the ultimate sensation at home
Infrared temperature mode 40 degrees
Speaking of the technology integrated in the ELIP massage chair, we cannot forget to mention the infrared temperature mode. Infrared heat is a technology that only modern massage chairs can own. With a temperature up to 40 degrees, throughout the back, legs will be warmed, thereby helping blood vessels to expand to promote better blood circulation. This special technology helps prevent and treat many cardiovascular diseases.
2. More than a massage chair – ELIP is the gift your life needs
Through a long stressful and tiring day, relaxing with the ELIP massage chair has made the lives of many people easier and better.
There's nothing better than relaxing on a comfortable premium cushioned device, using Bluetooth music playback. Not only that, we can also feel each airbag massaging all painful areas, …
Therefore, it is not wrong to say that using ELIP massage chair is a way to enjoy life and create more motivation to work and dedicate. From there, we can cultivate family happiness and furthermore, build a civilized and developed society.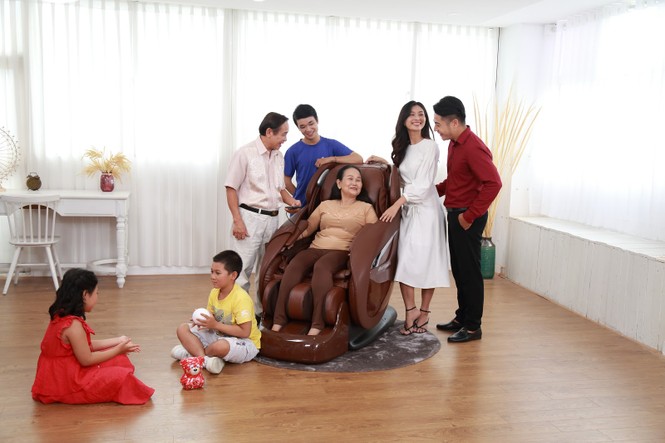 A meaningful gift for the happiness of all Vietnamese families
With every effort to create a leading trend in the manufacturing of massage chair equipment, Elipsport is gradually asserting its No. 1 position in the hearts of consumers. Since then, this brand is doing something rare: building the bravery of warriors to cultivate and create a powerful self-reliant country.
All details about the product you can refer to https://elipsport.vn/ Or contact 1800 6854 to meet a counselor to choose a massage chair or electric treadmill suitable for the family.
.