COVID-19 screening at Ho Chi Minh City Oncology Hospital (facility 1) – Photo: XUAN MAI
On February 8, the Ho Chi Minh City Department of Health sent urgent documents to local medical facilities to strengthen review and ensure prevention of COVID-19 epidemic in the Lunar New Year.
Accordingly, the Department of Health suggests that all functional departments of the Department of Health are available to be on duty 24 hours a day, ensuring the reporting of disease situation and developments according to regulations, and timely supporting units in epidemic prevention.
For hospitals, district health centers must ensure 24/24 permanent work, make lists and assign staff to be on duty every day, ready to add human resources to take samples for testing, tracking traces F1, F2 … upon request, prevent employees from being on vacation in an emergency situation.
At the same time, organizing to take samples quickly when needed, proactively propose the support of the testing mobile teams of district hospitals to ensure the prescribed time.
In addition to daily tour, public hospitals have to arrange mobile teams to test ready, support medical centers when there are unexpected requests. Each team of at least 4 medical staff has been trained in the SARS-CoV-2 sampling technique.
The Department of Health also recommends medical facilities to ensure medical declaration, screening, separation, and isolation at the hospital in accordance with regulations and assessment of hospitals, clinics for safety against COVID. -19 according to the set of criteria set by the Ministry of Health.
Accordingly, medical facilities must enter their online results on the Ministry of Health's software on a monthly basis. In the situation HCMC has positive cases in the community, must be assessed and entered weekly.
Within 3 days (from February 6), Ho Chi Minh City recorded 30 cases of COVID-19 infection occurred in 7 districts in the community. In the first infection chain consisted of 5 patients (Patients 1979, 2002, 2003, 2004, 2005) with patient 1979 visited 175 Military Hospital for 2 times with symptoms of cough, fever, and loss of smell in the last 3-2 and 5-2.

Previously, the Department of Health suggested that medical examination and treatment establishments comply with measures to prevent and control COVID-19 infection according to the COVID-19 set of safety criteria for prevention and control of epidemic diseases, with special attention being paid to activated the COVID-19 infection prevention and control system at the highest level, re-established the isolation chambers in the clinical ward, the treatment isolation ward at the hospital.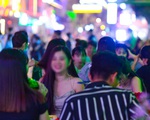 Ho Chi Minh City stops pubs, karaoke, bars, discos, movie theaters from 12 noon tomorrow 9-2
.