At the conference, all 17 opinions expressed by business representatives expressed concern if their company had employees or workers infected with Covid-19, and suggested an early solution for vaccination. for workers. Many businesses have applied for permission to access and contact to buy Covid-19 vaccines through the Ministry of Health to inspect them to vaccinate their employees.
Mr. Tran Viet Anh, Chairman of Nam Thai Son Company, said that priority should be given to vaccines for industrial park workers. Vietnam is a big factory, before Covid-19 it was a bright spot and a very stable supply chain, but during this epidemic, industrial zones in Bac Giang and Bac Ninh appeared cases, causing great concern to manufacturers. foreign investors and buyers.
City leaders met with businesses on the morning of June 10.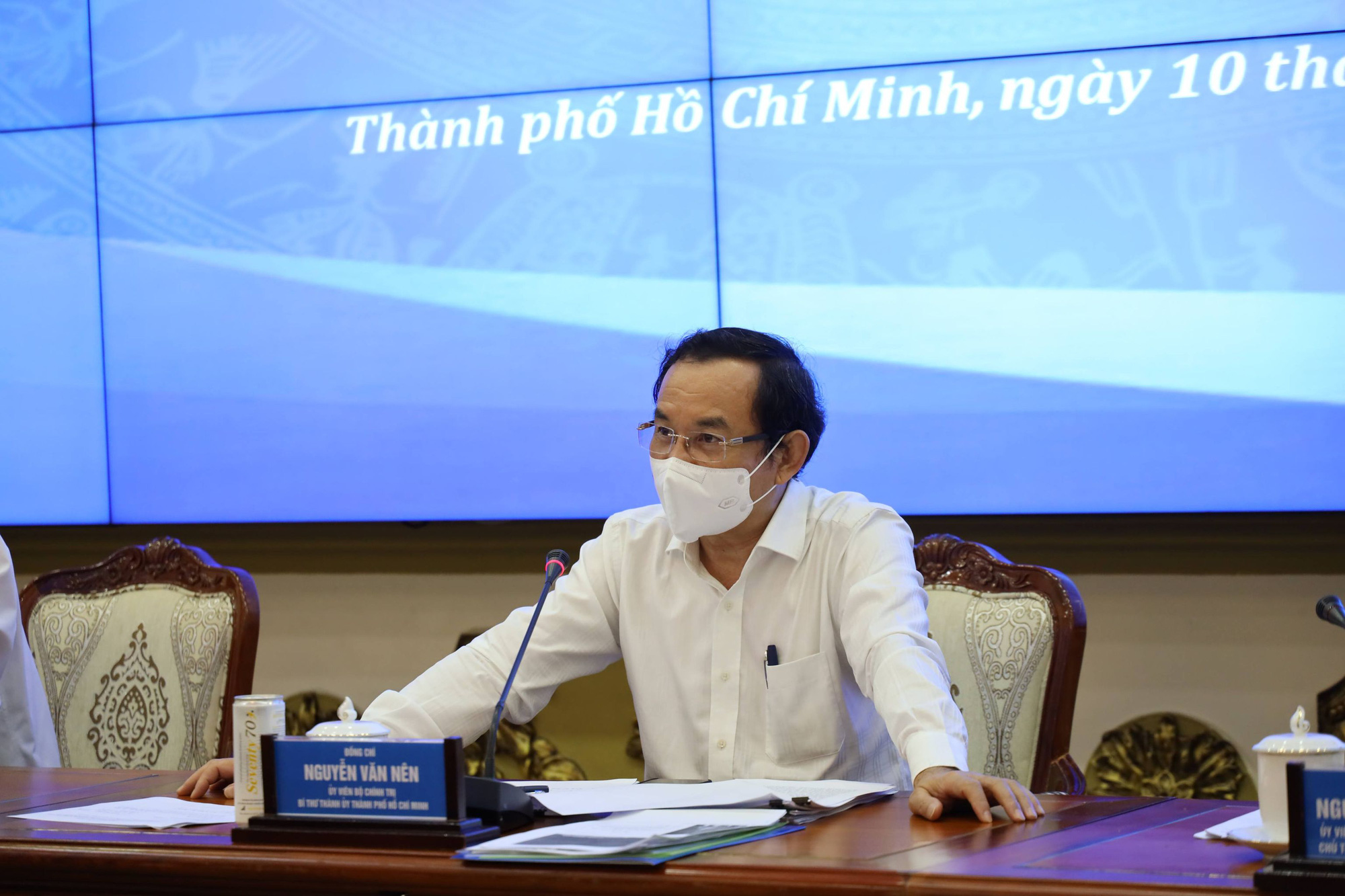 Secretary of the City Party Committee Nguyen Van Nen
"I hope the city has a clue for businesses with many employees to contact to find information on where to import vaccines and vaccinations. Recently, we received information about a batch of vaccines from Russia and disseminated. For members of the Thu Duc City Business Association, the brothers registered more than 900,000 doses, showing high demand," shared Mr. Viet Anh. According to him, businesses need information, clues, safe vaccine sources and legal issues to inject vaccines.
Mr. Do Phuoc Tong, Chairman of Ho Chi Minh City Mechanical and Electrical Enterprise Association, proposed giving priority to vaccination for delivery drivers in all businesses…
Talking to representatives of businesses, Secretary of the Ho Chi Minh City Party Committee Nguyen Van Nen said that this morning, before coming to this conference, he called the Minister of Health to discuss the issue of vaccines. Covid-19. According to the Secretary of the City Party Committee, the Minister of Health said that at present, it is difficult to access vaccines.
"It is necessary to expand and strengthen cooperation and association to find the source of the vaccine. Anyone who has the source should report it directly to the City People's Committee, in the spirit of bringing it back as soon as possible, as much as possible" – Party Secretary Nguyen Van Nen to speak. He noted that businesses need to strictly implement epidemic prevention measures and have specific solutions for safe production during the time when there is no vaccine.
Chairman of the City People's Committee Nguyen Thanh Phong added that the city aims to vaccinate the entire population because it is a decisive and fundamental factor to deal with the epidemic.
Mr. Nguyen Thanh Phong affirmed that the development of Ho Chi Minh City cannot be separated from the development of businesses, the city cannot stand aside. From April 27, the epidemic broke out again in Ho Chi Minh City, many clusters of infections appeared and until now, the city continues to record cases of infection. Although undesirable, the city must implement social distancing according to Directive 15; only Go Vap district and part of district 12 according to Directive 16.
"With great efforts, up to now, Ho Chi Minh City has basically controlled the 4th wave of infections. However, the situation is complicated, the city's economy as well as the business community are still heavily affected" – Mr. Phong acknowledged.