According to GS. Dr Paul, University of Iowa, lead researcher, if the new COVID-19 vaccine is effective in humans, it could help prevent the transmission of SARS-CoV-2 and control the COVID-19 pandemic.
The vaccines currently in use are very effective against COVID-19, but most of the world's population is still unvaccinated. Therefore, there is an urgent need now to have other vaccines that are easy to use and effective in preventing disease transmission.
Trial of inhaled COVID-19 vaccine with positive results. Illustration
The vaccine is a single dose, inhaled vaccine similar to those commonly used to protect against seasonal flu. The vaccine uses a harmless virus called parainfluenza 5 (PIV5) to deliver mutated SARS-CoV-2 spike proteins into cells, triggering an immune response against COVID-19 infection. The special thing about this vaccine is its ability to be stored at normal refrigerator temperature for at least 3 months.
In tests on mice, the vaccine helped promote a local immune response involving antibodies and cellular immunity. It also provides complete protection against the deadly SARS-CoV-2 virus. In ferrets, the vaccine prevents infection, preventing the spread of coronavirus from infected ferrets to other animals in the same cage.
The team has been developing this vaccine platform for more than 20 years and began working on a new formulation to fight COVID-19 in the early days of the pandemic. The scientists further note that preclinical data show that the vaccine not only protects against COVID-19 infection but also significantly reduces the risk of disease transmission.
However, animal studies have not always been successful in humans. Further research is needed to confirm the results of this study.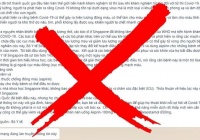 Refusal of the information that COVID-19 was contaminated with radiation that caused blood clotting
(VietQ.vn) – The Ministry of Health denied false information spread on social networks that COVID-19 is a radioactive bacteria, causing blood clots and death.
In the development of COVID-19 vaccine, recently, WHO urged rich countries not to order more vaccines for booster vaccination because many countries around the world do not have vaccines.
Adhanom Ghebreyesus, Director-General of WHO emphasized that the number of deaths is increasing due to the COVID-19 epidemic and the Delta variant prevails. Many countries do not have enough vaccines to protect workers.
There are already a number of countries that support full or partial booster injections. Russia has given booster vaccinations with COVID-19 vaccine from the beginning of July 2021 for those who completed vaccination 6 months ago. This is the first country to conduct booster injections.
Earlier, Israel began allowing the third dose of Pfizer/BioNTech's vaccine to all patients with weakened immune systems. The above decision was made in the context of the number of COVID-19 cases in Israel increasing again.
Thailand will give a booster dose of AstraZeneca's vaccine to those who have been vaccinated with Sinovac from China. Indonesia also plans to give booster shots but only to medical staff. The UK, Singapore, Korea, Switzerland have plans or have ordered vaccines for booster vaccination next year.
An Duong (Th)
.