Meanwhile, some districts, when asked by Tuoi Tre, said that inspection should be strengthened, but the punishment … is not easy.
In contact with Tuoi Tre, some people said that after the drastic direction of the Chairman of the People's Committee of Ho Chi Minh City, the karaoke "goddamn" situation seemed to settle down.
Many people expect this time the authorities will thoroughly handle the place, do not just shout and forget as in the past years.
"I hope the government is fierce"
Reflecting on the loud karaoke situation at the pub near his home on Kenh Tan Hoa Street (Hoa Thanh Ward, Tan Phu District), Mr. T. frustrated: "They sang all day, sang until 11 o'clock at night. People have reported to the ward police many times but still do not go there. Many days I have to take sleeping pills but I cannot sleep because it is too noisy.
Ms. Le Thi Ngoc Chau (P. Binh Hung Hoa, Binh Tan District) said that recently, the situation of gathering drinking and singing loudly, which is familiar in her homestay, has decreased a lot.
"Before, I did not wait until the weekend, but every day, every afternoon, men in the neighborhood gathered to drink, open the loudspeaker and sang jubilantly until late at night. Sometimes 2 or 3 places sang at a time, could not hear anything. Since Tet holiday, this situation has also decreased significantly, maybe they are afraid of epidemics, more recently, the media has talked a lot about the government will strictly handle them, so they are also afraid "- Chau said.
Ms. Chau expressed her wish that this peace would last for adults to rest and children to focus on studying.
Mr. Minh in Nguyen Thien Thuat apartment building (Ward 1, District 3) said that before, some people in the apartment came to play loud music every night, some even pulled the speaker to the hallway of the apartment and asked a friend. Singing again. "The closed apartment building is so noisy singing so try to ask who can bear it, going to school or coming back from work will only get more tired. I hope the government drastically eliminates this problem" – Mr. Minh suggested.
Information about the inspection and handling of noisy karaoke has been reported to residents of Khang Gia apartment, Go Vap District, Ho Chi Minh City – Photo: NGOC PHUONG
Districts clamor
Ms. Nguyen Thi Thu Nga – Vice Chairman of District 10 People's Committee – said that so far the district has maintained the inspection and punishment of noisy karaoke cases. In many cases, people reflect that the district has directed the ward to remind, if any violation continues, it will make a record and sanction the administration.
According to Ms. Nga, this situation has decreased significantly, the district has not received any feedback from the people. Ms. Nga also said that there have been no cases of perseverance to the point that she still violated even though she was reminded leading to heavy sanctions.
Mr. Do Anh Khang – Vice Chairman of Go Vap District People's Committee – said that after the direction of the chairman of the City People's Committee, the district tightened the inspection and handling.
The district has instructed ward leaders to focus on dealing with karaoke cases using the speaker "candy scissors", often gathering and singing after parties affecting neighbors.
The second group is karaoke service business units, this group is often inspected and handled by the interdisciplinary inspection team on noise, fire safety, lighting, etc.
Both Q.10 and Go Vap leaders said that handling the noise is difficult because it is difficult to determine whether the sound intensity is beyond the standard or not because it is not. have specialized machines. A leader of the People's Committee of Ward 11, Binh Thanh District, said that at present, to measure noise, it is necessary to report and contact the District Department of Natural Resources and Environment because the ward does not have equipment.
"Currently, if we receive feedback from the people, we mainly send forces to remind us because there is no measuring equipment. For a part of Pham Van Dong road that the ward is in charge of, our solution is the father. The intelligence of the force is on duty from 7:00 a.m. to 10:00 p.m. to remind the business establishments not to play loud music or to hold karaoke. After 22:00, we will sanction "- the leader of the People's Committee of this ward said.
Conversation with the Chairman of the City People's Committee recently, Mr. Phan Dinh An – Chairman of Ward 6 People's Committee (Go Vap District) – proposed the city to put to use the noise measurement software, staff only need to install this software. to process. "In my opinion, if building a common noise measurement application, with a suitable legal corridor, the detection and handling of noise by local authorities will be much easier" – Mr. An said.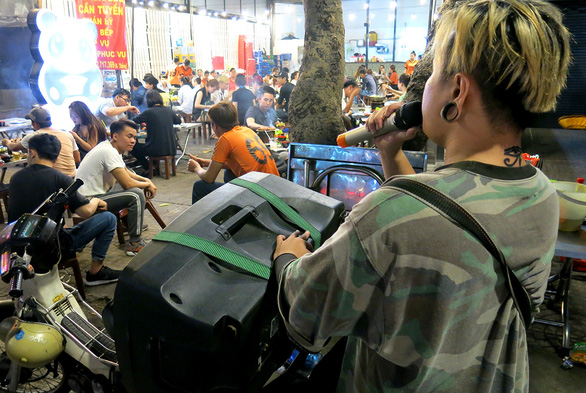 Singing karaoke with candy speakers is very common nowadays in many places – Photo: TRUNG TRUNG
2 decrees allow for heavy fines
Lawyer Tran Minh Cuong (Ho Chi Minh City Bar Association) said that according to Article 6 of Decree No. 167 on handling administrative violations, if karaoke makes a noise or noise in a residential area or a public place during a period of time. Time from 22:00 the previous day to 6am of the next day will be subject to a warning or a fine of 100,000 – 300,000 VND for violating individuals (if violating by organization, the fine will be doubled).
If you sing karaoke outside the above time, but cause a noise that exceeds the technical regulations on noise by 2 decibels (dBA) or more, you will be sanctioned according to Article 17 of Decree No. 155. Depending on the noise level, the maximum fine The maximum amount can be up to 160 million VND for individuals and 320 million VND for organizations.
"I do not see any agency handle it all the time!"
As noted by YouthMobile karaoke continues to be bustling in many western provinces, although business people admit that they are no longer "delicious" as before. Owning portable speakers is quite easy, small speakers can sing themselves, if they are larger, then one speaker pulls, and the "big" speaker, especially large speakers of 4-8 speakers, are carried on the rickshaw.
The speakers on the rickshaw can sing "the whole street listening" before the rental price is about 700,000 VND / session, now it is reduced to about 500,000 VND. The smaller one, the cheaper the price, about 50,000 VND already has speakers to gather and sing. The cheaper the mobile speaker rental price, the greater the suffering of people.
Kien Giang province authorities have issued a regulation banning noise in residential areas, providing hotline phone numbers for people to reflect. "But reflecting constantly does not see any agency directly handling it, so it always exists like that" – a resident shared.
Meanwhile, some localities like Tien Giang are still … waiting for people's consciousness. Mr. Le Van Dung – deputy director of the Department of Culture, Sports and Tourism – said that currently in the whole province there are more than 1,900 business households renting karaoke mobile with more than 2,000 sound systems.
From the beginning of 2021 up to now, the provincial interdisciplinary inspection team has checked 2 cases, discovered 1 violation, made a reminder record and asked the lessor to adjust the sound without causing noise for the surrounding households, not exceeding the permitted maximum noise standard.
"But the difficulty here is that the Department of Culture, Sports and Tourism does not have the main sanctioning function because related to sound and noise belong to the field of the Department of Natural Resources and Environment. Besides, the orchestra hires often sing at 22:00. Later, at that time, the hours of working or checking were over "- Mr. Dung said.
K.NAM – H.THUONG – CONG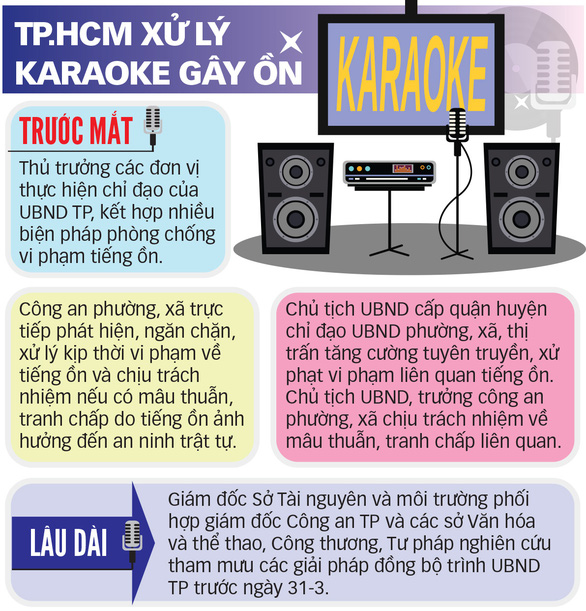 Drastic measures to handle karaoke "ferocious" are assigned by the Chairman of the People's Committee of Ho Chi Minh City with specific tasks – Graphics: TUAN ANH
Mr. Quang Phu (Hoang Hoa Tham street, Tan Binh district, HCMC):
The President of Ho Chi Minh City was fierce, Why do subordinates make it difficult?
In the past few days, I heard the chairman of the People's Committee of Ho Chi Minh City say very fiercely, asking my subordinates to thoroughly handle karaoke causing noise. I'm so happy. But in the area where I live, people still sing loud mobile karaoke but no one can handle it.
I have heard the government for many years saying that it must be handled thoroughly like this and that, the provisions of the law on dealing with this evils have been enough, why do they keep calling it difficult and not doing it? I think there is only a lack of determination.
I hope the authorities at all levels, especially the system of districts, wards / communes do it, please remove the "evil god" karaoke, stop "will" anymore. "Will" for too many years, people are suffering from this misery!
.