Quick statistics of supermarket systems in Ho Chi Minh City, the number of visitors to buy food in the morning of June 20 is quite large; at the same rate as the weekends before the outbreak. Most customers shop in order, strictly complying with epidemic prevention requirements.
Supermarkets have prepared a large amount of goods to serve the shopping demand that is likely to increase today. In which, the amount of green vegetables and fresh food increased by at least 30%-40% compared to the previous days; Essential foods are also enhanced.
Customers shop at MM Mega Market An Phu (District 2)
Because Directive 10 does not allow spontaneous markets to operate, in many areas, functional forces barricaded the venue for spontaneous markets, appointed propagandists and instructed sellers to disperse.
At retail markets, barriers are also installed at the entrance to control and measure people's body temperature before entering the market, and at the same time, separate the flow for customers to move and shop in the market.
At 11:30 in the area of ​​Do Dac market (Binh An ward, Thu Duc city), the number of people coming to the market began to disappear. Restaurants in the area outside the market and on both sides of the market are still open for sale as usual. Not as crowded as usual. At the beginning of the market gate, the local government sent a civil defense force to separate the entrance and exit from the market to ensure the distance according to regulations.
Ngoc, a small trader selling vegetables at Do Dac market, said that from early in the morning, the civil defense force erected a fence and asked about 10 people to go to the market at a time to ensure distance, everyone wore masks and obeyed 5K player…
"Everyone is complying because this is a requirement to prevent the epidemic. The number of customers is not as large as usual, but the purchasing power is still good. Some other small traders said they were quite surprised with the purchasing power of customers, many stalls ran out of stock right in morning," said Ngoc.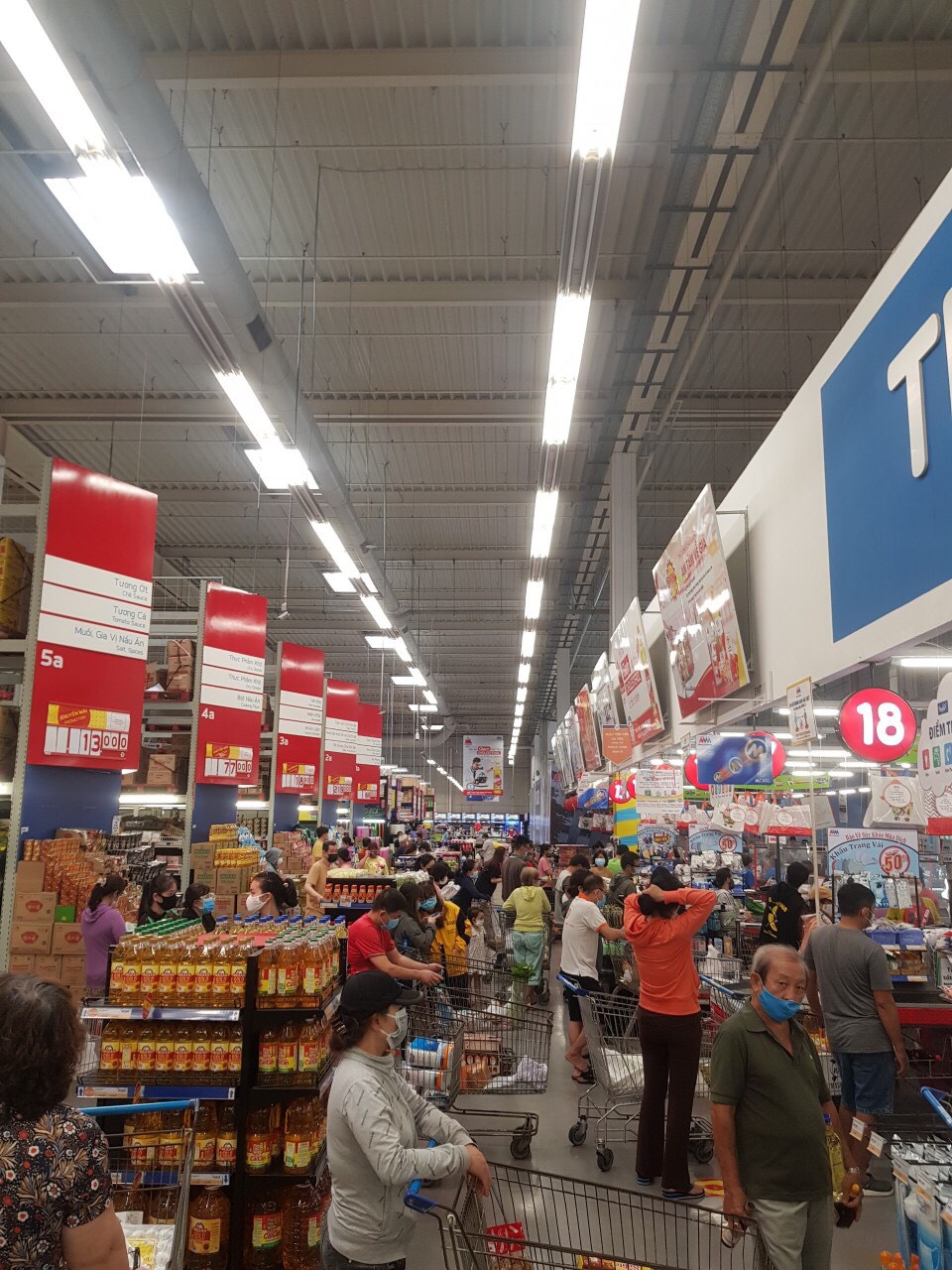 Supermarkets are full, people shop in order
As noted, until about 12 noon, goods at the market were still abundant, especially vegetables, fruits, pork, chicken, fresh seafood… Prices did not increase compared to the previous days.
Ms. Thanh, a small seafood trader at Do Dac market, said that the purchasing power has not decreased compared to before, the price is stable, and the small traders have not raised the selling price. Not only the traditional market, recorded in Thu Duc city area, many convenient stores such as Co.op Food, Vinmart +, Bach Hoa Xanh; Big supermarkets like Mega Market… the number of visitors is quite busy.
Prices of some green vegetables at the market increased slightly.