Already 55 years old, but Mr. Liem has more than 15 years of researching and inventing many types of machines, agricultural tools and equipment for the field. Mr. Liem used to study mechanical engineering – machine building at Ho Chi Minh City University of Technical Education. After graduating in 1989, he worked at the Can Tho School of Workers and Technology.

Exclusive inventions
"Around the year 1990, I was walking on the road to see that farmers used to dry their rice, sometimes it rains, and the rice is damaged. When I came back, I started to work on designing a grid-grid drying oven. With this invention, I won the 3 The Technical Creation Contest of Hau Giang province (old). Unfortunately, after that, there is no funding to apply it widely, "said Ba Liem of his first invention.
Mr. Ba Liem owns many inventions for agriculture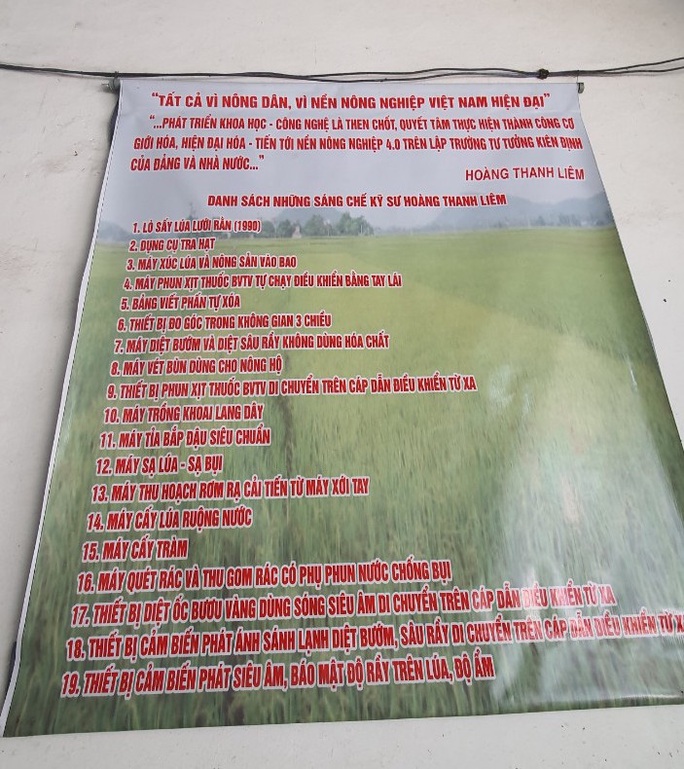 19 inventions of Mr. Liem
By the end of 1991, he moved to Ho Chi Minh City to work in many companies, but three years later, this engineer returned to his hometown to take care of his elderly parents and work in the garden. During the days around the canals, Mr. Liem felt that his knowledge if not applied in practice would be too wasteful. Therefore, he chose to follow in life to invent machines that serve farmers at affordable prices.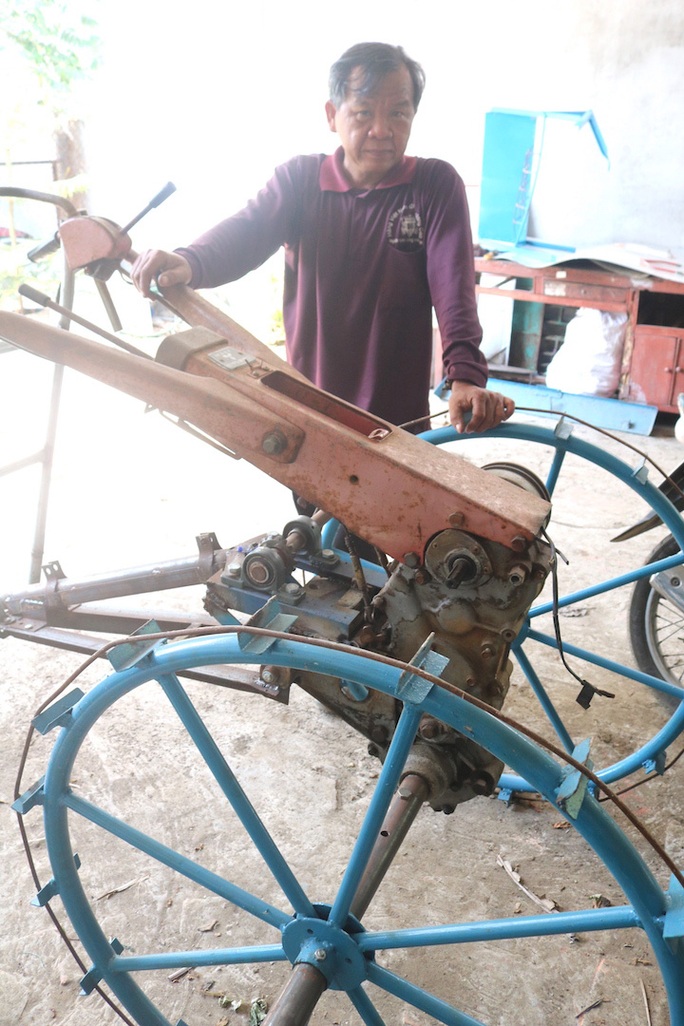 Mr. Hoang Thanh Liem's ​​invention of a mud dredger was bought and used by many farmers
Ba Liem expressed: "Vietnam's agriculture is still handcrafted so farmers have a hard time. Therefore, I think to" jump "into this field by inventing agricultural production machines and tools. on the one hand, it aims to free up labor force, increase productivity, on the other hand contribute to the mechanization and modernization of agriculture as the undertakings and policies of the Party and State ".
It was with that thought that in 2004, the granulation pestle was born. This tool consists of a pestle with a long tube and a seed box above. Poke the tube into the ground to poke holes, the seeds fall from the box to the hole just punctured. There are regulators to use for many types of seeds to sow: green beans, soybeans, corn, peanuts. For the crafting method, for example, two people need to be planted, one of them holding a stake in the front and the second person putting the seeds in.
However, with this seeding pestle, it will limit seeds from falling out of the hole, the seeding speed is 3 times faster than manual seeding. In particular, the price of this tool is quite cheap, only 150,000 VND / unit, so when it was born, many people everywhere bought and used it.
Practical application
The machine that is widely sold on the market today, invented by Mr. Ba Liem, is the machine to load rice and agricultural products into bags. This engineer has spent 2 years researching and by 2007 had the first finished product. The structure of the excavator is like a trolley, including: gearbox, crankshaft system, compartment system. The user pushes this machine on the field, in front of the machine there is a fan wheel to rake rice into the compartment. There, the cylindrical vertical spindle with a spiral inner reel will bring the rice up and drain the tube into the bag.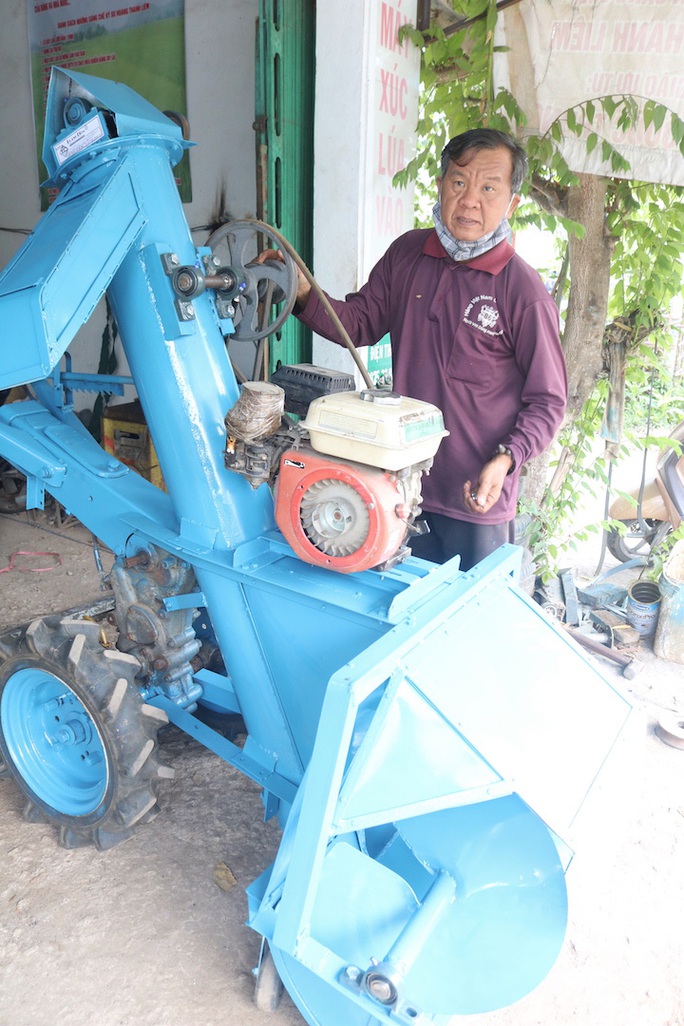 Mr. Ba Liem's ​​rice excavators and agricultural products to bags were widely sold in the market.
"This machine is used for the post-harvest process of rice and agricultural products, so many owners of kilns or drying establishments can buy and buy. Within 1 hour, the machine can shovel from 8-10 tons of rice, while it takes 2 people to work in one session to have such capacity, "said Ba Liem.
Not only stopping there, Mr. Ba Liem also invented practical tools for farmers such as mud dredgers for farmers, melaleuca transplanters, butterfly killers and non-chemical insect pests …
Clip of Mr. Ba Liem's ​​agricultural machinery manufacturing facility
Up to now, Mr. Liem has 19 patents, many of which are applying 4.0 technology such as: the yellow snail eliminator using ultrasonic waves moving on the remote control cable; the sensor device emits cold light to kill butterflies, pests move on the remote control cable; ultrasonic sensors, report the density of aphids in rice, humidity … With equipment and machinery attached to farmers, Mr. Liem is a familiar face at the Technical Innovation Contest of Can Tho City and the whole country. In it, there are many inventions that helped him win high prizes and receive certificates of merit.
From the original seeding pestle, Ba Liem improved it to a seeding machine with the price of 1.2 million VND. This machine has the advantage of sowing seeds (corn seeds, beans) for 3 km within 1 hour. Particularly, the rice excavator and agricultural products have a market price of 18 million dong, on average, Mr. Liem sells about 100 units each year and many places over the country come to order. "My research products have something that has not been applied in practice, so they still keep their wings in their hearts. Like the improved straw harvester from hand tiller, it is very practical for people to take the straw out of the field in the rainy season. or the water season is up, but at present, this machine has not reached the farmer's hands because I do not have enough resources. Therefore, it is very necessary for the State's support for scientific and technological products to be practical in the field ", Mr. Ba Liem desired.