The letter on Facebook, Mr. Doan Ngoc Hai's personal – Photo taken
On the evening of April 11, on his personal Facebook, Mr. Doan Ngoc Hai posted a letter to her Nguyen Thi Hue – Chairman of the Vietnam Fatherland Front Committee of Nam Tra My district.
In the letter, he thanked Ms. Hue, saying that she dared to look directly at the incident.
"I think everything is right as she suggested, so I continue to build 2 houses of love for poor people in Nam Tra My district. If you need more, please text me, I will handle it immediately. I really appreciate it." strong and honest people like you "- Mr. Doan Ngoc Hai wrote.
Immediately after posting, the letter received compliments from the online community, so the people would benefit.
Previously, on April 10, Mr. Doan Ngoc Hai's personal Facebook page posted a letter to leaders in Quang Nam and An Giang, Nam Tra My district (Quang Nam) and Chau Doc city (An Giang) that these localities delay information on the process of building houses for the poor and reclaim money transferred previously.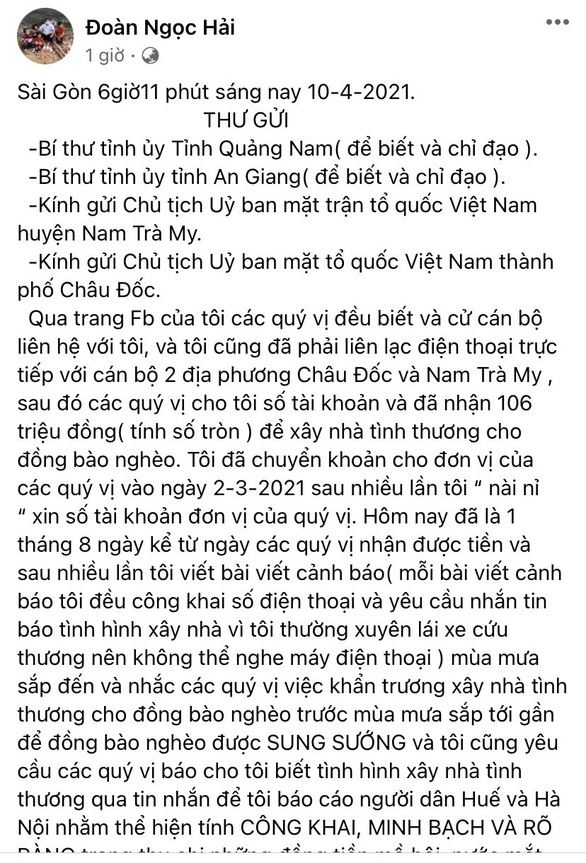 The letter "asking for money" of Mr. Hai posted on April 10 on his personal Facebook – Photo taken
Exchange with Youth Online On April 10, Ms. Hue said that the amount of money Mr. Doan Ngoc Hai supported, the relief team meeting agreed to put into the common fund, divided equally to support for the house making and repairing, distributed according to the spending regulations of Board, support each household 40 million VND / house.
Because Mr. Hai sent money to support without specifying who, how many support, how many houses to support, I think he gives general support, so I put it into the general fund of the district relief committee to support repairing. , make a house for the people. But if you tell me how many houses you can specifically support, it will be easy.
Through an exchange by texting Zalo with Mr. Hai on the morning of April 10, she explained to him the incident and apologized for the lack of timely information, expecting Mr. Hai to consider.
"Via text message, Mr. Hai wants to support the construction of two houses with the total amount of 120 million dong. Currently, he has just transferred 106 million dong, and the district is 14 million dong, he said he will move more enough. I agree, in the near future. will meet, advise the Standing District Party Committee to choose 2 support households to build the house "- Ms. Hue added.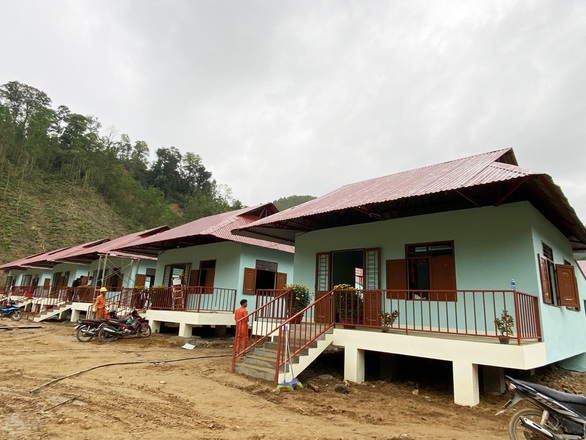 Nam Tra My district builds resettlement houses for people in landslides and flash floods – Photo: LE TRUNG
However, on the afternoon of April 10, Mr. Hai still decided that he would not transfer VND 14 million to Nam Tra My anymore and expected to receive VND 106 million as soon as possible because the two sides did not understand each other, so that he could build a house. 120 million in Hoi An City, Quang Nam for 3 people with mental illness here. Tonight, he changed his mind again
On the afternoon of April 11, Mr. Le Tri Thanh – Chairman of Quang Nam Provincial People's Committee – said that regarding the above incident, he directed the leaders of Nam Tra My district to clarify. If it is wrong, then apologize, seriously learn from experience, if it is not wrong, do not violate the commitments, then consult the people to give back, do not accept the use of charity activities to build personal image.
Mr. Thanh said that after the disaster, the philanthropist, the organization that supported and donated to help people overcome difficulties, the province recognized and thanked, all kind hearts are very cherished. . "A dollar is also precious, a encouragement visit is also very precious, but we do not use the suffering and loss of the people to be an opportunity associated with our own interests in any form" – Mr. Thanh stated.
.