Fireworks forbidden to explode on New Year's Eve, recorded in Huong Khe district (Ha Tinh) – Photo: PHAM TUAN
At the time of New Year's Eve of Tan Suu, in Huong Khe district (Ha Tinh), the sky in this area was blazing bright and bursting with spontaneous fireworks by the people.
Specifically, in the area in front of the post office gate of Huong Khe district and along the Ho Chi Minh route running through the district center. The moments before and after the New Year's Eve burst forth, glowing across the sky for dozens of minutes. Many of the firecrackers used to fire have a high pitched sound such as a ball cannon or the high range of the fireworks.
Recognition of Tuoi Tre Online, firecrackers are scattered on the roads.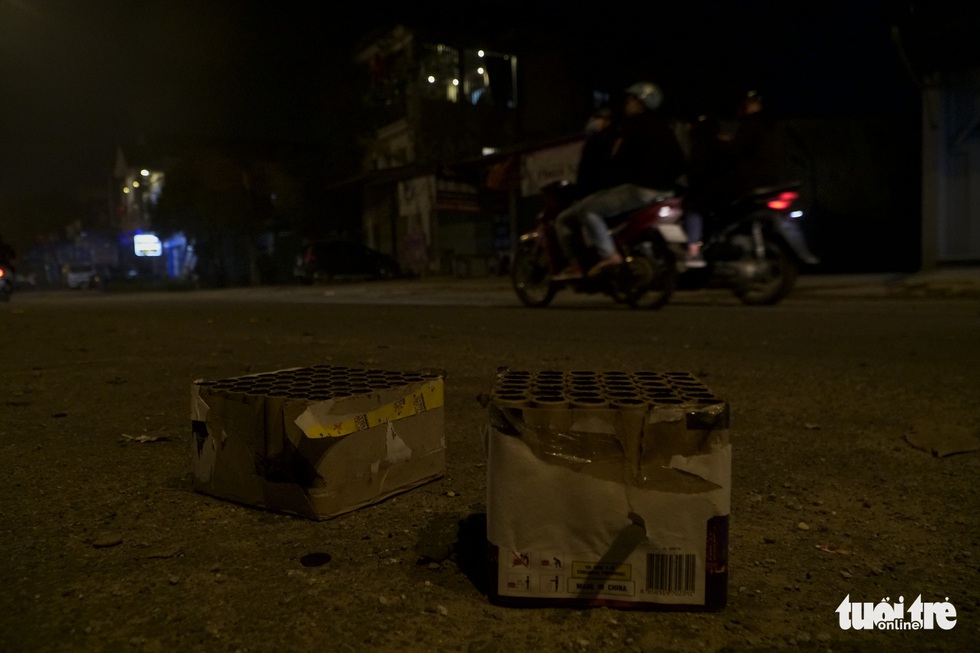 Firecrackers with the words "Made in China" lying on the street after New Year's Eve – Photo: PHẠM TUAN
Senior Lieutenant Colonel Phan Xuan Cong, Head of the Huong Khe district police admitted there was a state of forbidden firecrackers in the area during the New Year's Eve. The unit also arranged 100% of the force on New Year's Eve, on the one hand propagated for the people, on the other hand recorded the violators to issue the year of punishment.
"This year there is still a situation where people set fire on their own accord on New Year's Eve, but compared to every year, this year the amount of firecrackers people burn has decreased," Senior Lieutenant Colonel Cong said.
Also in the area of ​​Nghi Xuan district (Ha Tinh), recorded by Youth OnlineFrom the afternoon of February 11 (ie the afternoon of December 30, lunar year 2020), standing in some hamlets in Xuan Thanh commune, people heard firecrackers' explosions.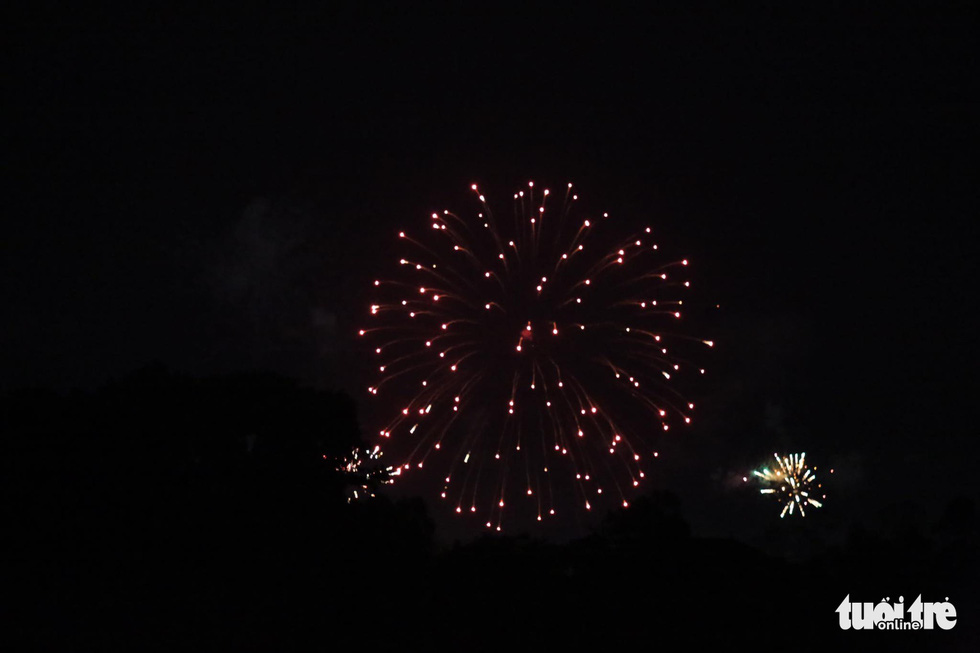 Secret police, fireworks still booming in the sky on New Year's Eve, recorded in Nghi Xuan district (Ha Tinh) – Photo: NGOC THANG
These are all kinds of parachute firecrackers, mortar shells, cannon balls, and cannonballs, all of which are on the list of prohibited imports from the State on the occasion of Tet.
At about 23h55, the time of preparing to enter the new year of Tan Suu 2021 in Xuan Thanh, Co Dam, Xuan Lien and Cuong Gian communes of Nghi Xuan district, a series of low and high-altitude guns were fired continuously into the sky .
Like every year, fireworks were shot openly, emitting explosions like the sound of mines exploding, shining in a corner of the sky lasting from 5 to 10 minutes.
A resident of Co Dam commune (asking for his name sign) said that when he came to the New Year's Eve, people would see fireworks shooting at the same time, causing explosions, startling many people, dogs barking all over the neighborhood.
"Firecrackers do not know where they come from, but burn so much, openly in front of some big roads. In the days approaching the new year, the communal radio continuously broadcast warning messages, but it still does not end this situation.
Authorities need to tighten, detect and handle legal challenges. I saw a few years of New Year's firecrackers exploding, but the police have not thoroughly handled, "this person said.
Talking to Tuoi Tre Online, Senior Lieutenant Colonel Nguyen Quang Thanh – Chief of the Nghi Xuan district police said that on the occasion of the New Year's Eve, the district police arranged 100% of officers to be on duty, discovered and arrested for firecrackers.
"The highest point is on New Year's Eve, the district police sent 100 comrades to coordinate with the police force of each commune to secretly and arrest those who set off firecrackers," said Senior Lieutenant Colonel Thanh.
According to lawyer Luong Huy Ha – director of Lawkey Law Firm (Hanoi Bar Association), the research, manufacture, production, purchase, sale, export, import, storage, transportation, use or Misappropriation of firecrackers is strictly prohibited. Therefore, the acts of buying and selling firecrackers, explosives, firecrackers, and firecrackers, which spread widely on social networks and forums, are illegal acts.
Persons who illegally purchase or sell firecrackers, firecrackers, firecrackers and explosives may be fined 5-10 million VND, the exhibits and means of violation will be confiscated. If it is an organization, the fine level is twice the fine level for individuals.
In terms of criminal liability, individuals and commercial legal entities that trade in firecrackers from 6kg or more will be prosecuted for criminal liability. Individuals will be fined from 100 million to 3 billion, or imprisoned 1-10 years. If it is a commercial legal entity, it will be fined from 1-9 billion VND or suspend its operation.
Also according to lawyer Ha, in cases of illegal fireworks, a fine of 1-2 million VND may be imposed on individuals and double the amount for the organization.
In the case of storing firecrackers with an explosive amount of 6kg or more, the person burning the firecrackers is also at risk of being prosecuted for criminal liability for possession of prohibited goods.
All acts of carrying firecrackers and firecrackers illegally into the Vietnamese territory are strictly prohibited. Individuals who illegally transport firecrackers of 6 kg or more from the border into Vietnam will be prosecuted for criminal liability for transporting banned goods. The penalty frame for this crime is 2 years in prison or more or a fine of 300 million VND or more.
PHAM TUAN
.