Many people worry that their daily diet does not provide enough nutrients for the body, so they tend to eat too much of certain food groups or nutrients. However, not all nutritional supplements are good for the body.
The researchers found no benefit in adding omega-6 linoleic acid in place of saturated fat. Instead, data published in the British Medical Journal shows that the risk of all-cause, cardiovascular and coronary heart disease-related death is increased in people who have had a recent stroke. here.
"In a review of data from the Sydney Heart Study, selectively increasing the n-6 polyunsaturated fatty acid (PUFA) linoleic acid from safflower oil and polyunsaturated margarine resulted in the mortality from heart disease (CVD, CHD) and from all causes was higher than with a control diet for saturated fatty acids from conventional animal fats and margarines," the researchers wrote.
New research shows that supplementing with omega-6 linoleic acid in place of saturated fat may increase the risk of death from cardiovascular disease and from all causes. Illustrations
They evaluated findings from the Sydney Diet Cardiovascular Study (SDHS; 1966-1973) which included 458 men aged 30-59 years who had recently had a coronary event. The researchers conducted an updated meta-analysis that included previously unreported data.
The dietary intervention group (221 people) was instructed to increase PUFA intake by about 15%, reduce saturated fatty acids to less than 10%, and reduce dietary cholesterol by 300mg per day. The control group (237 people) received no dietary instruction.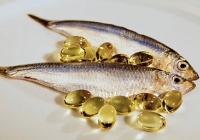 Improve migraine by eating fish fat
(VietQ.vn) – A diet high in fatty fish helped people with frequent migraines reduce the number and intensity of pain compared to those who ate more vegetable oils and fats.
Compared with the control group, the intervention group had a higher mortality rate (all causes, 11.8% versus 17.6%; CVD: 11% vs 17.2%; and CHD: 10.1% vs 16.3%). After adjusting for recovery data from SDHS, a meta-analysis of linoleic acid intervention trials revealed a nonsignificant upward trend in the risk of death from CHD.
According to the researchers, these data have international significance when considering dietary advice regarding omega-6 linoleic acid or PUFA.
In an accompanying editorial, Professor of Nutritional Immunology Philip C. Calder, wrote: "The findings highlight the need to tailor dietary advice and recommendations to the body. scientific evidence".
Huong Giang (via: Healio)
.