As noted by the reporter, a prominent trend of the Tan Suu New Year gold market is that the number of customers who have started to buy gold for luck or order online and wait for the 10th of January will come to pick up gold products. .
Representatives of Phu Nhuan Jewelry Company (PNJ) said that from about 2 days, the number of visitors to transactions started to increase compared to the time before the Lunar New Year holiday. Customers mainly buy gold products related to Than Tai day such as Xuan Phu Quy PNJ half-thread gold, Chieu Tai Dac Loc products made of 18K gold with the image of Ti Huu, Thiem Thu, Kim Mao …
Many customers bought gold for luck close to Than Tai day. In the photo: Customers bought gold at PNJ in the morning of February 19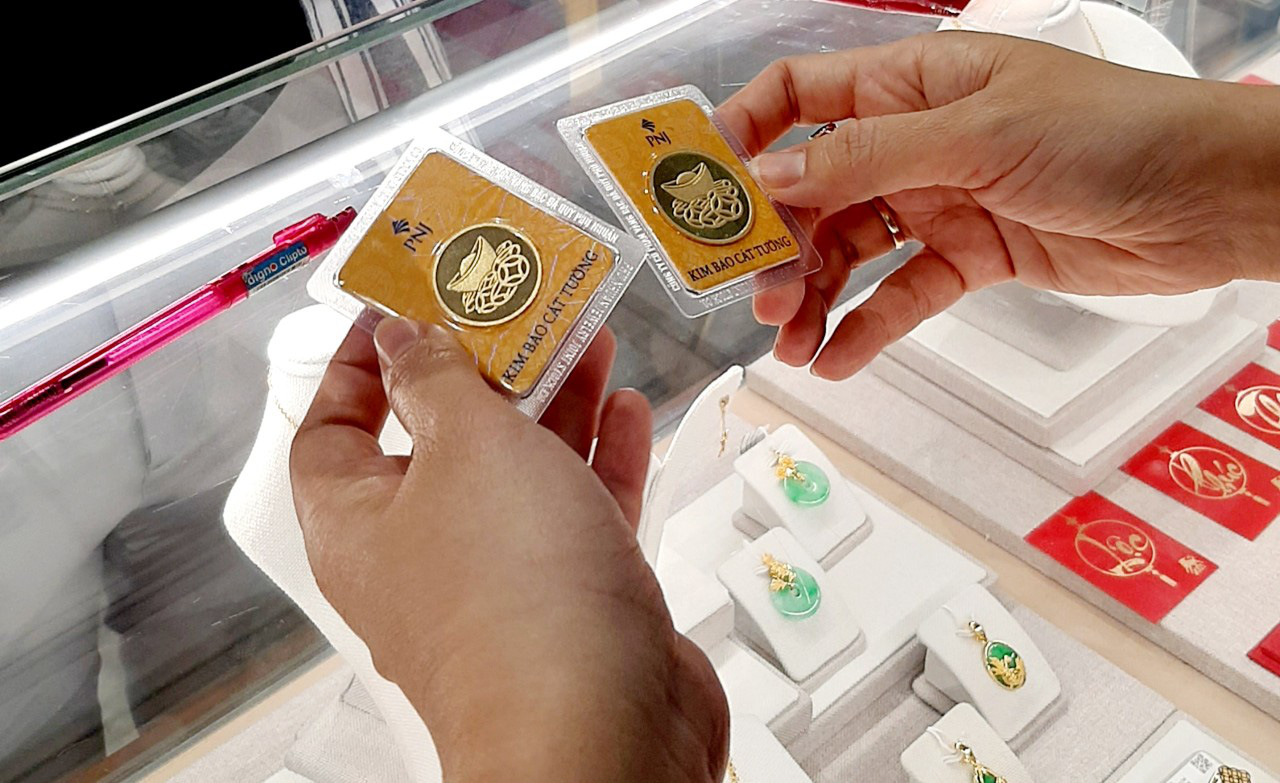 The 0.5 gold piece product is only chosen by many people to buy
Employees of the Saigon Jewelry Company (SJC) also said that from the afternoon of the 7th of Tet to this morning, the number of visitors to the transaction began to increase sharply compared to the previous day.
This year, due to the complicated situation of Covid-19 translation, some customers bought gold for luck before the day of Than Tai or ordered online to limit contact.
"Customers who order before the 7th of Tet will be delivered on Than Tai day in Ho Chi Minh City, except for gold bars. Currently the company has recorded a higher number of online bookings compared to normal days" – said PNJ representative and added. During the day of Than Tai, PNJ will open the whole system at 6 am and close after 11 pm to best meet the needs of consumers.
According to DOJI Group, the occasion of Than Tai in 2021 fell right at the time of Covid's translation, there were complicated developments, so businesses have prepared safety measures for people to buy safely at the system. nearly 200 centers and points of sale nationwide on January 9 and 10.
Hundreds of thousands of products with a variety of designs and designs, with the main image being Kim Nguu – Golden Buffalo launched by DOJI products Kim Nguu Phat Loc, Kim Nguu Chieu Tai … Products with diverse weight: 1 Just, 2 gold, 5 chi, 10 just to meet the demand of buying gold for luck of people. All these products are bought / sold at SJC gold price and exchanged at the same price as SJC.
In addition, DOJI also deployed eGold online physical gold trading channel, customers can buy Than Tai gold via online channel with eBank account of Tien Phong Commercial Joint Stock Bank (TPBank).
As of 12:30 a.m. on February 19, the price of SJC gold in Ho Chi Minh City was bought by listed businesses at 55.8 million dong / tael, sold out 56.35 million dong / tael, down about 150,000 dong / tael. late yesterday.
Gold jewelry and ring gold prices of all kinds are stable at around 54.2 million dong / tael purchased, 54.8 million dong / tael sold, about 1.5 million dong lower than SJC gold / tael.
Jewelry gold prices fell more slowly than SJC gold and world prices, in the context of the day when Shen Tai, demand for gold products often increases.