The Pfizer / BioNTech vaccine needs to be stored at about minus 75 degrees Celsius – much colder than any vaccine currently used in the US.
Pfizer announced the possibility that the first shipment of the anti-COVID-19 vaccine would start moving from its Michigan facility on Sunday morning, according to the Vietnam News Agency correspondent in the US.
Pfizer initially planned to begin shipping the vaccine "within 24 hours" of approval from the US Food and Drug Administration (FDA).
According to Dr. Peter Marks, director of FDA's Center for Biological Evaluation and Research, the potential benefit of the Pfizer / BioNTech vaccine outweighs the risk to people aged 16 and 17 years old.
Although adolescents rarely get seriously ill with COVID-19, Mr Marks admits there have been some serious illness and death, and teenagers can transmit the virus "quite easily" even when not. have symptoms.
Marks said it took several months before any clear conclusions could be drawn about how vaccines affect the transmission of the virus.
The expert also said in a news conference on December 12 that the FDA was "quite convincing" that the extreme cold conditions needed for the preservation of the Pfizer / BioNTech vaccine.
Accordingly, the Pfizer / BioNTech vaccine should be stored at a temperature of about minus 75 degrees Celsius – much colder than any vaccine currently used in the US.
The vaccine is stored in specially designed containers with dry ice and can be refrigerated for several days after thawing.
FDA has made it clear in how vaccines will need to be handled, Marks said, and the US Centers for Disease Control and Prevention (CDC) and Operation Warp Speed ​​"are making sure everything is done. to ensure that the cold chain is maintained. "
Meanwhile, Stephen Hahn, a top FDA member, said the benefits of Pfizer and BioNTech's vaccines outweigh its risks.
Hahn said the FDA was transparent about the data, when it went ahead with posting important information to help healthcare providers understand the benefits, risks, and proper use of FDA-approved vaccines. for this.
Biggest vaccination campaign in American history ready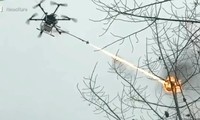 Watch drones cost 300 million flaming fire to destroy bees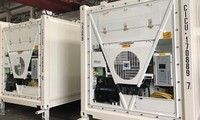 Transporting vaccine COVID-19 by container of tuna
According to VNA / Vietnam +
.