Standard steel from iron ore is like?
The process of making steel from scrap (used iron and steel) is relatively simple. The sorted and processed scrap will be fed into electric arc furnaces (EAF) or induction furnaces (IF) to be smelted into square billets and rolled out to the final product. However, steel smelted from ore must go through a long process with many different stages to produce quality standard steel products.
First, iron ores with different content and sizes are processed, mixed according to required proportions, combined with coke coal, lime and dolomite, and fed into the blast furnace to make liquid iron. Next, the iron water is transferred to oxygen blasting furnace, refining furnace to create steel grades required by the market, through a system of casting machines to cast billets – semi-finished crude steel. Finally, at the Steel Rolling Plant, square billets will be rolled into finished construction steel including rebar and coil; flat billets are rolled into hot rolled coil (HRC) steel.
Thanks to the closed steel refining process and modern technological lines of G7 countries, Hoa Phat has turned iron ore into many standard quality product lines, clean of impurities. Hoa Phat's finished steel products have a very low amount of impurities (Cu, Ni, Cr), only <0.03%, lower than the standards of countries in the world. Moreover, the steel refining process from ore thoroughly removes other harmful impurities such as S, P, so the product is clean, purified and of better quality. Therefore, the product quality is more stable, the service life is higher.
With an extremely low impurity rate, the steel wrought from ore has high flexural properties, toughness and elongation. Therefore, iron ore steel has superior physical and physical properties and can be rolled into products with higher diameter and grade. In Vietnam, only Hoa Phat Steel can roll products to D55 with high marks.
Standard steel for super projects
In Vietnam, Hoa Phat Group is currently the largest and most modern manufacturer of steel from iron ore on a closed chain. Total designed capacity of Hoa Phat Integrated Steel Complex is 8 million tons of crude steel / year. In particular, the complex in Quang Ngai is 5 million tons / year, including construction steel and HRC hot rolled steel, high quality coil. It is expected that in 2021, the complex will reach designed capacity.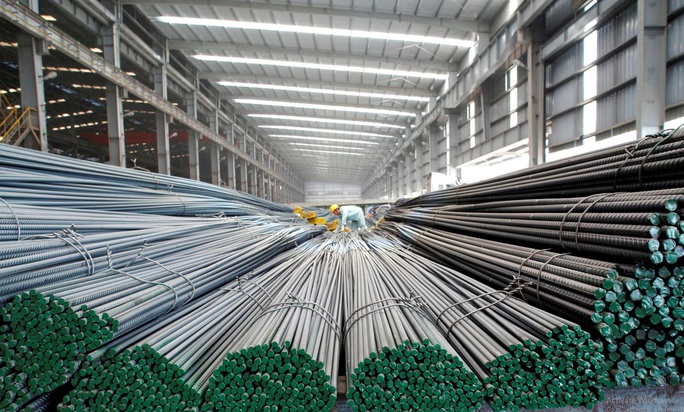 Hoa Phat's steel mills are invested with the most modern automatic analysis system, mechanical and mechanical testing equipment. Notably, the Quality Control Department at Hoa Phat Dung Quat Steel Complex includes 2 buildings with a total value of over 100 billion VND. Hoa Phat steel testing laboratory meets national and international standards (VILAS, ISO 17025).
As one of the few manufacturers possessing a closed, methodical and modern production chain, combined with a "huge" quality laboratory, Hoa Phat Steel has a variety of types and grades of steel, meeting the the most stringent quality standards. Hoa Phat is the first brand in Vietnam to successfully produce D55 construction steel – the most difficult grade of steel to produce and requires high technology and advanced technology. Product length 11.7m or according to customer requirements, tensile strength is over 600N / m2, suitable for the construction of bridges, ports, super-high-rise buildings.
With its outstanding quality, Hoa Phat steel has been used in many major national projects and projects such as Noi Bai International Airport, overhead road system, Underground Metro Nhon – Hanoi Railway Station. , Landmark 81, Empire City – Ho Chi Minh City, Nhat Tan Bridge, Anh Duong – Soleil Danang Complex, Bitexco HCMC Tower …
In addition to occupying the No. 1 position in the market share of domestic construction steel, Hoa Phat is the first and only brand in Vietnam to produce high quality steel coil (SAE), serving the mechanical industry. steel wire, core welding rod domestically and for export. SAE product line meets American standards (ASTM), Japanese standards (JIS), especially high-grade steel B500B according to British standards. Products are popular in many difficult markets such as the US, Japan, Korea, Australia, Australia, Malaysia, Canada …