An isolation area in Quang Nam – Photo: L. TRUNG
On the morning of June 20, the People's Committee of Quang Nam province held an emergency meeting to prevent the COVID-19 epidemic after June 19, Da Nang recorded many positive cases, Quang Nam also had 1 positive case for the first time related to Da Nang.
According to Mr. Nguyen Van Van – deputy director of Quang Nam Department of Health, after 41 days of not recording any cases in the community, on June 19, Quang Nam recorded 1 suspected case in Duy Xuyen district.
This is a salesman at Duy Tan Plastic CPSX Company, Da Nang, is the F1 related to patient 12437 announced the same morning in Da Nang. There are 24 F1 cases and 71 F2 cases that have been monitored, isolated and tested on June 20.
This patient 12437 has a source of infection from Ho Chi Minh City, so the suspected case in Duy Xuyen district may have a Delta virus, very infectious.
Mr. Phan Xuan Canh – Chairman of Duy Xuyen District People's Committee – said that related to the first positive case in this locality, district functional forces have implemented many plans to trace and isolate contact cases. Temporarily suspending some activities, businesses and trades such as coffee, refreshments, snacks, restaurants and pubs in Nam Phuoc town.
The Department of Health proposes to implement Directive 19 of the Prime Minister for Nam Phuoc town (Duy Xuyen district) and a number of communes adjacent to Da Nang.
The province also directed to urgently strengthen the strict management of the industrial park, actively traced thoroughly, not missing contact cases with infected cases, cases returning from epidemic areas, strengthening management expert management, immigration.
Carry out proactive testing of at-risk subjects at medical examination and treatment establishments, factories, enterprises, industrial parks, market areas, supermarkets; tourist sites, bus stations, railway stations, airports.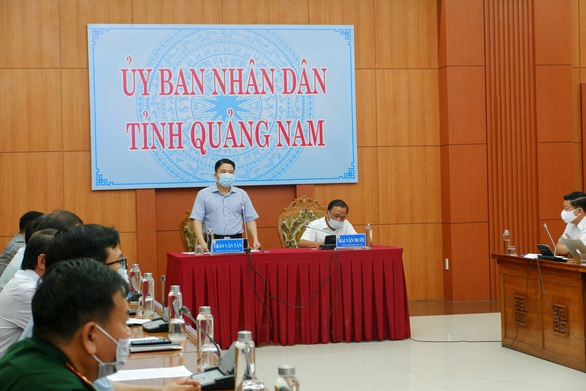 Leaders of Quang Nam province hold a meeting to fight the epidemic – Photo: LE TRUNG
Mr. Tran Van Tan – Vice Chairman of Quang Nam Provincial People's Committee – required those who returned from positive cases in the community less than 14 days to make an honest medical declaration, consider taking samples for testing, suitable isolation. Sampling, testing contact cases at the fastest possible rate, zoning and stamping out the epidemic will be fast.
Departments and localities have strengthened epidemic prevention and control in the most important places, especially medical facilities, factories, schools, supermarkets, and religious establishments.
Mr. Tan proposed to strictly implement Official Letter 3688 dated June 19, isolating people coming to / staying / returning from Ho Chi Minh City (except in some cases with other regulations to realize dual goals). Isolation at home/place of residence for people arriving/staying/returning from Da Nang (except for cases related to epidemiological factors that require concentrated isolation according to regulations).
For Duy Xuyen, he focused on maximizing all resources, drastically zoning out the epidemic, tracing and taking samples for testing quickly, and controlling the epidemic in the shortest time. "If there are areas that are at risk, need to be blocked, apply to stop some activities, the province should be proposed. Localities adjacent to Da Nang city raise the warning level, activate epidemic prevention to the highest level" – Mr. Tan suggestions.
.