In recent days, many housewives in Ho Chi Minh City have lamented the fact that some daily consumption goods, especially vegetables and fruits, have increased in price much higher than before.
Ms. Ngoc Nhan (living in Binh Thanh District, Ho Chi Minh City) said that because her house is crowded, she often visits Bui Huu Nghia street area near Ba Chieu market to buy cheap fruit and vegetables to use gradually. "This area is full of gourds, squash, melons, bitter melons, tomatoes, white radishes, … under 10,000 VND / kg. Now when I visit, they no longer sell. Go around and see familiar sellers selling cars. but the price is from 22,000 to 30,000 VND/kg each. Ask why it's expensive, they say buy it at a high price" – Ms. Nhan said.
Fruits and vegetables are bought a lot by housewives, prices skyrocket
According to Mr. Huan, a small trader specializing in selling vegetables and fruits in the alley of Hoang Sa Street (near Tran Khanh Du Bridge, District 1), the number of vegetable sellers has decreased a lot, and the number of people has also decreased, so the price is not as good as before. . "Selling goods is slow, profits are not much, so many people take a break from selling to stay healthy. I'm trying to stay here to keep a relationship and earn money through the day, not cutting anyone down, buying goods has increased in price, so sales must also increase. follow," said Mr. Huan.
Survey of reporters at Bach Hoa Xanh store on Tran Nguyen Dan street (Binh Thanh district), the price of gourd, zucchini at between 25,000 – 28,000 VND/kg, tomatoes and bitter melon at 33,000 VND/kg and no There are promotions as always. Only some leafy vegetables such as water spinach and broccoli still keep the price of 20,000 VND/kg.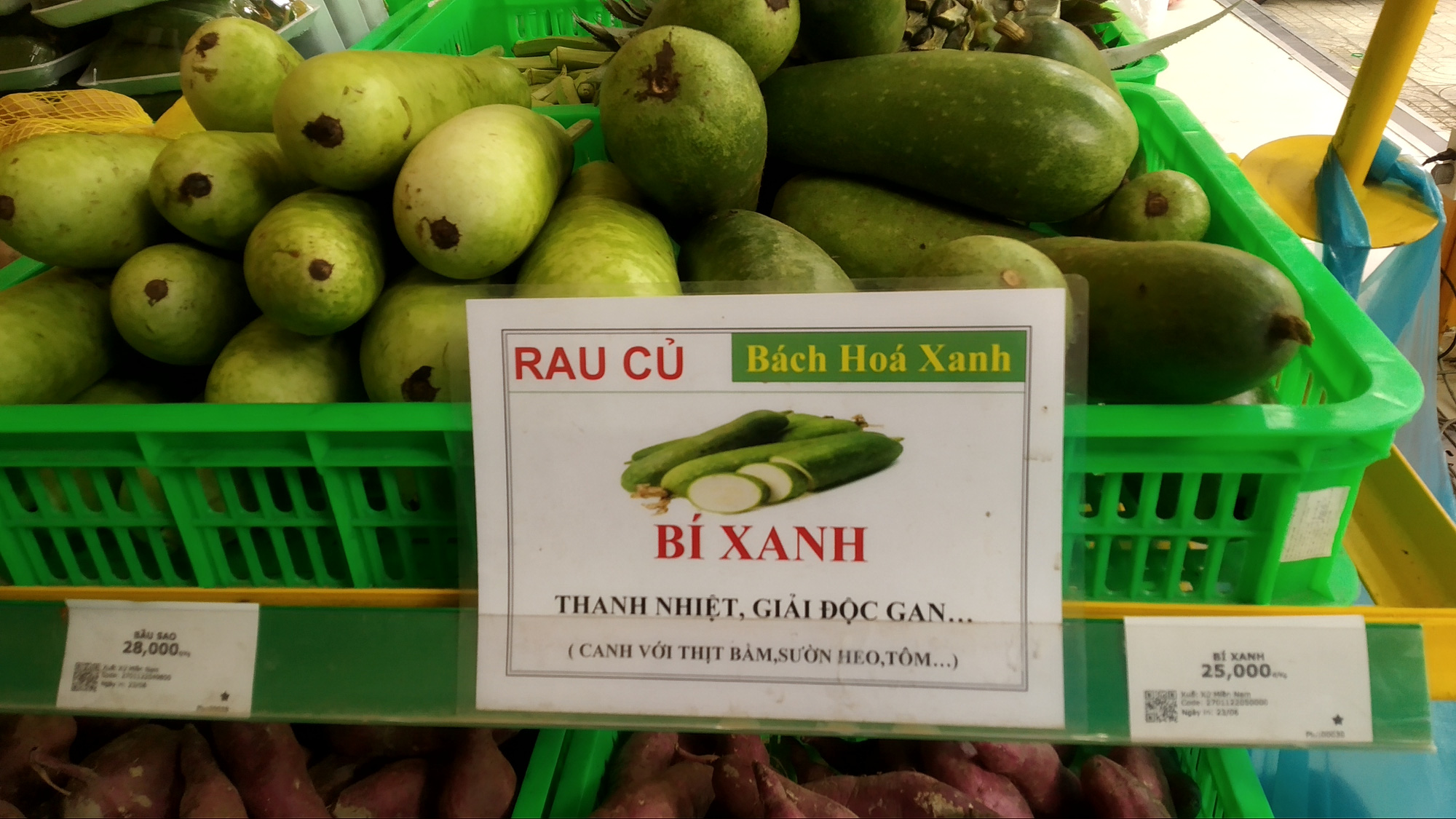 Bach Hoa Xanh does not increase the price of fruits and vegetables without any discount program
Talk to reporters Labor Newspaper, Mr. Dao Van Duc, Deputy Director of Phuoc An Cooperative (Binh Chanh District), confirmed that in recent days the price of leafy vegetables (water spinach, cruciferous vegetables, …) has remained stable but the price of vegetables has increased sharply.
"The demand is too high, so the price of this group of products increases from the garden, but this time the supply is normal, there is no shortage. Every housewife wants to buy gourd, squash, bitter melon, etc. The number of times we go to the market. We buy in buckets, unsorted from farmers, and it's already more than 20,000 VND/kg," said Mr.