Coffee mask of this business (DN) has 2 parts: the introductory cover is woven with coffee fibers to hold the face, the user can be washed again for reuse and the antibacterial membrane with magnetic components coffee, silver ions and biodegradable materials are available for 30 days. Then, users must purchase a new filter for the mask to have antibacterial properties. In Vietnam, coffee masks are priced at 199,000 VND / unit (already with 1 filter), the filter is sold separately for 60,000 VND / item. Meanwhile, on the market, 30 times antibacterial fabric masks that are reused 30 times are only around 10,000 VND / item.
"The king of shoe making 4.0 with products made from coffee grounds: mask, shoes, water shift
When the reporter brought the coffee mask story of nearly 200,000 / question to Mr. Le Thanh, the founder and director of Veritas Shose Vietnam Joint Stock Company, the manufacturer of the above product, he was immediately answered: This price is the world's cheapest already!
According to Mr. Thanh, from March to now, the number of coffee masks this enterprise has launched to the market is more than 500,000, of which 95% are exported, only 5% are sold domestically. "In Germany, this product is priced from 20-25 Euro / piece (about 540,000 – 670,000 VND), in Japan the price is 15-17 USD / item (about 315,000 – 391,000 VND). There was a customer in Korea. Quoc and Italy bought our products as samples for self-production but failed, so they still imported products from enterprises, proving that it is not easy to make coffee masks "- Mr. Thanh revealed.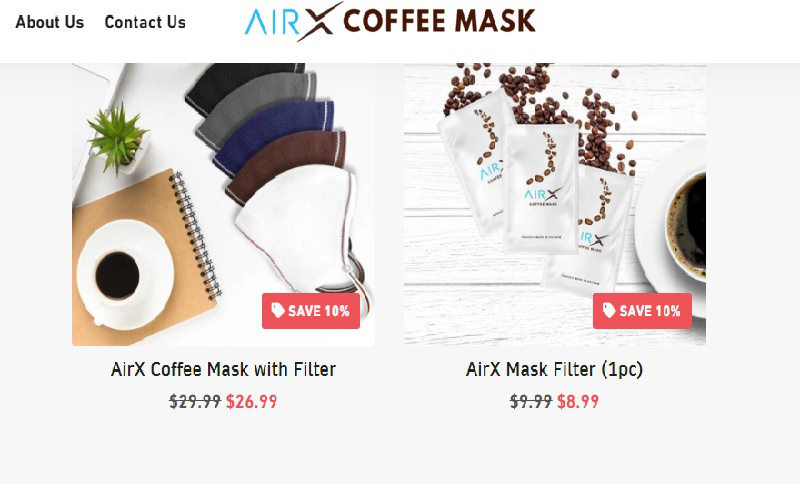 Coffee masks of Vietnamese startups are sold in Australia for 26.99 Australian dollars, about 450,000 VND / item
Currently, the mask is made from coffee fibers imported from Taiwan (China) and then woven into masks. Particularly, the membrane filter is researched and developed by the company, the product is self-biodegradable, of which, 9.5% of coffee has not removed the essential oil, so it retains the characteristic coffee smell.
Starting a business in Canada in 2015 with footwear and the Scan Fit application to make shoes the right size for each person. In 2018, Le Thanh was named "marshal of shoes 4.0" by netizens when participating in the Shark Tank program and raised 4 billion VND. "But the western shoe market is increasingly narrowed, businesses develop more convenient sneaker lines for young people, both working and going out. Towards the line of environmentally sustainable fashion, we look for recycled materials. processing and finally choosing coffee – raw materials imprinting Vietnam. " – Mr. Thanh shared.
The advantage of coffee is that it has natural antibacterial properties, is very safe (has been tested) and is very cheap. The raw materials discharged from coffee factories (silk peels, coffee grounds) and cafes are very large in Vietnam, businesses only come to produce, without having to pay. From sneakers made of coffee grounds, at the end of 2019, the company has a plan to develop more products, including a mask when the need to wear to shade the sun and dust is great.
By March 2020, when Covid-19 broke out in Vietnam, and masks started to fever, the company decided to officially manufacture. "Everything is available in the shoe segment, the coffee page production is very convenient, just change the design and the treadmill. First we supply it internally, the customers buy the shoes and receive feedback. The export also came very quickly after that This is a civil and fashionable product, so the import and export procedure is quite simple Because of the registration as an antibacterial mask, the company only needs to verify the resistance activity. bacteria and the results meet American standards (AATCC 100) is okay "- Mr. Thanh said.
Sell ​​coffee fibers to fashion giants
Despite success with coffee masks, but Mr. Thanh determined that this is just a "seasonal" product, the company is aiming to sell coffee fibers to have a larger market. "Instead of making products, building brands to compete with world-famous fashion brands, enterprises will provide materials for them. We are trying to complete the production process, from now to the end. year will register for global intellectual property biodegradable coffee fiber developed by the company. – Mr. Thanh revealed.