VietNamNet has a live football match between Sweden and Poland, in Group E EURO 2020, at 23:00 on June 23 at St Petersburg Stadium.
Link to watch live:
https://vtvgo.vn/xem-truc-tuyen-kenh-vtv6-6.html
Poland is at a corner and has nothing to lose. Attacking against Sweden, playing pragmatically, is the choice of Robert Lewandowski and his teammates, to hope to win tickets to the 1/8 round.
Poland strives for the last hope
Force:
Switzerland: Full staffing.
Poland: Krychowiak is back.
Starting lineup:
Sweden (4-4-2): Olsen – Lustig, Lindelof, Danielson, Augustinsson – Larsson, Olsson, Ekdal, Forsberg – Quaison, Isak.
Poland (3-4-2-1): Szczesny – Bereszynski, Glik, Bednarek – Jozwiak, Krychowiak, Klich, Puchacz – Swiderski, Zielinski – Lewandowski.
EURO 2020 Fixtures

Day

Hours

Team

Score

Team

Ring

Channels

06/23
06/23
23:00

Switzerland

-:-

Poland

E
06/23
23:00

Slovakia

-:-

Spain

E
*Continuously updated
Developments

Latest

Oldest

The second half has 5 minutes of extra time.
Poland tries to increase pressure on the Swedish field. "White Eagle" needs one more table to enter the 1/8 round.
GOAL!!! Sweden 2-1 Poland!!! Robert Lewandowski!!! From Frankowski's pass, Lewandowki was not easily controlled and then hit Olsen's net.
Poland has more adjustments.
Krychowiak gave way to Przemyslaw Placheta.
Sweden substitute.
Emil Forsberg makes way for Viktor Claesson.
Yellow card for Krychowiak.
Poland has another change.
Kacper Kozlowski replaces Mateusz Klich.
5th goal for Spain. After the mess, Pau Torres just entered the field to finish close to the wall, Kucka tried to block and put the ball into the home net.
Sweden has 2 changes.
Mikael Lustig makes way for Emil Krafth.
Alexander Isak made way for Marcus Berg.
Goal! Spain 4-0 Slovakia. Ferran Torres came on and scored after the first touch, with a delicate heel strike.
Goals disallowed. Swierczok cushioned the ball close to the box after Swiderwki's pass, but failed to score for Poland because of offside. VAR confirmed the exact referee's decision.
Poland substitute.
Jakub Swierczok replaces Kamil Jozwiak.
GOAL!!! Sweden 2-1 Poland!!! Robert Lewandowski!!! In a quick counter-attack, Lewandowski alone handled calmly and then shot a shot into the top corner to lower Olsen.
GOAL!!! Sweden 2-0 Poland!!! Emil Forsberg!!! Kulusevski handled the technique and then passed, Forsberg put the sole of his right foot and touched the far corner very beautifully.
Goal! Sarabia finished with one touch after Jordi Alba's assist, Spain 3-0 Slovakia.
Sweden adjusted personnel.
Dejan Kulusevski made his EURO debut when he replaced Robin Quaison.
Opportunity! Krychowiak made a technical finish, but Olsen once again excelled in keeping a clean sheet for Sweden.
Sweden has the answer. Isak made a difficult save for Szczesny. Forsberg kicked the Polish player out.
Another shot was made by Zielinski in front of the 16m50 line, the ball went wide of the Swedish goal.
Do not enter!!! The opportunity was very good for Poland with Zielinski's tight shot, but goalkeeper Olsen was quick to save.
Poland adjusted personnel and attacking play.
Tymoteusz Puchacz makes way for Frankowski.
Round 1 is over! Sweden 1-0 Poland!
Sweden took the lead from 81 seconds. Poland had a chance to equalize, but Lewandowski's two headers hit the crossbar.
Goal! Spain lead 2-0 against Slovakia. After Gerard Moreno's assist, Laporte headed in the top corner.
Danger!!! After a beautiful arrangement, Zielinski hit a shot from outside the box that was very dangerous, but goalkeeper Olsen made a brilliant save.
The first half had 3 minutes of extra time.
Goalkeeper Olsen has a good handle, catching the ball right on Lewandowski's head.
Robert Lewandowski is the first player to hit the crossbar twice in a single EURO match since Thomas Muller against Northern Ireland in 2016.
Poland tries to make attacks. However, the Swedish defense worked very effectively.
Goal! Spain took the lead over Slovakia in the same time match in Group E. After Sarabia's shot hit the crossbar, goalkeeper Dubravka handled the error and smashed the ball straight into the home net.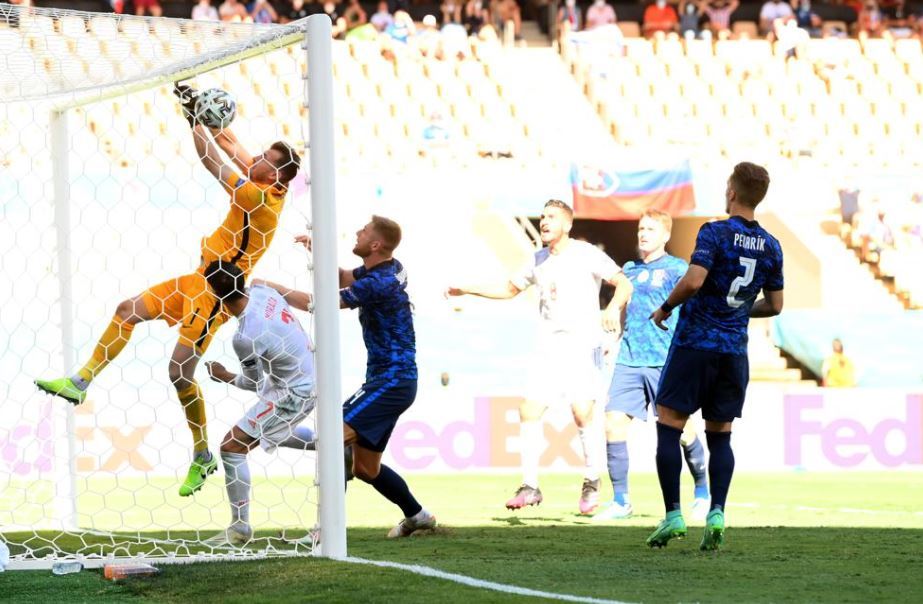 Slovakia-Spain-Spain.jpg
The match entered the Cooling break time.
Emil Forsberg's goal, after just 81 seconds, was the second fastest goal of any European Championship, after Kirichenko's (65"), in 2004, in Russia v Greece.
SURPRISE!!! An unbelievable situation!
In the corner, Lewandowski bounced high and hit the crossbar. The Bayern Munich player then added another header but still failed to beat the crossbar.
Isak had a very technical turn to knock the Polish defender, but his cross was blocked by the Polish defender.
The referee shows a yellow card to Danielson of Sweden.
The pace of the game is quite slow. The Swedish players were more proactive after taking the lead.
GOAL!!! Sweden 1-0 Poland!!! Emil Forsberg!!! The Polish players had a very poor defense, allowing Forsberg to penetrate the penalty area to hit a corner to beat Szczesny.
The game begins. Sweden serves the ball.
Poland's starting lineup:
Robert Lewandowski has been involved in 14 goals in the last 12 matches when starting for Poland (10 goals, 4 assists). No Polish player has scored more goals than the Bayern Munich striker at EURO (3 goals), a record equal to Jakub Blaszczykowski.
-Sweden won 9 of the last 11 matches against Poland (1 draw, 1 loss), including the last 5 matches. The last time Poland won was a friendly at home in August 1991 (2-0).
-Out of the previous 26 head-to-head matches between Sweden and Poland never ended without a goal.
-Sweden kept a clean sheet in 2 matches at EURO 2020. The last time they passed the group stage without conceding a goal in a major tournament was the 1974 World Cup.
-Poland won only 1 of the last 9 matches (4 draws, 4 losses), when they overcame Andorra with a score of 3-0 in March. Currently, the "white eagle" has 5 consecutive matches without winning (3 draws, 2 losses), which is the longest streak since November 2018 (6).
-23 of Sweden's 26 goals at Euros were scored in the second half (88%), a record rate among national teams with at least 3 or more goals in Europe.
-Poland won the last match of the group stage in the last two tournaments, the World Cup and the EURO. They beat Ukraine at Euro 2016 and Japan at the 2018 World Cup.
.