People make medical declarations at a checkpoint in Nam Kim commune, Nam Dan district, Nghe An – an area bordering Duc Tho district, Ha Tinh – Photo: SPRING BOC
From 0:00 on June 8, Nghe An province suspended non-essential activities in 5 localities bordering Ha Tinh province to prevent and control the COVID-19 epidemic.
Provincial police also set up 5 posts at Ben Thuy bridge 1 and 2, Yen Xuan bridge, Cua Hoi bridge and in Nam Kim commune (adjacent to Duc Tho district, Ha Tinh province) to control and prevent epidemics.
The local police have arranged officers and soldiers and mobilized vehicles and equipment to be on duty 24/24 hours. At the checkpoint, people and vehicles are required to make medical declarations, check body temperature and disinfect according to regulations.
Recorded at the checkpoints, the number of passenger transport vehicles, taxis, tourist cars… going back and forth between the two areas of Nghe An – Ha Tinh has decreased. Even at Ben Thuy 2 bridge, from this morning to noon, no passenger cars from Ha Tinh were recorded.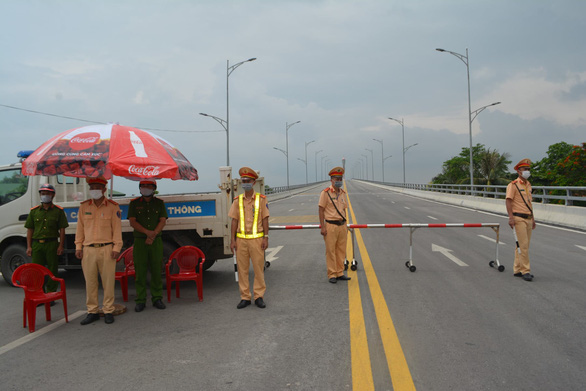 Traffic police force set up a checkpoint at Ben Thuy 2 bridge connecting the two provinces of Nghe An – Ha Tinh – Photo: SPRING BOC
Due to the impact of the COVID-19 epidemic, the bus route Duc Tho (Ha Tinh) to Vinh City has also stopped operating because there are no customers.
Particularly, bus routes from Ha Tinh – Vinh City, Huong Khe – Vinh, Huong Son – Vinh and vice versa were temporarily suspended in the morning of June 8.
Nghe An Department of Transport also sent a document to transport business units, bus station operators, requesting to stop passenger transport activities on inter-provincial fixed routes, buses, contract vehicles, and vans. travel, taxi from Nghe An to Ha Tinh and vice versa.
For cargo transportation activities from Nghe An to Ha Tinh and vice versa, epidemic prevention measures must be taken such as vehicles must be cleaned and disinfected when entering Nghe An; not carry more than 2 people; must declare medical…
For passenger transport activities departing from Ha Tinh to other provinces and scheduled to pass through Nghe An, they must follow the bypass of Vinh City and absolutely must not stop, pick up and drop off passengers in Nghe An area.
As of June 8, Ha Tinh has recorded 10 people with COVID-19, while Nghe An has not recorded any new cases since May 27.
Take samples to test for SARS-CoV-2 of all households in Ha Tinh city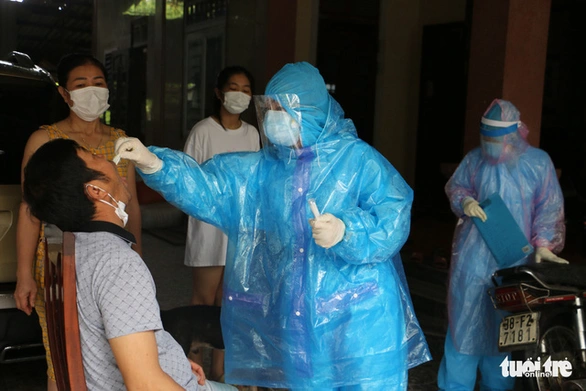 Ha Tinh health sector takes samples to test people in the blockade area – Photo: LE MINH
On the afternoon of June 8, Ha Tinh Department of Health issued an urgent document on the urgent collection of samples for SARS-CoV-2 testing in the whole of Ha Tinh city.
Accordingly, the Department of Health requested the People's Committee of Ha Tinh City to direct the wards and communes to coordinate with relevant units to urgently arrange sampling locations according to each residential group/residential area, ensuring service conditions. take samples and send a list of sampling locations in the area to the City Health Center.
Make a list of 1 person in the household to take samples for testing (each household only takes 1 sample of people with a history of exposure more than other family members).
Arrange sampling time for each joint group to ensure the distance between sampling areas. It is expected that there will be 125 sampling points, each sampling point from 3 to 4 health workers. Sampling time to complete before 12h on 10/6
The quarantine area of ​​Ha Tinh city is 14 wards and communes with a total of 24,759 households, 100,254 people. With each household sampling 1 person, the number of samples taken is nearly 25,000.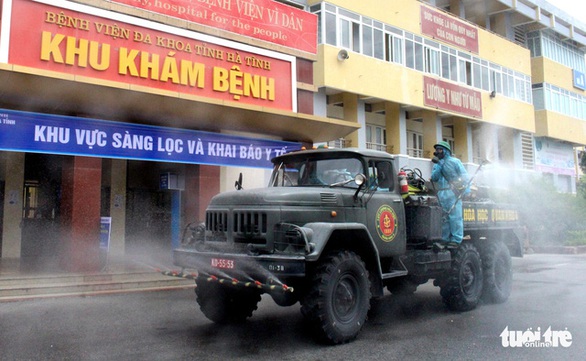 The chemical force of Military Region 4 supports Ha Tinh province to spray disinfectant at the hospital – Photo: LE MINH
Earlier, the same morning, Ha Tinh recorded the 10th case of COVID-19. PCC patient (male, 57 years old) working at Ha Tinh Provincial General Hospital, should immediately This hospital and the residence of the new case were blocked.
The health sector has traced 51 F1 cases of C. and conducted concentrated isolation and sampling for testing.
From 12:00 on June 8, the entire Ha Tinh city set up a medical isolation area to prevent the spread of the COVID-19 epidemic (according to the Directive 16/CT-TTg dated March 31, 2020 of the Prime Minister). Goverment).
To continue to speed up the sampling progress in the blockade area and proceed to take samples throughout Ha Tinh city, the Department of Health has mobilized 406 medical officers and staff from 26 medical facilities in the province. participate in assisting in sampling, preserving and transporting patient samples.

Nghe An supports 52 medical staff to support Ha Tinh
On the afternoon of June 8, Mr. Duong Dinh Chinh – director of Nghe An Department of Health – said that Nghe An health sector decided to increase hospital and support 52 medical staff of Nghe An General Friendship Hospital to help Ha Tinh get medical treatment. specimen.
The hospital also provided 300 protective suits, 1,000 masks, 1,000 pairs of gloves, 50 droplet shields and 100 million VND.
Daily samples will be tested at Nghe An Obstetrics and Children's Hospital and Nghe An General Friendship Hospital.
It is expected that on the morning of June 9, a volunteer mission of the Nghe An health sector will depart to help Ha Tinh fight the epidemic.
.