Long An in the past 10 days detected more than 1,600 infections – Photo: SON LAM
As of 6:30 p.m. on July 20, the Center for Disease Control of Long An province announced that the province had detected 2,301 positive cases of COVID-19 in the community in 15/15 districts, towns and cities.
In the previous 24 hours alone, the province detected an additional 517 positive cases, and in the past 10 days alone, the province has detected more than 1,600 COVID-19 infections.
Of these, 13 people died, and so far, only 870 cases have been granted patient codes by the Ministry of Health. The remaining 1431 cases have not been assigned codes.
This province has also implemented a blockade of 306 points with 11,039 people, of which 38 points with 2,378 people have ended the blockade.
On the same day, the Long An Provincial Steering Committee for Epidemic Prevention and Control continued to request localities to urgently review to prepare for the requisition of suitable facilities to establish a field hospital, ready for treatment in the event. change the current epidemic, and urgently print leaflets and leaflets for people who are isolated at home.
All levels, sectors and localities are required to focus all efforts on epidemic prevention and control, closely monitor eligible businesses to implement the motto "3 on the spot", conduct testing. PCR for all employees no later than July 23.
The province also requested the Department of Health to review facilities and equipment for epidemic prevention and control such as ventilators, PCR testing machines, test kits, etc. to be ready for treatment and testing before the disease situation. increase as it is today.
In the Southwest, two provinces with a high number of COVID-19 cases are Dong Thap and Tien Giang.
On the same day, Dong Thap continued to detect 66 cases of COVID-19, bringing the total number of infections since June 24 in this province to 1,441 cases (1439 patients have been given codes). In Tien Giang, 133 more cases were detected on the day, bringing the total to 1,263 cases (895 patients were given codes).
Many provinces along the Hau River also began to gradually increase the number of positive cases detected in a day. As The Department of Health of Can Tho city said that 47 new cases have been detected, bringing the total number of positive cases in this city to 217 cases.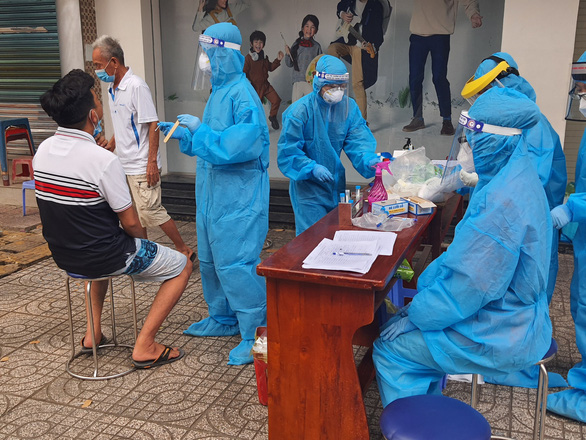 Quick test screening in Can Tho City on July 20 – Photo: THAI LU
Today is also the first day of the city. Can Tho recorded 2 deaths of COVID-19 patients. Including 1 91-year-old female patient in Cai Rang district, suffering from COVID-19 on the background of heart failure, myocardial ischemia. 1 case of a 64-year-old female in Ninh Kieu district, with COVID-19 on the background of chronic ischemic heart failure, heart failure, kidney failure…
Currently, the treatment area for severe COVID-19 patients of Can Tho City General Hospital has 9 serious patients being treated. The Steering Committee for COVID-19 Prevention and Control in Can Tho City has just decided to establish Cai Rang Field Hospital (located at the Medical Center of Cai Rang District), with a scale of 100 beds to continue strengthening treat new patients.
Some provinces like Ben Tre also added 25 new positive cases during the day, bringing the total number of Covid-19 cases in the province to 290 cases. So far, Soc Trang has also detected 83 cases in the community.
.