Nearly 6 o'clock in the morning God of wealth (February 21, on January 10th), many people lined up at gold and silver business establishments in Hanoi to buy gold for the New Year's luck. Like every year, the people of the capital line up from early morning to wait to buy gold, pray for a new year with lots of luck and fortune.
In the context of the Covid-19 epidemic, gold and silver shops have taken very careful anti-epidemic measures. At the gold business on Cau Giay street (Cau Giay district, Hanoi), partitions are set up in front of the lobby for translation rooms, and plastic chairs for customers to line up are arranged to ensure distance.
Body temperature measurement staff for customers waiting in line to buy gold for the day of Than Tai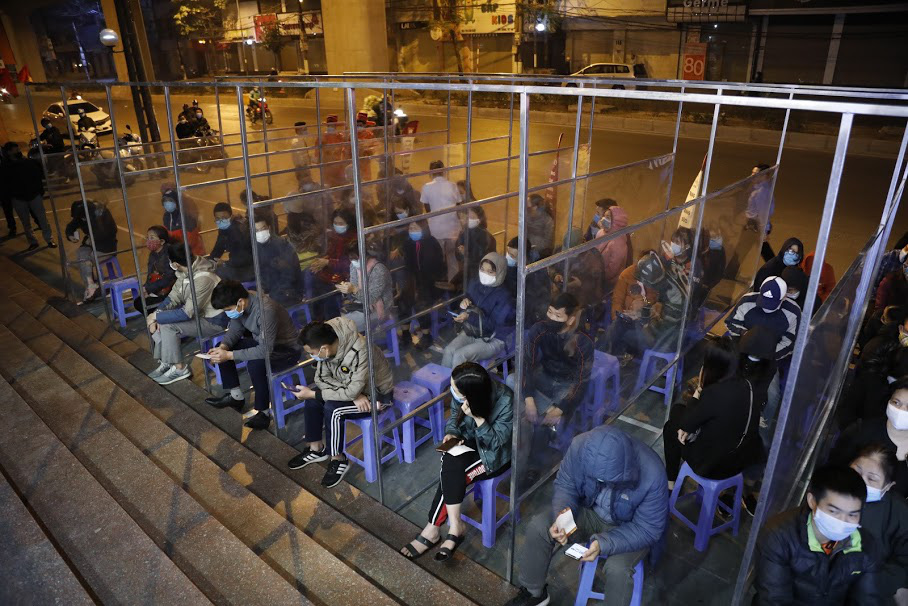 From early morning, a lot of people had queued for the store to open
Since early morning, the store's staff has taken the temperature measurement for customers to buy gold. At the same time, constantly ask guests to comply with the epidemic prevention regulations, wear masks and disinfect according to the staff's instructions. Preventive measures were carefully implemented before the store opened to welcome guests at 6:15, earlier than the previous days.
Gold bar price at opening at SJC Jewelry Company was listed as 55.65 – 56.35 million dong / tael, up slightly by 50 dong compared to yesterday. Meanwhile, the price of gold bars at DOJI Jewelry Group was traded at around 55.6 – 56.3 million dong per tael, kept the buying price and increased slightly by 50 dong compared to the end of the afternoon. The difference between buying and selling is 700,000 VND per tael.
In general, the price of gold bars on Than Tai day in domestic gold trading units has changed, but only fluctuated around 50,000 VND per tael compared to yesterday. Also in the last 3 days, the buying price decreased by about 650,000 VND per tael and the selling price decreased by 550,000 VND per tael.
Mr. Nguyen Tien Huy (resident of Nam Tu Liem district, Hanoi city) said that nearly 6 o'clock he came in line to buy gold, carried out the epidemic room according to the staff's instructions. For many years, he still kept the habit of buying gold on the day of Than Tai to pray for a lucky new year, smooth and smooth work. "I do not buy much, every year on this day only buy one. In my opinion, when praying for luck, fortune, it does not matter whether to buy more or less" – Mr. Huy shared.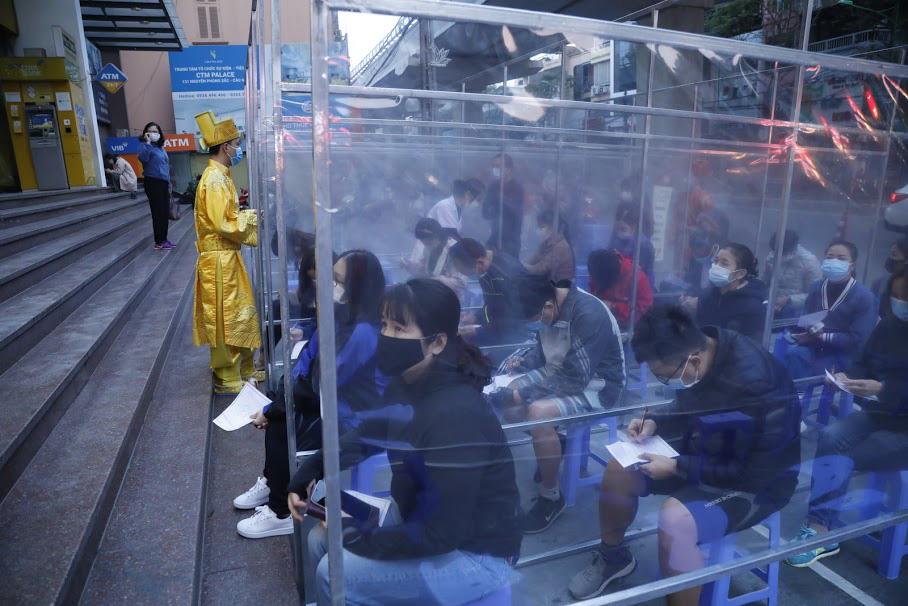 The situation of the Covid-19 epidemic was complicated, so businesses installed partitions and arranged chairs to ensure distance for epidemic prevention.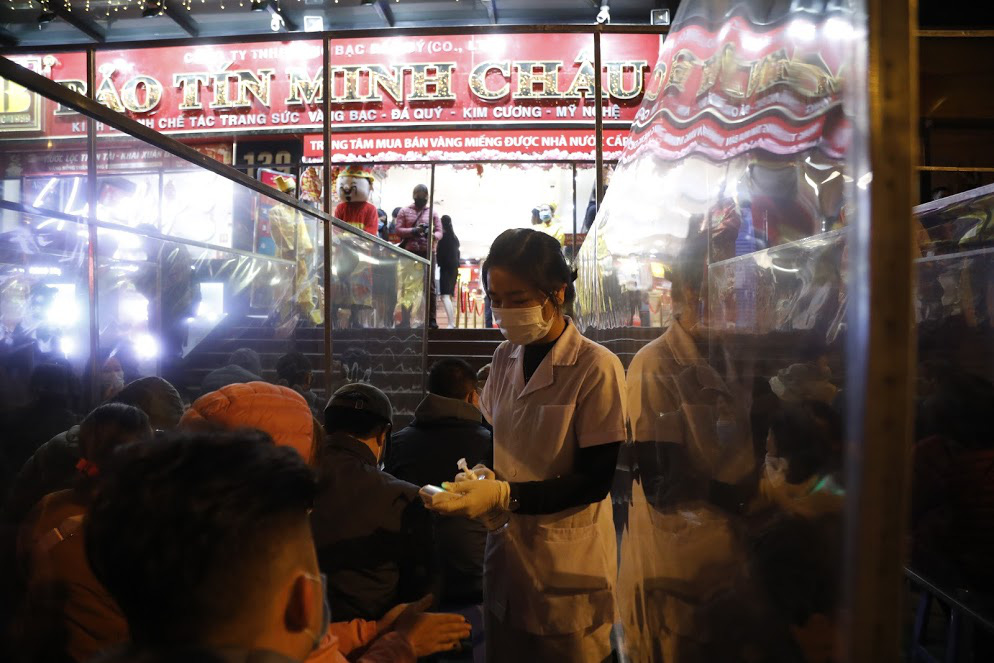 Measure body temperature and remind customers to wear masks in accordance with regulations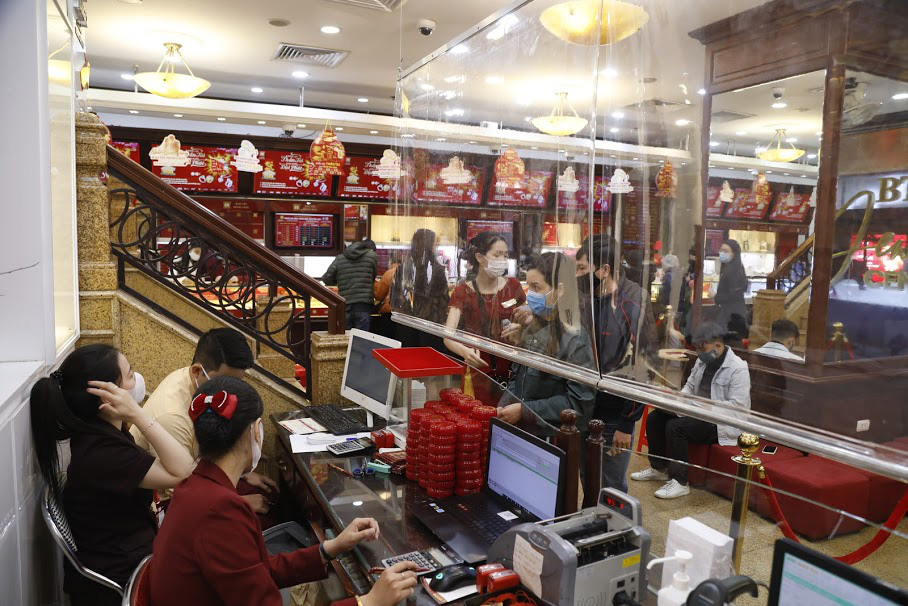 The transaction area is also arranged with dividers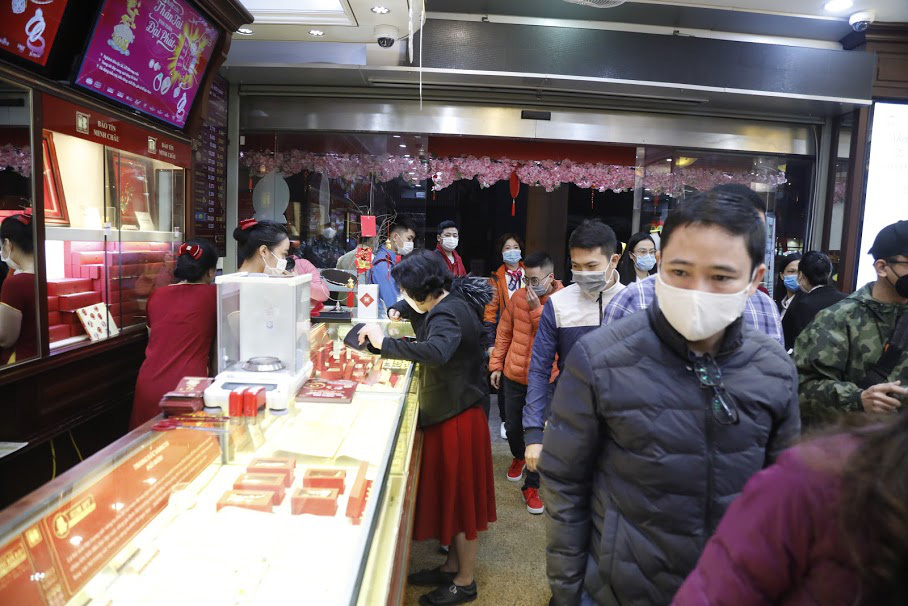 Every year, this gold and silver business establishment welcomes guests very early on the day of the 10th of January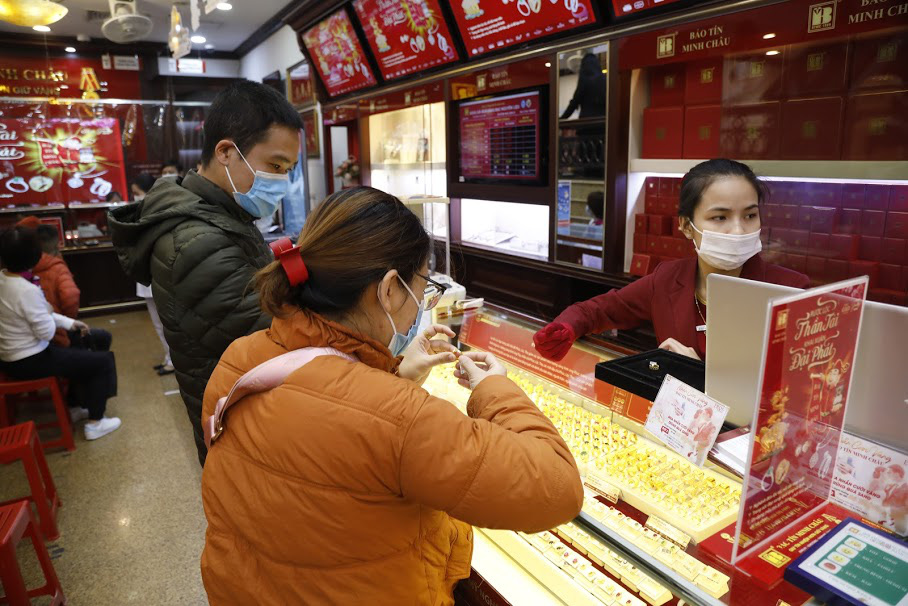 The store will issue tickets to customers, then the customers write personal information, the amount of gold to buy and arrange in the viewing position to limit contact, to prevent epidemic diseases.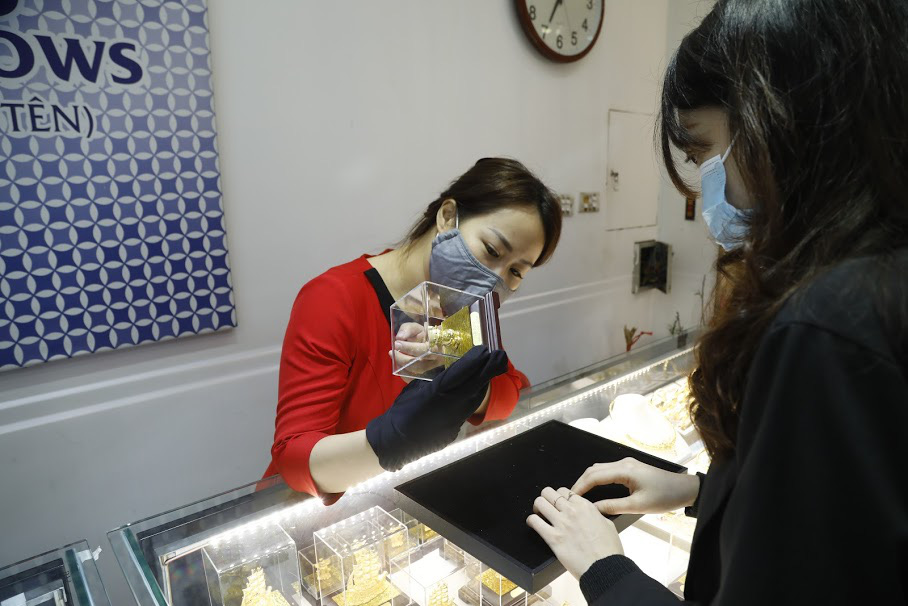 Some products "Golden Buffalo" are exquisitely crafted, attracting customers every day for Than Tai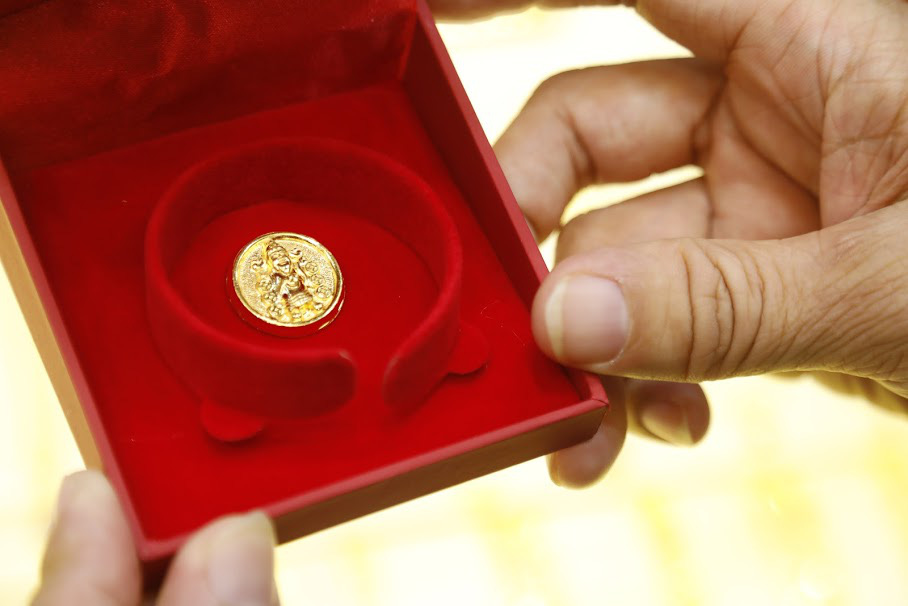 Capturing the needs of customers, gold and silver business establishments launched many beautiful crafted products, suitable for the year of Tan Suu.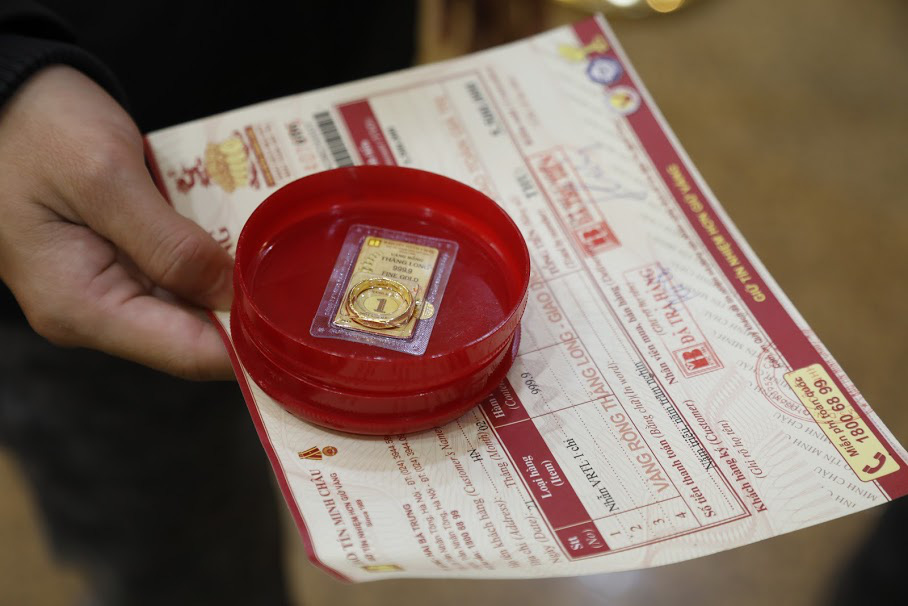 Slippery rings are also chosen by many customers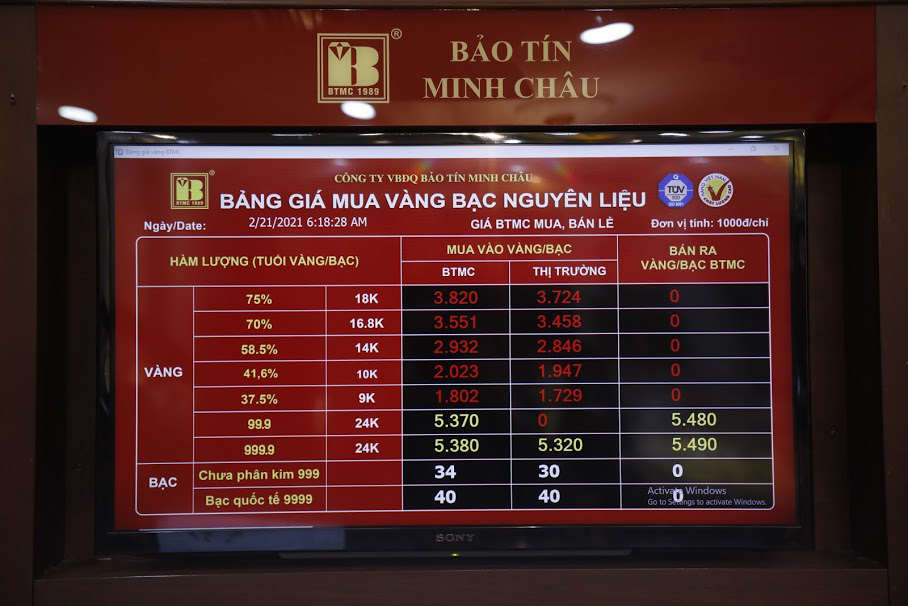 Gold price listed on February 21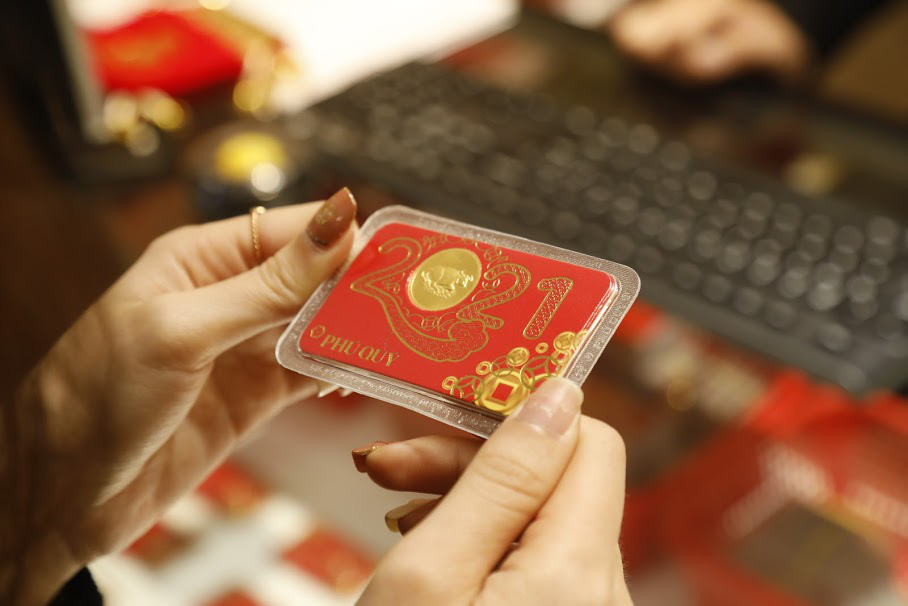 People still keep the habit of buying gold on Than Tai day to pray for a year of luck and fortune
Da Nang: Gold shop was damp during the day of Than Tai
Different from the atmosphere in Hanoi, in Da Nang on the morning of February 21, the gold shops showed that the number of visitors for transactions was sparse, many shops were quite deserted. Most customers only buy 1 gold thread to pray for luck and fortune.
At the Doji Jewelry – Gemstone Group store on Hung Vuong Street, Hai Chau District, Da Nang City, the staff sprayed sterilization and measured the body temperature for guests at the door. Although opening early in the morning, but by 9am, the number of visitors entering and leaving this store is not as crowded as in previous years. Customers come to mainly ask to buy gold bar products, plain ring type 1 thread.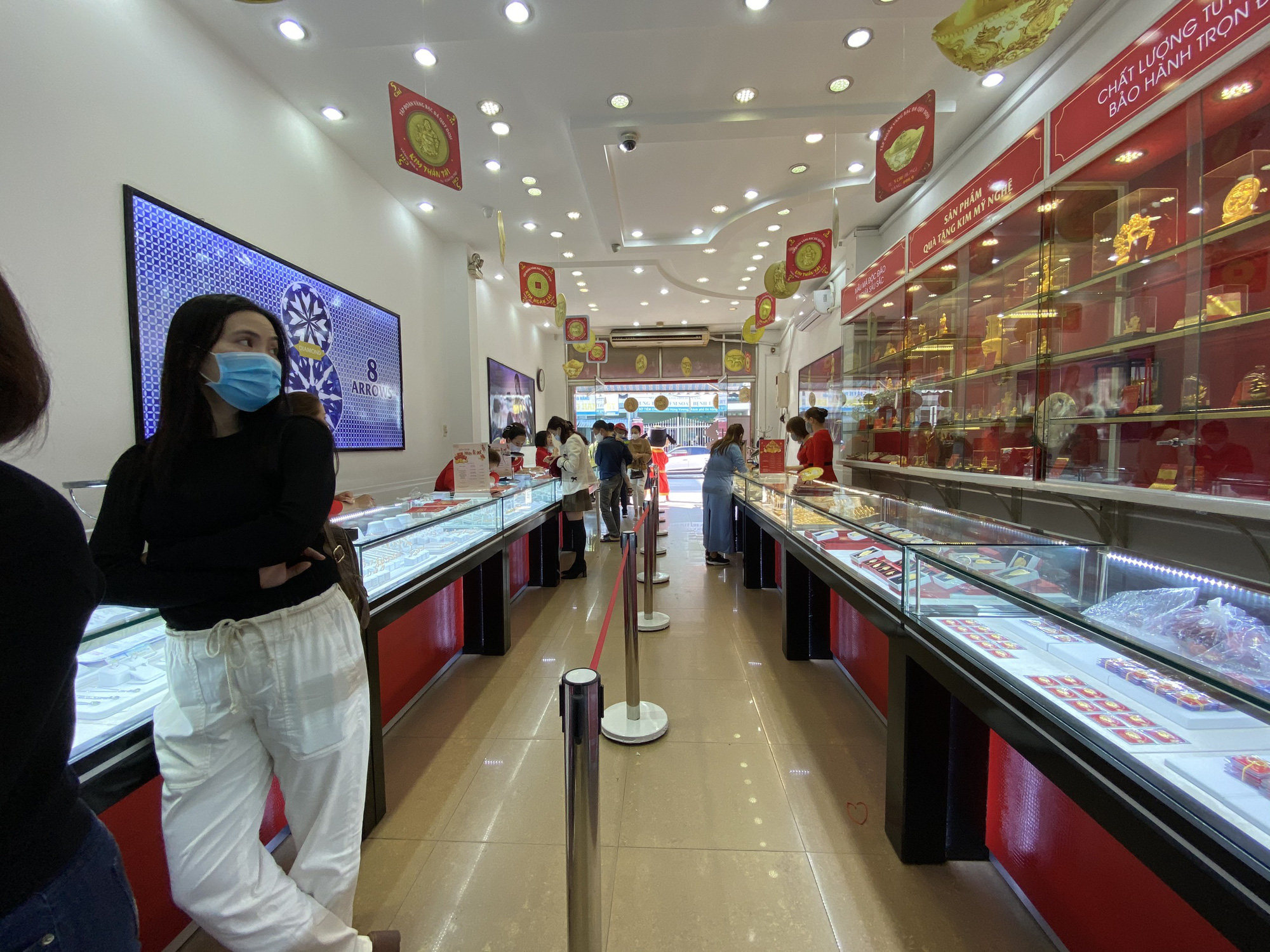 Doji shop in Hung Vuong street, Da Nang, is sparse with customers in the morning of Than Tai
Mrs. Vo Thi Ty – living in Lien Chieu district, Da Nang city – said that every year she buys gold every year on the day of Than Tai. "My family's concept is to only buy gold to get lucky, get fortune at the beginning of the year, so only buy 1 gold" – shared Mrs. Ty.
According to Nguyen Nguyen Tri, Central Wholesale Director of Doji Jewelry Group, the source of goods in Da Nang was prepared by last year, about 4 times as much as usual. However, according to the records at the stores, customers mainly buy 1-2 just for luck. In addition, the number of visitors to buy gold in stores on February 21 was estimated not as large as this occasion last year.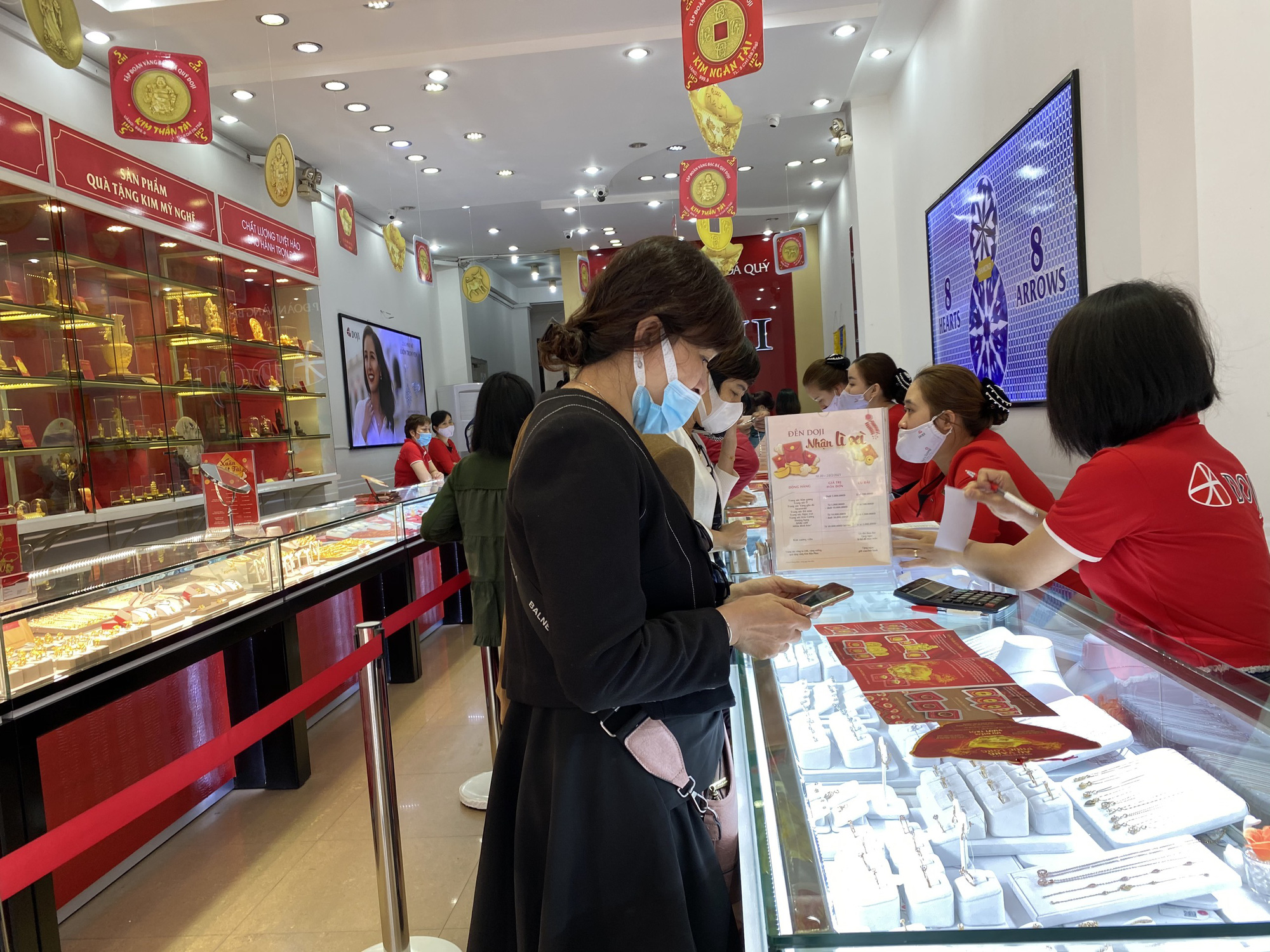 Customers mainly buy gold type 1 only
Gold shops on Hung Vuong and Ong Ich Khiem streets are also very deserted and sparse. Even, many stores do not even have customers. Mrs. Kim Dung, owner of Kim Dung gold shop on Ong Ich Khiem street, said the shop prepares a variety of plain rings from 0.5 to 1 gold. According to Ms. Dung, since last year, due to the epidemic, the number of customers buying gold for Than Tai day has decreased. This year, customers buy even more.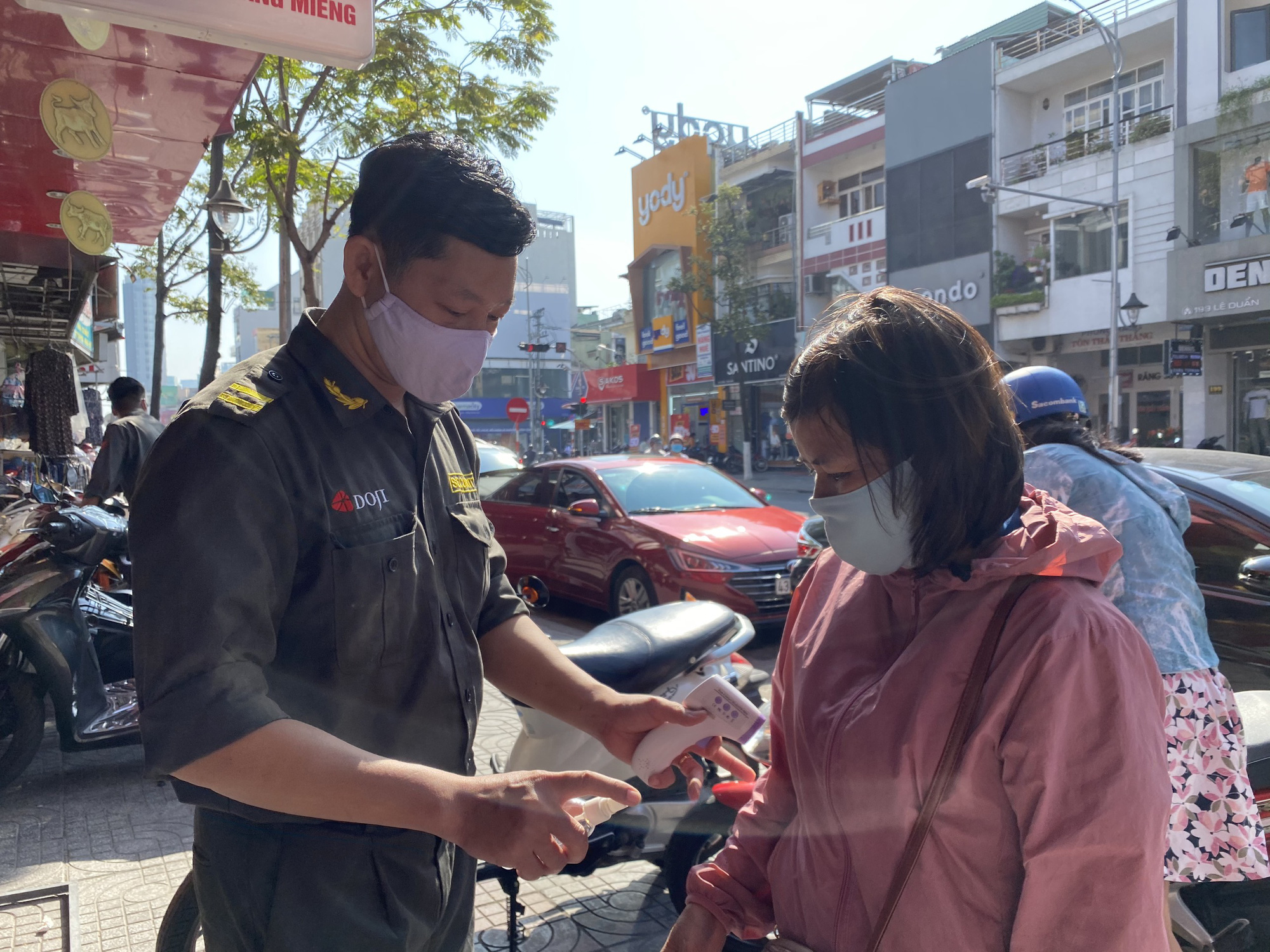 Antiseptic spray for customers at PNJ's store, Le Duan street, Da Nang city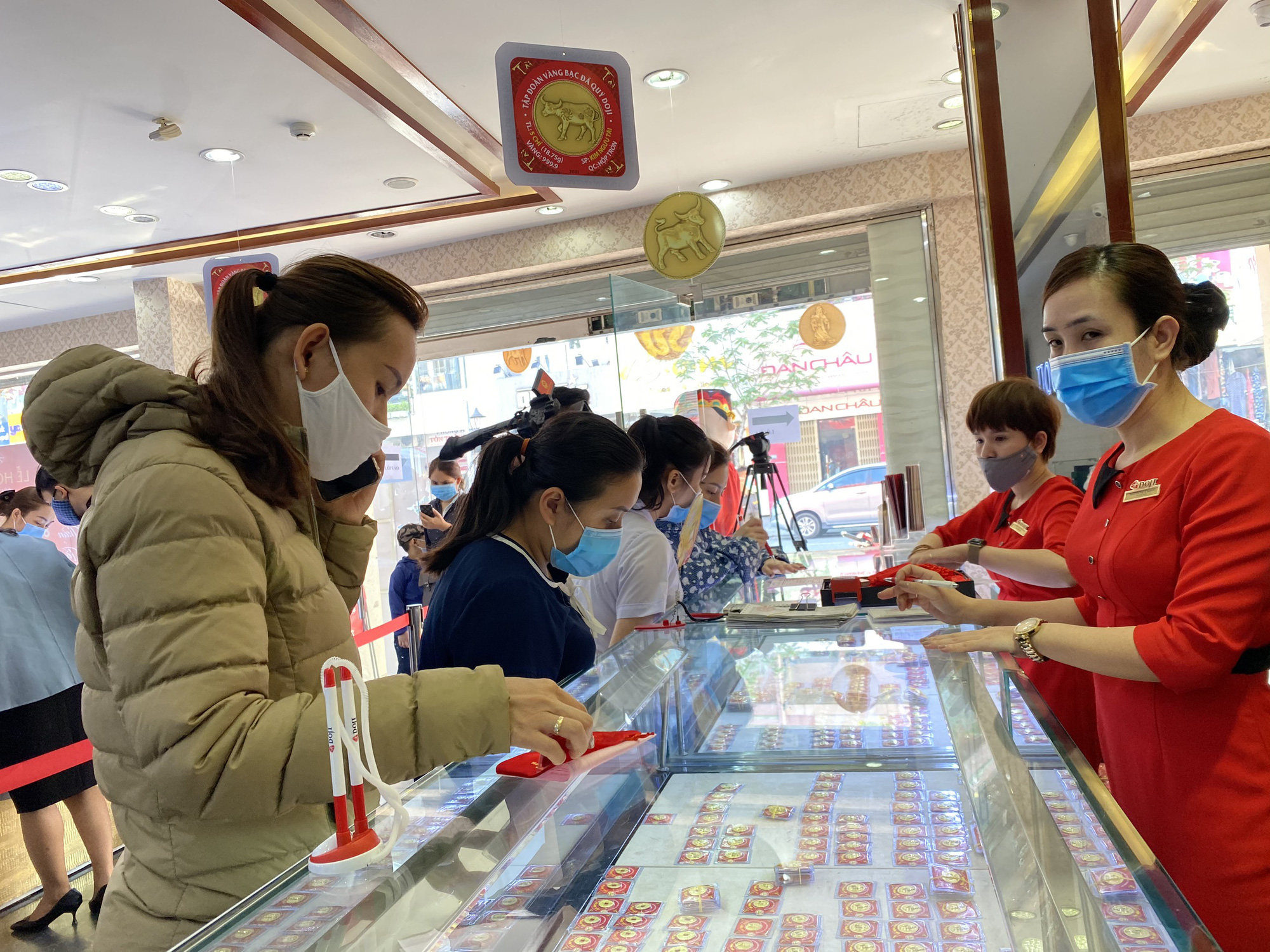 There were more tourists buying gold at PNJ Le Duan than other gold shops in this area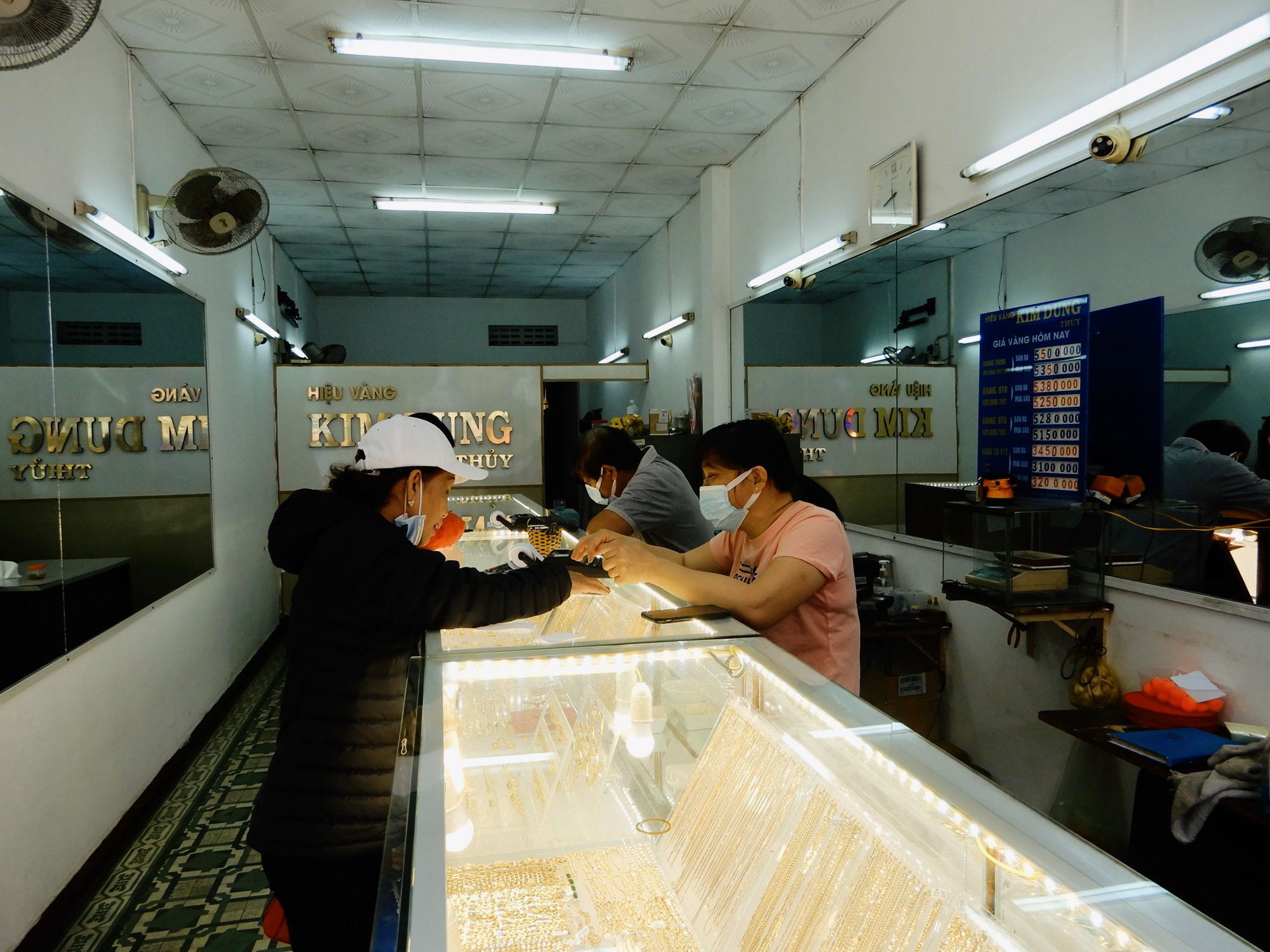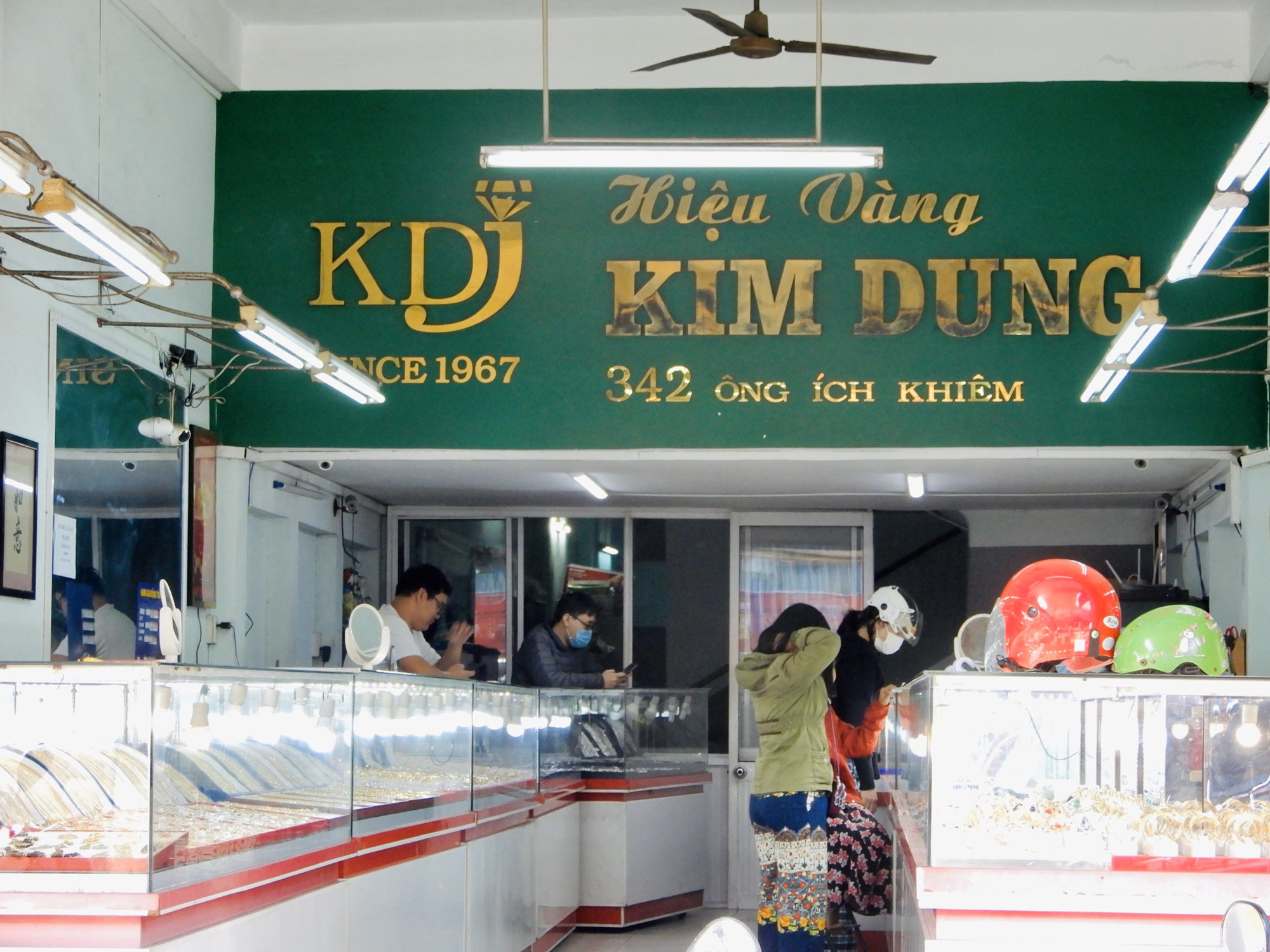 Kim Dung Gold Shop, Ong Ich Khiem street is empty
Flange vein