Permanent Deputy Prime Minister Truong Hoa Binh speaks at the conference – Photo: VGP
That is the information announced by the Government's Administrative Reform Steering Committee at the National Online Conference to announce the Public Administration Reform Index 2020 (PAR Index 2020) and the Administrative Service Satisfaction Index. 2020 (SIPAS) of ministries, branches and provinces and cities, taking place on the afternoon of June 24.
According to the SIPAS 2020 survey results, in 63 provinces and cities, people still have to travel many times to perform public services. The proportion of people going once to do an administrative procedure is 29.69%, going twice is 55.71%, going three times is 9.64%, going four times is 4.41% and 0, 72 % have to travel 5 times or more to carry out 1 administrative procedure.
In addition, there is still a situation where people are harassed and harassed by public officials in the process of providing public services, with a recorded rate of 1.23%. The situation of people and organizations being harassed and harassed by civil servants occurred in 57/63 provinces and cities.
A remarkable number in the SIPAS 2020 report is that 0.59% of people and organizations surveyed said that they have to pay in addition to fees/fees, ie "facilitation" money when performing public services.
In 48/63 provinces, people have to pay "lubrication" fees when performing public services, an increase of 2 provinces compared to 2019.
Also according to the SIPAS 2020 report, 82.03% of people and organizations receive an appointment to return results when performing public services, 93.56% receive public service results on time, 2.43% sooner. appointment and 4.09% late.
Speaking at the conference, Standing Deputy Prime Minister Truong Hoa Binh also pointed out a number of limitations that need to be overcome soon. That is, the leaders of a number of ministries, branches and localities have not shown their roles and responsibilities properly in promoting reforms to ensure a clear change in state management activities.
According to him, there are still some shortcomings and limitations in a number of institutional reform contents that have not been handled or removed. simplify regulations on business activities according to the Government's Resolution No. 68/NQ-CP.
Renovate the implementation of the one-stop-shop mechanism in handling administrative procedures in the direction of improving service quality, increasing the application of information technology, not associated with administrative boundaries, and reducing time. travel, social costs and facilitation for people and businesses, the deputy prime minister emphasized.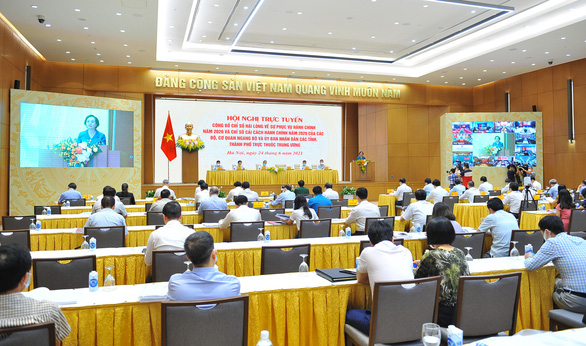 The SIPAS 2020 report recorded an increase in the rate of organizations and people having to "lubricate" when doing administrative procedures – Photo: VGP
The measurement of the satisfaction of people and organizations with the services of state administrative agencies is carried out annually by the Government's Steering Committee for Administrative Reform in order to objectively assess the quality of services, providing public services, of state administrative agencies.
The SIPAS 2020 index is surveyed on the fields of public services provided at the provincial, district and commune levels related to the issuance of certificates / permits / certifications of land use rights, environment, driving, transportation , construction, construction planning, grassroots culture, sports, cultivation, plant protection, animal husbandry, veterinary medicine, judicial record, state legal aid, business, justice , labor, war invalids and society.
People's satisfaction is assessed based on 5 service accessibility factors; administrative procedures; civil servants directly handle the work; service results; the reception and settlement of comments, reflections and recommendations of people and organizations.
To measure SIPAS 2020, the Government's Administrative Reform Steering Committee distributed 36,630 sociological survey questionnaires, the number of valid votes collected was 35,268, reaching 96.28%.
The results show that 84.71% are satisfied with accessing public services.
For administrative civil servants, 87.13% said that they are satisfied with civil servants who communicate politely; 86.16% are satisfied with civil servants paying attention to questions and opinions; 86.58% satisfied with civil servants answered, fully explained; 86.65% satisfied with civil servants providing easy-to-understand documentation…
There are 3 things people most expect according to the SIPAS 2020 report, which is the need to continue reforming administrative procedures; shorten the time to handle administrative procedures and increase the receipt of documents – return results through the public postal service.
.