One day at the end of 2020, we contacted a 3-star hotel in the central area of ​​District 1, Ho Chi Minh City, which is isolating paid entry visitors (about 90% of incoming visitors are foreigners coming to the city to work. job).
Things never done
The security of the hotel led us to go with a "clean stream" – a safe passage as required for Covid-19 prevention, to meet with the hotel management. As a rule, hotel leaders working here must also comply with quarantine regulations, not going out during the 14-day process.
Mr. Vo Minh Trung – Riverside Hotel General Manager, Deputy Head, Executive Board of the Medical Isolation Area at Riverside Hotel – said these days the capacity at the hotel has increased dramatically due to the need to pick up guests. Immigration cups soar.
At the time of meeting us, the hotel prepared to welcome a diplomatic delegation from abroad, quarantined for 14 days before starting a business trip, so from the management to the hotel staff were busy.
Reception area at the hotel lobby
To serve as a fee-for-entry quarantine point, hotels in Ho Chi Minh City must fully meet the Covid-19 epidemic prevention regulations, approved by the City People's Committee, based on recommendations and appraisal of Department of Health, Department of Tourism and related agencies.
These hotels will serve diplomats, investors, technical experts, skilled workers, and business managers (hereinafter referred to as experts) who enter Vietnam through Tan Son international border gate. Most work in a city with aspirational quarantine at the paid point.
"We have a list of things that have never been done since, since the hotel business. A 21-page set of detailed procedures, all from picking up, servicing, monitoring, monitoring quarantined guests. paid medical care and operating procedures for isolated guests at the hotel, avoiding the worst case scenario of hotel staff being infected from guests and positive for SARS-CoV-2 virus "- Mr. Vo Minh Trung said .
Originally a travel service and "god", but with hotels that pick up people for a fee, this role changes dramatically. In order to meet the highest requirement of Covid-19 epidemic prevention, the entire isolated hotel must have cameras on all floors, observation areas such as reception hall fronts, sampling areas, corridors of floors, aisle to isolation rooms, stairs, elevators.
Every day, the hotel has to send camera staff to monitor anything unusual from the isolated rooms, from guests; Hotel management also had to review all cameras, including waste disposal; monitor even when guests are easily "angry, sensitive" when guests' psychology changes, want to go out …
Positive songs and bad jokes
Starting to welcome guests from the beginning of October 2020, the capacity at Riverside Hotel will gradually increase, bringing in revenue to maintain, employees do not have to quit their jobs, not reduce income …
Mr. Vo Minh Trung recalled, two items never touched by guests at the hotel, now they have to serve themselves as brooms and trash pickups, because everything in the guest room from the door back in is self-service guests.
The most stressful time is the period of waiting for the customer's test results after landing from the plane. Specifically, rescue flights are often crowded and are not tested before boarding. Therefore, during the time after getting off the airport, going back to the hotel to wait for the sample, the test result is the most "stretch".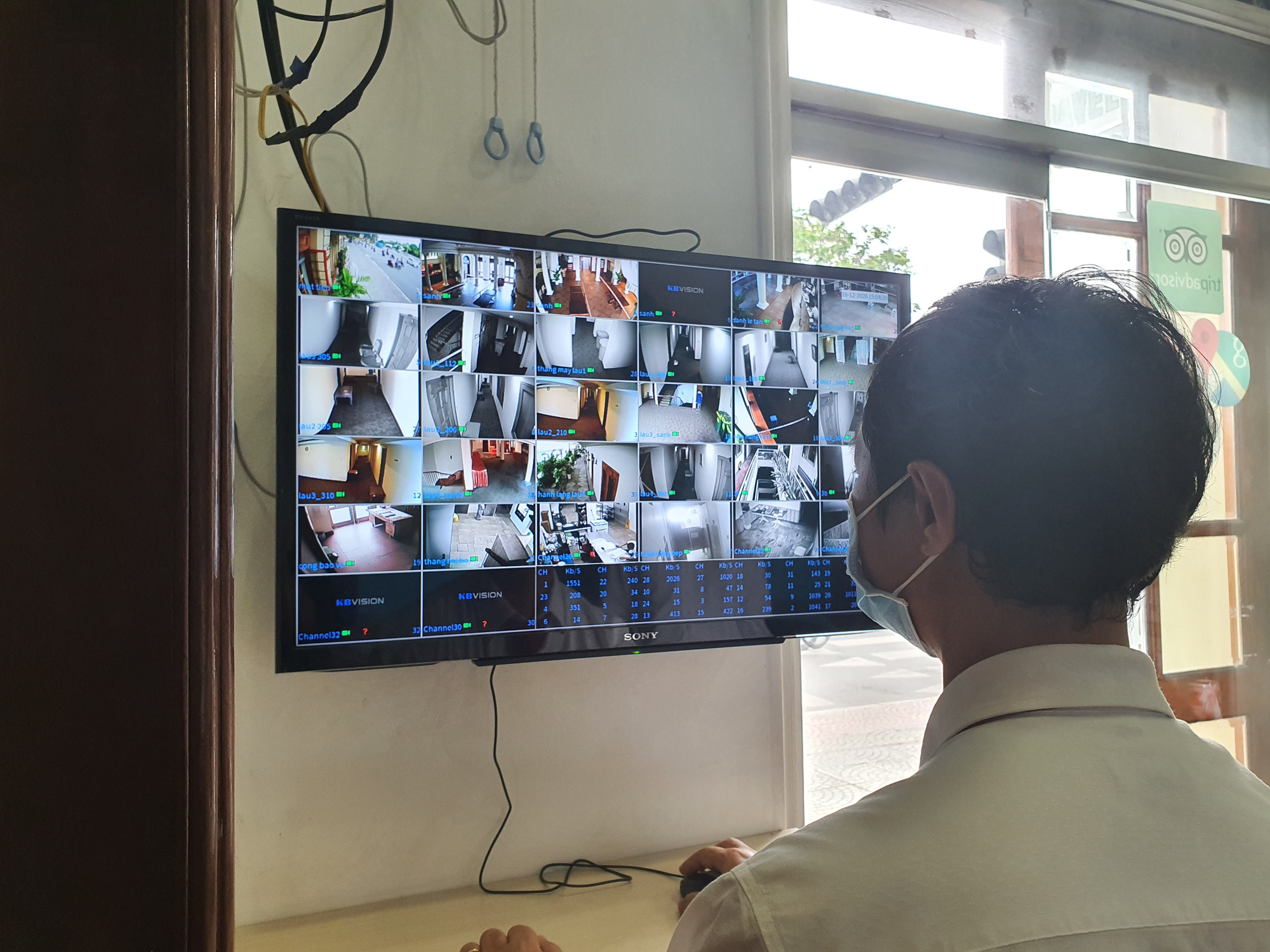 Camera monitoring throughout areas in the hotel
"In total, there are 11 framework procedures for the hotel to handle in case of a positive case. The greatest luck is that although the hotel has picked up guests and found 4 cases positive for the SARS-CoV-2 virus, but All employees are safe, thanks to proper compliance with the anti-epidemic process "- Mr. Vo Minh Trung said.
Talking about the most memorable isolated guest cases, the deputy director of this 3-star hotel shared that an American guest loves to eat Vietnamese food, often ordered fruits, oranges, mangoes, and pineapple, watermelon, but Whole fruit, guests do not know how to peel, want to ask the hotel to cut them. The principle that customers must remove them if they touch them, but if you spray bacteria on them, the fruit cannot be eaten. So the hotel flexibly goes and buys other fruits and helps to trim.
Or there is an isolated guest who suddenly goes out into the hallway, asks for golf practice, and the security guard to see the camera immediately invites him to come into the room, and then he must take the bacteria spray every step of the guest …
"This is one of 4 guests positive for the hotel disease" – the leader of this hotel said.
Another guest is a Korean who works as a cosmetic doctor in Vietnam and is an expert, so as a rule, only need to apply for a work permit, test in the host country and then go to Vietnam for 6 days quarantine. . But this doctor went wrong on the rescue flight.
"So the quarantine must be full for 14 days. During that time, this doctor's wife is a Vietnamese. She calls to the hotel every day to complain about her husband's quarantine for 14 full days. I got home early, then told the hotel to take the temple, compensate for the contract to keep her husband in the house longer and we have to try to persuade "- Mr. Vo Minh Trung confided.
Currently, there are about 32 quarantined hotels in Ho Chi Minh City operating with a capacity of about 2,500 rooms. Paid participation in the pick up of quarantined guests contributes to the prevention of Covid-19 epidemic in Ho Chi Minh City in particular and the whole country, when serving those wishing to be isolated. At the beginning, there were doubts when a number of hotels were located in the central area, the risk of infecting surrounding residents. But so far, this solution is considered to contribute to help the health sector to control Covid-19 well, in a certain segment, which is to welcome visitors.