After being taken to the hospital by doctors, both Tuan Anh and Van Toan were present on the training ground with the Vietnamese team on the evening of June 8.
At 7pm on June 8 (UAE time), the Vietnamese team continued to practice in Dubai city to prepare for the match against Malaysia on June 11.
In this training session, Coach Park Hang Seo divided the team into two groups. The reserve group against Indonesia practiced normally, while the group of Cong Phuong, Xuan Truong, Quang Hai… practiced separately in the adjacent yard, with a leisurely walk around the field with expert Choi Ju Young.
Tuan Anh appeared on the field with slow steps. Photo LT
In this group, the duo Tuan Anh and Van Toan appeared on the training ground of the Vietnamese team after suffering an injury in the previous match against Indonesia.
Tuan Anh and Van Toan were both substituted after the Indonesian players' rough tackles. Tuan Anh was diagnosed with ankle pain, while Van Toan had hip pain, had to ask his teammates to carry him to the car after the match.
It is known that on the afternoon of June 8, both were taken by the team doctor to a hospital in Dubai for examination. However, the severity of the injuries of Tuan Anh and Van Toan was not disclosed.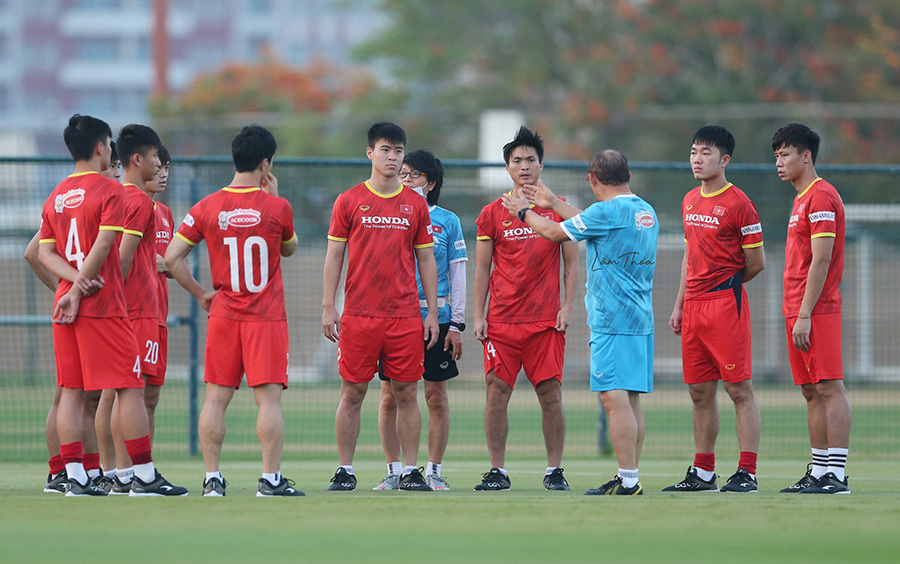 The ability of Tuan Anh and Van Toan to compete against Malaysia is still open. Photo LT
The fact that the two appeared on the training ground and walked slowly brought good news to Vietnamese fans and hoped to be with the Malaysian home team, when Coach Park Hang Seo did not have Quang Hai (suspended).
After a few minutes of walking on the field, the main group of players got into the car to return to the hotel first, while the other group practiced the lesson of Coach Park Hang Seo.
The Vietnamese team has two more practice sessions before a very important match against Malaysia. After 6 matches, Park Hang Seo's teachers and students are leading Group G with 14 points, 2 points more than the second place team, UAE.
Video of Vietnam 4-0 Indonesia team:
SN

Vietnam won jubilantly, Thai people 'take credit' for Kiatisuk
The Vietnamese team won jubilantly over Indonesia, the Thai press reported Kiatisuk with the imprint of HAGL players.

Southeast Asian football lost and scattered, the Vietnamese team continued to fly high
The Vietnamese team maintained an unbeaten streak in the 2022 World Cup qualifiers, while the teams in Southeast Asia continued to receive heavy defeats.

Indonesian newspaper: 'Vietnam makes our team miserable'
Not completely resigned to the 0-4 defeat, but the Indonesian press had to admit that Vietnam made Garuda have a miserable match.
.