After detecting that hand sanitizer products on the approved list were counterfeited, Health Canada immediately issued a recall notice.
The recall applies to a counterfeit Daily Shield hand sanitizer, which was sold at a Dollarama store in Thunder Bay, Ont. and may have been sold in stores across Canada.
Health Canada said it worked with Bio Life Sciences Corp., the company that makes the genuine product approved, to make sure the fake version is not theirs.
The Daily Shield hand sanitizer on the list that meets the Covid-19 prevention requirement has been counterfeited.
The fake Daily Shield hand sanitizer, which is manufactured with an unspecified formulation, may not be effective at killing bacteria and viruses, authorities said. Counterfeit products are suspected to contain methanol, a substance that is not approved for use in hand sanitizers in Canada and could pose serious health risks, including side effects or death if swallowed.
"Counterfeit products may contain ingredients not listed on the label, dangerous additives or other contaminants. In addition, they may not contain ingredients that kill bacteria and viruses." they should be, "the recall stated.
Health Canada said it contacted the distributor of the fake hand sanitizer and instructed them to recall the product. Dollarama has also agreed to stop selling Daily Shield hand sanitizers at its stores across Canada while the Ministry of Health continues to further investigate the matter.
So if people have bought some Daily Shield hand sanitizers recently, do a close look at Health Canada's instructions to check they are real. Both versions of the product carry the same NPN of 80098979, but have different batch numbers, the agency said.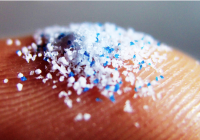 Mixing formula milk in a plastic bottle contains potentially millions of harmful microplastics
(VietQ.vn) – A study from Trinity College Dublin shows that bottles made from polypropylene plastic release millions of microplastic particles during the sterilization and preparation of infant formula.
The actual product is bright blue and red on the label, with a volume of 236 ml or 1 liter; while the dummy version uses dark blue and dark red on the label, 250 ml is measured. Counterfeit products are labeled Lot 6942; Expires May 2023.
Health Canada says anyone with a counterfeit product should stop using it immediately or contact a doctor for advice in the event of use and feel anxious about their health. In addition, the Department of Health has published a complete list of disinfectants approved for sale in Canada, and another listing of products that may not fully meet regulatory requirements but are safe. to use.
Health officials continue to advise citizens to regularly wash their hands with soap and water to limit the spread of Covid-19. In the case of water and soaps are not readily available, people can use an alcohol-based hand sanitizer instead with equally effective.
Huong Giang (Source: CTV News)
.