Specifically, nResearch by the CDC shows that even people who get only one dose of the Covid-19 vaccine have an 81% lower risk of infection than those who have not been vaccinated.
More than 3,900 study participants who are healthcare workers, first responders and frontline workers have been tested for SARS-CoV-2 weekly since December 2020. The results show that so far 5% have tested positive for SARS-CoV-2. Of the 204 infected people, 16 have been vaccinated.
People who have received the Covid-19 vaccine are less likely to have a mild infection than those who have not
"This study adds strength to the factual evidence for the effectiveness of the Covid-19 vaccine," the CDC said in a statement.
"The findings from the scope of this study demonstrate that the Covid-19 mRNA vaccine is effective and contributes to the prevention of infection. However, people who are fully vaccinated are still at risk of contracting SARS-CoV-2, but have a milder illness, a shorter duration of illness, and are less likely to pass the virus on to others. These benefits are important reasons for vaccination," said Dr. Rochelle Walensky, Director of the CDC.
Many people have been vaccinated with two doses of Pfizer/BioNTech or Moderna vaccines and have been tested weekly since December 2020, regardless of whether they developed symptoms of Covid-19 or not. This is the only way to know if the vaccine can prevent asymptomatic infections.
People who received 1 or 2 shots of the vaccine if infected with SARS-CoV-2 had 40% less virus in their body and 58% less likely to develop a fever. According to CNN, their hospital bed time is also 2 days less than unvaccinated Covid-19 patients.
In addition, another study also showed that Moderna mRNA Covid-19 vaccine can produce antibodies against SARS-CoV-2 virus in oral and nasal fluids. Since that's where SARS-CoV-2 enters, antibodies in the mouth and nose prevent the virus from entering the body, providing a "sterilizing immunity" effect. This also means that vaccinated people probably won't spread the virus through respiratory droplets.
Bao An (th)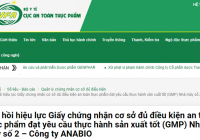 Revocation of ANABIO's GMP Certificate
(VietQ.vn) – Recently, the Food Safety Authority issued a Decision to revoke the validity of the Certificate of ANABIO Company.
.