The ever-evolving technology makes people constantly concerned about the impact of new technologies on the happiness of young people. As time went on, however, concerns were forgotten and quickly turned to concerns about the next new technology.
A new study from the University of Oxford analyzed 30 years of data, tracking the relationship between young people's participation in technology and their mental health, from watching television to using social networks on smartphones, and found little or no connection.
Lead author of the study, Matti Vuorre, from the Oxford Internet Institute, explains: "If we want to understand the relationship between technology and happiness today, we first need to go back and look at the data. history. For example, in the old days parents were concerned that watching too much TV would make their children addicted, thereby bringing modern concerns about newer technologies into focus."
New research from the Oxford Internet Institute shows that there is little or no evidence that teenagers spending a lot of time on technology have an impact on mental health.
In the early 20th century, the rapid popularity of radio sparked concern among parents in the United States. In the mid-1930s, 9 out of 10 households owned a radio and it was estimated that children spent up to 3 hours a day listening to the device. A parenting magazine at the time voiced concern that excessive radio listening could harm children and parents were powerless to fight it.
Then, the rise of comic books, television, and video games all spawned similar anxieties, and ultimately unfounded panic in the decades that followed. The new study looked at 30 years of data across three large studies to try and find out whether mental health problems among adolescents increased over time, relative to time. their interactions with technology.
Teenagers' use of digital devices and social media has recently been compared with teen television use in the 1990s-2000s.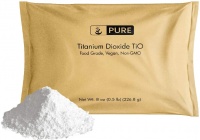 Food coloring is classified as unsafe for health
(VietQ.vn) – The food safety assessment agency in Europe is considering issuing a ban on food coloring E171 as soon as possible.
Overall, the study found little evidence that technology use is increasingly harmful to a young person's mental health over time. There is some evidence that social media use is somewhat associated with increased emotional problems in young people, however, against this, the data suggest a relationship between Technology use and depression have declined over the past decade.
Lead author, Andrew Przybylski, director of the Oxford Internet Institute, has been studying the impact of new technology on mental health for several years. His previous studies showed that digital screen time had little effect on adolescents' happiness or children's sleep.
"As more data accumulates on the use of emerging technologies by adolescents, knowledge about their impact on mental health will become more precise," Przybylski said. Therefore, it is too early to draw firm conclusions about the increase or decrease of the link between social networking and adolescent mental health, and it is certainly too early to make policies or regulations. determined on this basis."
Huong Giang (via: New Atlas)
.