Tri-chamber ants have the scientific name of Paederus fuscipes Curtis (Staphylinidae, Coleoptera), in their body they contain pederin – burn toxicity. This insect has a slim, long, grain-like body, has two dark orange and black colors, folk also known with many different names such as: wild ant, needle ant, squash ant, rice ant, chin pair, captive ant. , arching …
The study documents show that the tri-chamber ant has Pederin toxin (C24H43O9N), 12-15 times more toxic than cobra venom, but due to the small amount of exposure and only outside the skin, it mainly causes skin burns, easy to confuse with nerve shingles.
About two weeks ago, on average, every day, the Central Dermatology Hospital received more than 100 patients with contact dermatitis due to tri-cavity.
Patients are found in many suburban districts of Hanoi. In many cases, 2-3 people in the same family have to be examined because of the bites of ants. Many cases of serious injuries, after 3-4 days after visiting the hospital, the first red streaks appeared due to the toxin of the triasses.
According to doctors, tricyclic ant contact dermatitis usually has the manifestations: erythematous lesions, slightly edema, blisters, pustules with sugar form, usually in open areas such as face, neck, hands. , feet. Symmetrical lesions can be found in areas of folds such as armpits, groin, elbow folds or elbow folds. If the toxin gets into your hands without washing it immediately, it will accidentally make it stick to other areas of the body.
Tricyclic contact dermatitis is not dangerous with the right care and treatment, but can make many people in a family or neighborhood sick at the same time, or more than one person can develop multiple infections. times in season.
In addition, doctors recommend that, when detecting tricyclic ants, wear gloves or use a soft paper to handle, absolutely do not rub, beat the ants to release poison.
When accidentally pounding or rubbing the ants on the skin, immediately wash under clean water with saline water or soap to reduce toxins. If the damage is mild, you can apply a special treatment cream.
The ants do not attack, but because humans accidentally come into contact with toxins in the ant's body, causing atopic dermatitis. Situations in which people may come into contact with pederin: Deliberately or unintentionally smashing ants when they crawl on their bodies, when ants crawl on towels, clothes that are drying, people use these towels or clothes and accidentally rubbing ants on the body, releasing toxins to the human skin.
So, before using a towel or clothes, we have to carefully consider, if you find ants, gently move them out of the furniture (use 1 sheet of paper for the ant to crawl and move them to the place. other).
At night, when living or working under the light, it is necessary to close doors or make insect nets in windows areas with air vents.
Narrow housing areas such as dormitories or workers' housing areas near industrial zones, near places with a lot of trees, bushes, newly harvested fields need environmental sanitation, collecting rotten trees. , dry grass is burned to repel insects. Use a household insect sprayer, spray on walls, steps, and windows to keep ants from entering your home. Use light traps to lure and catch ants and keep ants out. When the ants fall or crawl onto the skin, they should not kill the ants, but blow away the ants so that its secretions will stick to the skin.
If you find that you have just been exposed to ant secretions, quickly wash the contact area under running water. When the skin begins to feel pain and burning, use a mild antiseptic solution such as Jarish solution, zinc oxide, antibiotic ointment and then go to the medical facility for further treatment.
Ha My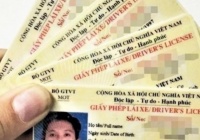 Many websites fake driver's license information
(VietQ.vn) – Directorate for Roads of Vietnam (NEVN) has just said that, in recent years, on the Internet, there are a number of websites with interfaces similar to the website of the driver's license website issued by the Directorate of NEVN manage
.