Hair loss is not very harmful to health. It is normal for an average person to lose 50 to 100 fibers a day, but losing more hair than usual can be a cause for concern.
During the Covid-19 pandemic hitting the world, people experienced a variety of symptoms, including hair loss episodes. However, this can confuse healthy people who have not yet figured out the exact cause of the problem is chronic stress. But Corona-positive patients can also experience hair loss after infection.
A research team investigated 1,655 Covid-19 patients who were treated and cured at Jinyintan Hospital in Wuhan between January 7, 2020 and May 29, 2020. Six months later, the patients were re-tested using a blood test, undergoing exercises that included six minutes of walking and a questionnaire response to assess whether they had any long-term symptoms. after infection with Covid-19 or not.
The results showed that 63% of patients felt tired or weak in muscles, 27% had difficulty sleeping, and 22% reported that they experienced hair loss during the six-month period after the illness. "Temporary hair loss is normal after a fever or illness. Fever is a common symptom of Covid-19. Several months after having a high fever caused by Covid-19, many patients will experience significant hair loss, "said the American Dermatology Association (AAD).
According to Ms. Sirisha Singh – Dermatologist, hair goes through a growth cycle, which can be in the growing or growing phase when the hairline is healthy and the degenerative stage when the hair is often lost. This condition is called temporary degeneration – a form of temporary hair loss that usually occurs after a shock or traumatic event. "For those who lose their jobs, can't meet their families and go through difficult times, the lifestyle changes lead to loads of stress."
After any stress on the body, including COVID-19 infection, hair can go into a degenerative stage and lose a lot. This usually begins about 2-3 months after COVID infection and can last for about 6 to 9 months. After that, people often notice a gradual recovery.
An Ha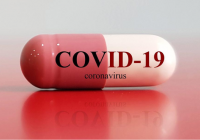 Available and cheap drugs can be reused to shorten the duration of Covid-19 treatment
(VietQ.vn) – According to immunologists at the University of Pennsylvania (USA), in order to shorten efforts to find Covid-19 treatment, the re-use of approved, readily available, cost-effective drugs Cheap is satisfactory.
.