Do not care about the aftermath
In Hanoi, there have been cases of death after voluntary infusion. In April 2019, a female patient born in 1986 died after receiving an infusion at a private clinic in Thanh Xuan district. Not long ago, a 22-month-old boy died after infusion at a private clinic in Long Bien district. And recently, Bach Mai Hospital received a 17-year-old male with shock cardiac arrest after home infusion.
Those are just 3 of the many deaths from over infusion abuse. Although the tragedy is clear, many people still have the habit of asking for infusion services at home, regardless of the bad consequences that can happen.
Assoc.Prof.Dr Nguyen Tien Dung, former Head of Pediatrics Department, Bach Mai Hospital, said that many people think that when they have a fever due to a virus, the infusion must be done quickly to get well. This is a misconception. Fever and fatigue are symptoms of many diseases. The injection or infusion to patients must be directed by a doctor. In the event that an infusion is required, the medical staff will have to carefully calculate how much to infuse, how the drip infusion time … but cannot be infused indiscriminately.
According to Dr. Nguyen Trung Cap, Deputy Director of the National Hospital for Tropical Diseases, the principle is that salt and sugar must not be infused when having a viral fever because these substances will increase pressure on the skull, increasing the risk cerebral edema makes the disease worse. What's more, all medications taken into the body have side effects, and the risk increases when directly absorbed by the body. Infusion can cause infections, infectious diseases, hepatitis … Therefore, if you have a fever while eating well, you should not infuse.
Can't be arbitrary
According to experts, during infusion, it is important to note that the patient may experience anaphylaxis – which occurs immediately or during / immediately after injection.
The manifestation of anaphylactic shock is the patient experiencing sudden chills, fever, body temperature may rise to 39oC – 40oC or higher, rapid pulse, sweating, cold limbs, drop in blood pressure, difficulty breathing, breathing rhythm fast and shallow, patients worry, restless, struggling … If not handled promptly, the patient can die very quickly.
According to Dr. Le Ngoc Duy, Director of the Pediatric Emergency and Poison Control Center, National Hospital of Pediatrics, the cause of anaphylaxis may be due to the infusion device being sterile, the infusion speed is too fast or sometimes because the patient is sensitive to the drug. Regardless of the cause, it is important to immediately stop injecting, infusing and taking emergency drugs when the patient has anaphylaxis. "Anaphylaxis can occur at any time, so people should not have infusion at home because there is no adequate monitoring, no medicine and emergency means to prevent shock," Dr. Le Ngoc Duy tell.
In particular, caution should be exercised when infusing elderly patients, with weak renal filtration, cardiovascular patients or brain diseases. Infusion to reduce fever in children needs to be carefully considered. Therefore, before infusion, the patient must examine, do tests, and determine the correct cause of the disease.
In order to increase resistance, help the body fight the invasion of viruses and bacteria, everyone should maintain a healthy lifestyle, work habits, lifestyle, practice scientifically, co. the time of diet formulation ensures enough nutrients, thereby improving resistance.
Experts recommend: People should drink plenty of water, especially fruit juices rich in vitamin C (oranges, tangerines, guava …). In addition, you should rinse your mouth with diluted salt water several times a day to prevent viruses and bacteria; Wear a mask when exposed to dusty, polluted, crowded places, and wash hands thoroughly before meals and after using the toilet to avoid infection.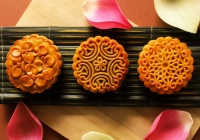 Buying 'homemade' moon cakes should pay attention to the expiry date, avoid the risk of poisoning
(VietQ.vn) – Currently many people race to make their own moon cakes for sale, but according to nutrition experts, consumers should be alert and cautious before the expiry date of this 'home-made' cake.
According to New Hanoi
.