Coach Park Hang Seo gives the opportunity to many young players on the list to prepare for the 2022 World Cup in Asia.
Preparing for the goal of getting tickets to the final round of the 2022 World Cup in Asia, VFF and coach Park Hang Seo have summoned 35 Vietnamese players.
In this list, Coach Park Hang Seo summons 4 goalkeepers, 16 defenders, 12 midfielders and 3 strikers. Notably, in the position of goal, Dang Van Lam is still absolutely trusted by Coach Park Hang Seo, although the overseas Vietnamese goalkeeper has not had an official match for many months.
Currently, Dang Van Lam is waiting for his chance to play in the J-League. Besides Van Lam, the remaining 3 goalkeepers of the Vietnam team are Tan Truong, Van Toan and Van Hoang.
Vietnam team has nearly a month to prepare for the World Cup qualifying round of 2022 in Asia
In the position of defender, Van Hau was not named due to not fully recovering from injury, while Trong Hoang was present to join the army in Vietnam.
In midfield, in addition to Hung Dung who was injured for 6 months, Coach Park Hang Seo did not summon Huy Hung in this gathering.
In the forwards line, 3 strikers Tien Linh, Duc Chinh and Cong Phuong were named in the list by Mr. Park. Thus, veteran strikers such as Anh Duc and Van Quyet were not summoned, although both were previously on the preliminary list of nearly 50 players who were vaccinated against Covid-19.
In addition to the familiar faces, Coach Park Hang Seo gives the opportunity to quite a few young or less recruiting players, including Van Xuan, Thanh Binh, Hoang Anh, Van Vu, Van Trien …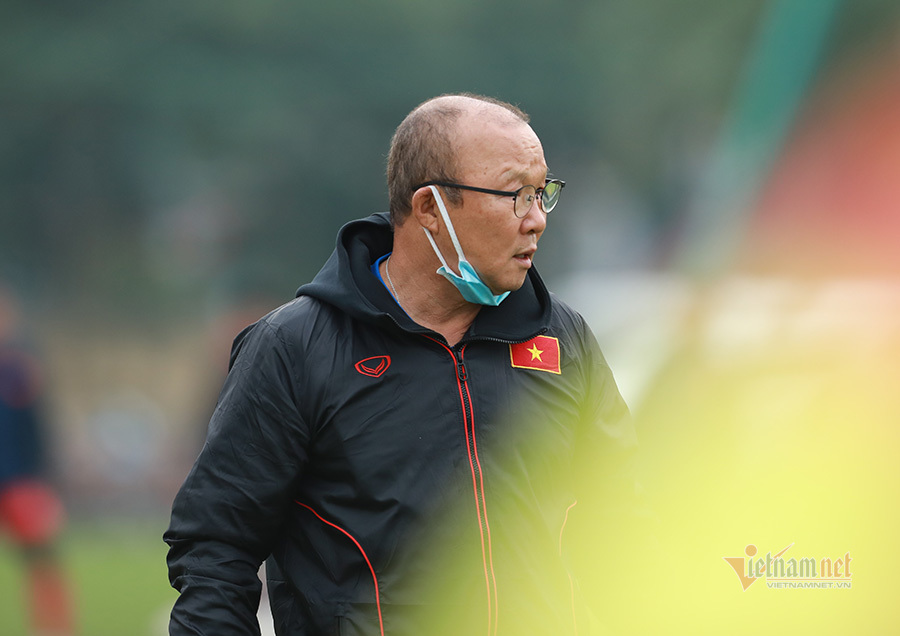 Coach Park Hang Seo believes in using many veterans
According to the plan, the training session of the Vietnamese team is divided into 2 phases. Phase 1, teachers and coaches Park Hang Seo joined forces in Quy Nhon from May 10 to May 18, 2021. Here, the Vietnam team has a friendly match with Binh Dinh club on May 17.
Phase 2, recruiting Vietnam to train troops in Hanoi from May 19 to May 26, then depart for the UAE by a specialized flight on May 27.
In order to meet the professional work of the team during training in the UAE, VFF contacted the teachers and coaches of Park Hang Seo to have a friendly match "general" on May 31. If nothing changes, the green man of the Vietnamese team is Jordan.
After 5 matches in Group G, Vietnam is leading the table with 11 points. Second place is in Malaysia with 9 points. Followed by respectively Thailand (8 points), UAE (6 points) and finally Indonesia (0 points).
List of recruits in Vietnam:
Goalkeepers: Dang Van Lam, Van Toan, Tan Truong, Van Hoang.
Defenders: Hong Duy, Tan Tai, Thanh Thinh, Van Xuan, Bui Tien Dung, Thanh Chung, Minh Tung, Que Ngoc Hai, Dinh Trong, Thanh Binh, Duy Manh, Bui Hoang Viet Anh, Van Kien, Trong Hoang, Xuan Manh, Van Thanh.
Midfielders: Cao Van Lien, Pham Duc Huy, Hoang Duc, Tuan Anh, Xuan Truong, Minh Vuong, Van Duc, To Van Vu, Phan Van Long, Quang Hai, Van Toan, Ly Cong Hoang Anh.
Forwards: Tien Linh, Cong Phuong, Ha Duc Chinh.
Schedule of the Vietnamese team:
23h45 (Vietnam time), June 7: Vietnam vs Indonesia team (Al Maktoum Stadium in Dubai)
23h45 (Vietnam time), June 11: Vietnam team vs Malaysia (Al Maktoum Stadium in Dubai)
23h45 (Vietnam time), June 15: Vietnam team vs UAE (Zabeel yard)
Video of the Vietnam team for the AFF Cup 2018 championship:
Pisces
.