In many areas, as soon as the flood water withdraws, workers in the central power sector promptly fix the problem to energize people – Photo: EVNCPC
Storm No. 6 and heavy rain caused floods in 7 provinces and cities in the Central Highlands, causing more than 913,000 customers of 369 communes and wards in the region to lose power.
EVNCPC has asked power companies affected little or not to be affected by storms or floods to strengthen shock forces to participate in supporting provinces from Quang Binh, Quang Tri, Thua Thien Hue, Da Nang, Quang Nam. , Quang Ngai and Kon Tum overcoming heavy damage.
By the afternoon of October 12, EVNCPC could not re-supply electricity in 7 provinces and cities due to complicated rains and floods, and divided traffic. In Quang Binh, there are 2 communes with 1,577 powerless customers, Quang Tri still has 47,323 customers who cannot recover in Hai Lang, Thanh Co and Trieu Phong areas.
Thua Thien Hue currently has 178,136 customers in 73 communes and wards having power outages. Da Nang City had 5,265 customers in 4 communes Hoa Tien, Hoa Nhon, Hoa Phu, and Hoa Phong lost power. Quang Nam currently has 202,106 customers in 126 communes having power outages. Quang Ngai still had 144,696 customers in 20 communes losing power …
According to EVNCPC, the unit continues to monitor and restore electricity supply when water recedes, traffic is stable and ensure safe energization.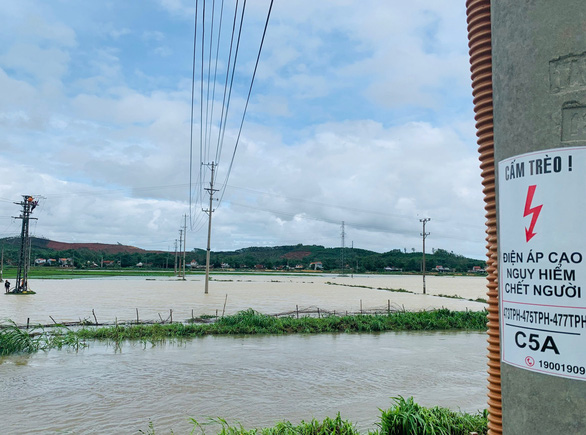 The power sector in the Central region monitoring the flood waters will immediately implement troubleshooting to promptly energize the people – Photo: EVNCPC
According to EVNCPC deputy general director Nguyen Thanh, the unit immediately organized a mission to the scene in Quang Ngai, Quang Nam province to grasp the damage situation and directly direct the work of repairing the power grid after the storm No. 6.
Promptly fix the affected power grid, quickly re-supply power to customers, but ensure safety work. Estimated capacity that cannot provide electricity at the 7 local power plants is 163 MW, accounting for 7.6% of the total load of EVNCPC.
.