The traffic jam lasted for a long time on the way to Da Nang from Quang Nam direction at noon on June 22 – Photo: TRUONG TRUONG
After allowing a case of COVID-19 infected people from Ho Chi Minh City to enter the inner city causing a new wave of infection, Da Nang City has set up 2 more checkpoints, and at the same time re-established the process of controlling vehicles on the route. The road passes through Da Nang at checkpoints out of the city.
However, in the past 2 days, there was continuous traffic jam in all directions from outside to Da Nang city.
As noted, now at all Da Nang disease control points, online medical declarations, temperature checks, automatic declaration checks according to QR codes are implemented.
However, many drivers have not actively reported online, leading to prolonged traffic jams. At the checkpoint on Highway 1, the section through Hoa Phuoc commune, Hoa Vang district, Da Nang city, there was a continuous traffic jam lasting nearly 1km.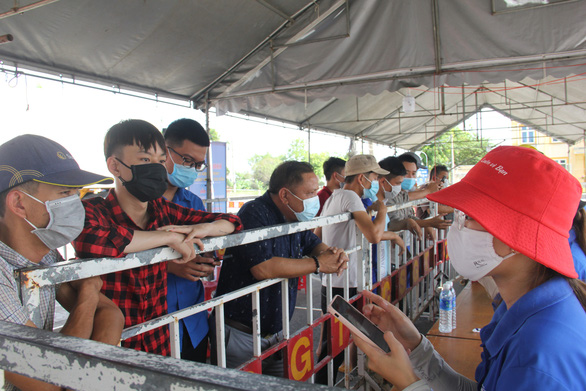 Many drivers do not automatically declare health, but rely on volunteers – Photo: TRUONG TRUONG
Although the functional forces have divided the flow of vehicles to ensure circulation, however, as noted, this situation has not improved. The reason is that the drivers did not make the electronic medical declaration first, but only went to the quarantine point to access the declaration.
According to Lieutenant Colonel Vo Cu – deputy head of Hoa Phuoc traffic police station, now the medical declaration and check the declaration code are done automatically. However, many drivers are still passive, only waiting for the gate to start declaring.
"If you declare online, the driver will be issued a QR code. It only takes about 1 minute to measure body temperature and scan the code automatically, but many people do not understand this regulation, leading to a loss of time for the vehicles behind" – Lieutenant Colonel Cu said.
Recorded on the morning of June 22, at this checkpoint, many drivers still did not automatically declare themselves but asked volunteers to declare health on their phones.
At the latest COVID-19 prevention and control meeting, Mr. Ho Ky Minh – Standing Vice Chairman of Da Nang City People's Committee – also asked branches and localities to coordinate to create conditions for the police force to strictly control activities. transport in and out of the city at the gateways.
At the same time, he said he would hold a meeting to hear the police sector proactively propose measures to improve management capacity at the checkpoints, absolutely ensuring regulations on epidemic prevention and control.
.