According to the researchers, this is the result recorded in the third phase of clinical studies of the above vaccine. Abdala is the first self-made vaccine licensed for emergency use in Latin America. Abdala was previously reported to be 92.28% effective in preventing symptomatic Covid-19 transmission.
According to Marta Ayala, director of the Cuban Center for Genetic Engineering and Biotechnology (CIGB), a drug development facility, the number of volunteers participating in the phase 3 clinical trial of this vaccine in Cuba is 300,000 people.
The CIGB representative also said that Cuba's Covid-19 vaccine Mambisa has also been included in the global list of nasal immunotherapy drugs that have progressed to the clinical trial stage.
Mabisa is one of five vaccines, out of a total of more than 300 registered in the world, for nasal administration. This is also one of the five Covid-19 vaccines developed by Cuba, including Abdala and the only candidate for use through nasal drops with a single dose.
Cuba develops a 100% effective Covid-19 vaccine. Illustration
According to statistics, Cuba has 3.2 million people vaccinated with at least one dose of Covid-19 vaccine, with a total of 7.9 million doses used. Of which, more than 2 million people have completed the vaccination with all 3 doses.
Thus, Cuba is still implementing on schedule, the plan is to complete the vaccination by the end of August from 60-70% of the population with 11 million people; as well as reaching the goal of becoming the first country in the world to complete the Covid-19 vaccination for the entire population with a domestically produced vaccine.
Earlier, Vietnamese Prime Minister Pham Minh Chinh had a phone conversation with Cuban Prime Minister Manuel Marrero Cruz. Sharing experiences on cooperation in the field of vaccine supply and production, the two Prime Ministers agreed to direct relevant ministries and branches in each country to exchange professional information and coordinate to reach agreements on supply and transfer of vaccines. Transferring Cuba's Covid-19 vaccine production technology to Vietnam.
The Cuban Prime Minister affirmed his desire to expand cooperation with Vietnam in the fields of trade, investment, agriculture, healthcare, research and pharmaceutical production, including cooperation in supply and technology transfer. manufactures a vaccine against Covid-19.
Vietnamese Minister of Health Nguyen Thanh Long also had an online meeting with Cuban Minister of Health, leaders of Cuban Center for Gene Engineering and Biotechnology, Cuban Biopharmaceutical Corporation on vaccine supply. Covid-19 was produced by Cuba and transferred technology, closed this vaccine tube in Vietnam.
At the meeting, the Cuban side expressed its willingness to sign a cooperation agreement with Vietnam on the supply of Abdala vaccine, and at the same time cooperate with Vietnam to transfer this vaccine production technology. If Vietnam has a larger demand for vaccines than Cuba is currently producing, Cuba will open two more factories to meet Vietnam's needs.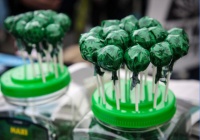 Sophisticated tricks to sell cannabis to 'hide the shadow' of confectionery to entice students
(VietQ.vn) – On the market today, there are many new generation drugs and marijuana in the form of confectionery, making it difficult to prevent and handle.
"Cuba can achieve bigger and better results," said Idania Caballero, a scientist with the state-owned pharmaceutical corporation BioCubaFarma, about the country's medical achievements. on the London School of Political Economy (LSE) website.
As previously noted, Cuba became the first Latin American country to produce its own Covid-19 vaccine. BioCubaFarma claims that their Abdala vaccine was 92.28% effective in the late-stage clinical trial.
For Cuba, the development and export of vaccines is not only to protect public health, but also a way for the country to demonstrate its strength in the field of biotechnology, as well as contribute to the economy. economic.
Cuba is known for several medical breakthroughs, including the first vaccine to treat meningitis B, and the only effective treatment for serious ulcers caused by diabetes.
During the pandemic, Cuba produced 13 different drugs to treat the symptoms of Covid-19. Cuba is also known for exporting dengue vaccines to more than 30 different countries.
An Duong (Th)
.